BWW Review: MAME at North Shore Music Theatre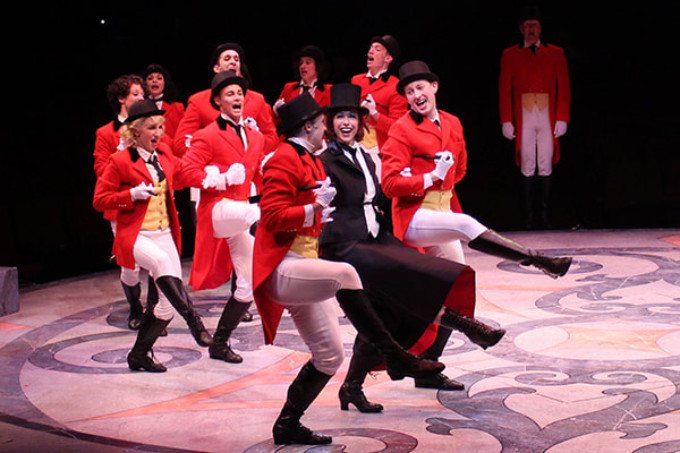 The classic Musical "Mame" opened the 2018 season last night at NSMT. The Musical by Jerome Lawrence and Robert E. Lee, with Lyrics by Jerry Herman, and based on the book by Patrick Dennis, is a 1966 Musical Theatre warhorse that has starred such luminaries as, Rosalind Russell, Angela Landsbury, and even Lucille Ball, in the ill-fated 1970's movie. I have seen seven productions of Mame at theatres all over the US over the last 30 years and in each production, Mame was portrayed by a matronly actress in the twilight of her career. It was incredibly refreshing to see the role played by a Broadway veteran in the prime of her career, kudos to NSMT for this inspired casting choice. Ms. Davis sang, danced, and acted "full out" in every scene, and it made for a truly memorable night at the theatre.
The story begins in the 1928 streets of New York City, with a young orphan Patrick Dennis, superbly portrayed by Jack Ryan Flynn, and his nanny Agnes Gooch, hilariously portrayed by Lauren Cohn, searching for Patrick's Auntie Mame who is supposed to be ready to welcome young Patrick to her home following the untimely demise of his father. Mame a "bon vivant", free thinker, and social maven, is in the midst, of hosting a wild party, mistakenly thinking it is November 31st rather than December 1st. Patrick and Agnes are at first overwhelmed by the chaos, but Mame quickly recovers from her surprise and immediately makes Patrick the center of her Universe. Mame is at once the cool hip aunt that we all loved or wished we had, who took us to places our parents never would, and spoiled us and taught us to enjoy life to the fullest, and thus the adventure begins for young Patrick, learning over the years that life is a banquet and one must enjoy every minute and "Live, Live, Live". Soon, however, Mame is tested by Dwight Babcock, portrayed by NSMT favorite David Coffee in yet another comic character role, which proves why he is practically an institution at NSMT, he insists that Patrick be placed in a suitable boarding school and despite her best efforts Mame faces the choice of allowing Patrick to join mainstream life or losing him. Shortly after, the 1929 Stock Market crash financially wipes out Mame and most of her friends, and she is forced to find a series of menial jobs from which she is immediately fired. A chance encounter with a rich southern gentleman Beauregard Jackson Pickett Burnside, charmingly portrayed by another NSMT veteran George Dvorsky, as a would-be manicurist, where she wounds him in a comical attempt to give him a manicure, allows him time to slowly fall in love with her.
Mame is fired yet again, and returns home tired and depressed, but her indomitable spirit returns and in the first of several rousing numbers "For we Need a Little Christmas" Ms. Davis leads, her household in an early and an impromptu Christmas Party to lift their spirits. This is topped off by Beauregard finding her home, and taking them all out to a lavish dinner.
Beauregard then invites Mame & Patrick to his plantation in Georgia called Peckerwood. Mame is tricked into joining a fox hunt and riding side saddle, only to somehow, not only stay in the saddle, but rescue the fox and capture the hearts of all at Peckerwood. The show-stopping musical number "Mame", expertly choreographed by Michael Lichtefeld, was breathtaking in its creation, and flawless in its execution by this tremendous chorus, and to take it to the next level, Ms. Davis looked truly like the belle of the ball, as if she could not believe these southern kinsfolk, loved and accepted her, (think Sally Fields' Oscar speech) and that she was going to marry the Man of her dreams. It was a truly intimate and poignant moment.
In the second act, we fast forward to 1946, and we are introduced to Older Patrick still in boarding school, portrayed by Jonathan Shew in another stand out performance. He is exchanging letters with Auntie Mame who is on a prolonged globe-trotting honeymoon. He then receives word that Beauregard is killed in a mountaineering fall and Mame is once again sad, alone, and wealthy, but Mr. Shew delivers a beautiful reprise of "My Best Girl" to comfort Mame.
The rest of the story? Well, you will just have to RUN to NSMT to see how it ends.
Other standouts in the Cast were, Sally Cato portrayed by Alaina Mills, with a strong voice, and oozing jealously toward Mame, she gave life to what is often a two-dimensional caricature. Mother Burnside portrayed with great comic flair by Ellen Peterson, and Ito portrayed with superb comic timing and tenderness, by Carl Hsu.
But aside from Ms. Davis, the real standout was Broadway veteran Ellen Harvey as Vera Charles. Ms. Harvey's Vera was an absolute comic masterpiece, a lush, brassy, and thoroughly entertaining performance, highlighted by the Musical number with Mame "Bosom Buddies" in which the two recall their friendship in a "lovingly catty" romp. The direction by Charles Repole was subtle and very effective, he allowed the principal actors and chorus to shine equally, and the story to unfold in its own time. Lighting design by NSMT veteran Kirk Bookman was crisp and colorful, and never once did I struggle to see faces even in the dimly light scenes, no small accomplishment when lighting a theatre-in-the-round production and his design complemented the original costumes by Gregg Barnes, and the excellent scenery by Kyle Dixon. The NSMT orchestra was first-rate, as always, and was conducted by Music Director Milton Granger.
A special shout-out to the Chorus, they were simply excellent as were the NSMT tech crew, they helped in every way, to make the show a success. With the recent re-boot of TLC's Trading Spaces Ms. Davis' TV star seems to again be rising again as she deserves. My only hope is that it will not prevent her from future stage appearances. She is simply amazing. Don't miss this great show.
MAME at North Shore Music Theatre runs through June 17th Tuesday -Thursday at 7:30 pm, Friday and Saturday at 8 pm, Wednesday, Saturday, and Sunday at 2 pm. Kids 18 and under save 50% on all performances.
Tickets are $59.00-$84.00
For tickets and info call (978) 232-7200 or visit www.nsmt.org, or in person at the NSM Box office in at 62 Dunham Rd., Beverly, MA.
Related Articles View More Boston

Stories

Shows