BWW Review: DARK ROOM: World Premiere in Development at Bridge Repertory Theater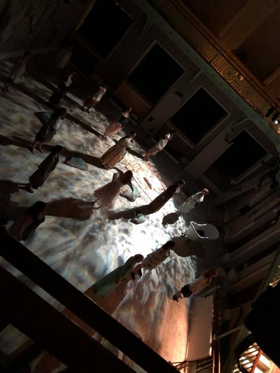 Dark Room
A World Premiere by George Brant, Inspired by the life, death + photography of Francesca Woodman, Directed by Olivia D'Ambrosio; Associate Director + Dramaturg, Alexander Platt; Movement, Doppelgänger Dance Collective; Scenic Design, Ryan Bates; Costume Design, Chelsea Kerl; Lighting Design, Stephen Petrilli; Sound Design + Composer, Elizabeth Cahill; Properties, Esme Allen; Production Stage Manager, Dominique D. Burford
CAST (in order of appearance): Jenna Pollack, Lourdes Martinez, Julie Nelson, Jennifer Rohn, Liz Adams, Elaine Vaan Hogue, Celeste Oliva, Jade Wheeler, Laura Lyman Payne, Meghan Leathers, Sara Burd, Denis Khateri, Cheryl McMahon, Meredith Gosselin, Meghan Hornblower, Kelly Chick, Cailin Doran, Anya Edwards, Siobhan Carroll, Korinne T. Ritchey, Vijaya Sundaram, Gillian Mariner Gordon; The role of the Living Husband will be played by a different man from the community each night: Michael Monestime, Eric Cheung, Patrick Boyce, Stephen Strenio, Keith Kenez, Jeffrey Thomas, Peter Duerst, Gene Yoon, Thomas Grenon, Peter Crawley, Bill Nigreen, Cameron Gosselin, David Henry, Damon Krometis, Bill Barnert, Brett Cramp
Performances through August 16 by Bridge Repertory Theater in residence at the Multicultural Arts Center, 41 Second Street, East Cambridge, MA; Tickets: www.bridgerep.org
Francesca Woodman was an American photographer best known for her black and white pictures which mostly featured herself or other women. The subjects were sometimes naked, sometimes clothed, and often blurred as a result of movement and long exposures. The daughter of artists, Woodman began her vocation as a teenager, studied in Rome, and was graduated from the Rhode Island School of Design. She moved to New York to make her career in photography, but, depressed by a broken relationship and her inability to draw attention, she committed suicide in 1981 at the age of 22.
Playwright George Brant (Grounded) was inspired by Woodman's body of work to write Dark Room, now having its world premiere by Bridge Repertory Theater at the Multicultural Arts Center in East Cambridge. A collection of eleven scenes or vignettes, each tells the story of one of her photos and, although not directly related to one another, they are loosely connected by the presence of a silent protagonist and they come into soft focus to provide a portrait of the artist. Producing Artistic Director Olivia D'Ambrosio directs the production with a team of collaborators, including Doppelgänger Dance Collective (Shura Baryshnikov and Danielle Davidson), who infuse the play with a creative flow of movement, and a group of designers who brilliantly take full advantage of the lofty space to craft a cohesive artistic vision.
One of the most striking virtues of Bridge Rep's staging is D'Ambrosio's choice to use a cast of 22 women, each actor playing only one role no matter how large or small. Only Jenna Pollack as the Girl in the Polka Dot Dress appears for the duration of the 90-minute play, a haunting presence who we first notice in a window seat in the balcony. She repeatedly retraces a path, peering over a side railing, scurrying down the staircase, backpedaling across the main floor to virtually blend into the wallpaper, and dashing back up to her starting point in between scenes. Although unnamed, one assumes that she is the ghost of the artist, hanging around to observe her subjects brought to life by Brant's words, and Pollack's lithe movements compel us to watch her even as her character blends into her surroundings like a fly on the wall.
As for the rest of the ensemble, they deserve a 21-gun salute for their uniformly fine performances portraying a wide variety of characters in a range of settings. Liz Adams and Elaine Vaan Hogue are a pair of posers waiting on a beach (evocative sounds of seagulls and the ocean courtesy of sound designer Elizabeth Cahill) for the photographer who never shows up. Scenic designer Ryan Bates crafts a trio of cushy coffins for the ghoulish departed trio of Cheryl McMahon, Meredith Gosselin, and Deniz Khateri, who are somehow able to kibitz with each other in the hereafter. Anya Edwards and Siobhan Carroll are sisters in mourning for their mother (Korinne Ritchey) who also pay a visit to a strange cemetery. Blindfolded spirits hide behind headstones which morph like pieces of a jigsaw puzzle into a mandala mirroring a decoration on the ceiling two stories above the stage floor.
Celeste Oliva and Jade Wheeler play a scene in a café fraught with sexual tension, Meghan Leathers and Sara Burd struggle to make sense of a woman's death by looking for her in a mirror (a prop commonly used in Woodman's compositions), and Jennifer Rohn's monologue as the artist's mother gives us some insight into who she was and what she was like as a girl. Lourdes Martinez, Julie Nelson, Laura Lyman Payne (an exquisite singing voice), Meghan Hornblower, Kelly Chick, Cailin Doran, Vijaya Sundaram, and Gillian Mariner Gordon pair up in the remaining vignettes, each capturing a character and a situation in the span of mere minutes.
D'Ambrosio's vision for Dark Room is an artistic blend of spoken dialogue, choreographed movement, evocative sounds and music (some original by Cahill, some Joni Mitchell), eclectic costume design (Chelsea Kerl), and the best use of the architectural features of the space, augmented by Stephen Petrilli's lighting design. Despite being comprised of a collection of separate vignettes, as a total experience Dark Room feels like a whole that is greater than the sum of its many parts. On the evening of its first performance in front of a preview audience, Bridge Rep staged something quite special that, with a little more volume and a tweak in the pacing, will develop into a sharply focused story.
Photo credit: Bridge Rep (Ensemble of DARK ROOM)