BWW Review: Annie Golden stars as Annie Golden in BROADWAY BOUNTY HUNTER
Once upon a time, Annie Golden was the "it" girl of Broadway. She worked with O'Neill, McNally and Sondheim, landed film deals in her spare time and even booked a national tour. So where has she been for the last decade? Unfortunately, stuck auditioning for the same "kooky" bit-parts. Annie Golden hasn't landed a leading role in years and her career is now on a death spiral. How has someone so talented managed to fall from grace? Because Annie Golden is now a "woman of a certain age" and no director will take her seriously. It sounds like someone needs a major comeback.
Through spectacular fate, Annie Golden is whisked into a fantastical word and becomes, wait for it, a bounty hunter assigned to take down a maniacal drug-dealing Broadway producer. The greedy Mac Roundtree has been peddling his super-charged adrenaline substance to his chorus members so they can perform 15 shows a week. All of Broadway is hooked on the junk and the very fate of actors and actresses everywhere now rests in the hands of the down-and-out Annie Golden. How's that for a comeback?
Broadway Bounty Hunter, a new musical which opened at Barrington Stage Company on August 19th, celebrates the history of B-list movies and modern musical theatre by blending them together in hilarious fashion. At the center of this high-antic musical is Joe Iconis' psychedelic score- a surreal composure in lush form thanks to Charlie Rosen's orchestrations. Broadway Bounty Hunter proves musical theatre reaches its apex when risk is taken and boundaries are broken.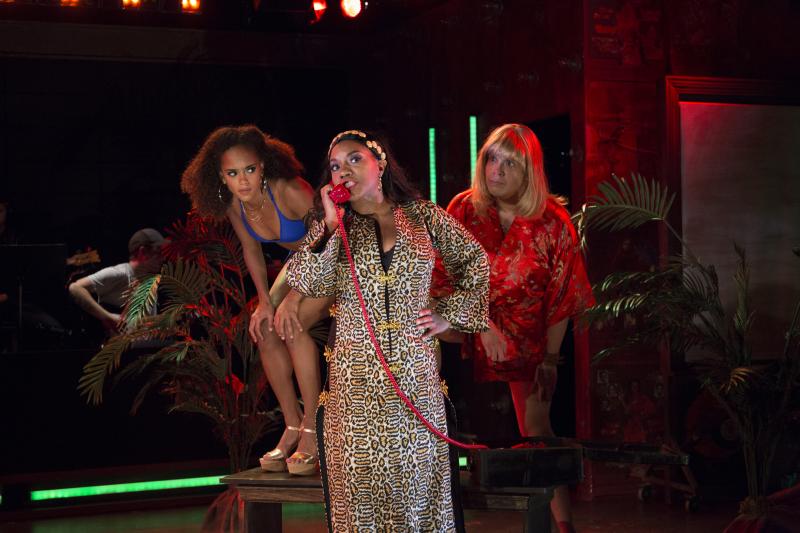 The African-American lead Blaxploitation film movement of the 1970's serves as an inspiration for Broadway Bounty Hunter. This movement was a response to the underrepresentation of African-Americans in film and television- a similarity shared with an aging actresses. Credit goes to Joe Iconis (music, book, and lyrics), Lance Rubin (book) and Jason SweetTooth Williams (book) for seeing the makings of a musical in the racial and age discrimination of show business.
B-list movies of the 1970's were filled with action, sex, violence, drugs and were wrapped together in a visually appealing, albeit low budget, cinematic spectacle. Director Julianne Boyd has the onerous duty of remaining respectful to film historians at the same time making Broadway Bounty Hunter accessible to a theatre crowd. Boyd manages the feat and delivers a production exploding with color and energy. Timothy Mackabee's beat up grindhouse inspired set, Bobby Frederick Tilley's brilliant costumes and Eric Southern's flashy lights all work together in reviving the era aesthetically. Jeffrey Page's electric choreography is the driving force behind the show flowing at a groovy pace.
After collaborating with Ms. Golden on The Black Suites in 2012, Mr. Iconis was inspired to write a musical tailor-made for her about the perils of an aging actresses, named Annie Golden, and the consistent rejection she faces during her later years in showbusiness. Of course, development began before Ms. Golden booked a recurring role on the hit Netflix series Orange Is The New Black, but Broadway Bounty Hunter remained focused on the themes of age discrimination and female empowerment. Ironically, Ms. Golden's success with Orange Is The New Black helps us separate the actress from the character, but writers Iconis, Rubin, and Williams were determined to keep the meta-reality persistent and cleverly kept blurring the line on fact vs. fiction. Actual anecdotes from Ms. Golden's life find their way into the show.
Ms. Golden takes a big gamble in lending her career as the foundation for laughs. One wrong move and we would be laughing at Ms. Golden instead of with her. Ms. Golden delivers laughs and we forever remain a cheerleader for her triumph. The rest of the cast is equally delicious. Alan H. Green (School of Rock) is terrific as Annie's suave partner in crime, Lazarus, and Jeff McCarthy (BSC's Man of La Mancha) is hysterical as the shady Mac Roundtree. Badia Farha as Sienna Madam got the biggest laugh of the night with a story about her boyfriend Rick and Anastacia McCleskey's vocals in "The Song of Janessa" blew the roof off.

Following the success of their Tony Award winning musical The 25th Annual Putnam County Spelling Bee, Artistic Director Julianne Boyd and composer William Finn clearly saw a virtue in musical cultivation and devoted resources to institutionalizing Barrington Stage Company's Musical Theatre Lab. Broadway Bounty Hunter is the product of their musical initiative and is the first major collaboration with Joe Iconis, Lance Rubin, and Jason SweetTooth Williams- a team that has been writing together for over a decade. Both Barrington and the Iconis crew has been theatrical pioneers in their own right and Broadway Bounty Hunter represents the beginning of a bold new chapter for the American Musical. Together, they forge ahead on uncharted territory.
Broadway Bounty Hunter runs at the Barrington Stage Company until September 4th. Visit their website for tickets and additional information.
Justin J. Sacramone is a theater artist based in Boston, Massachusetts. He has a Bachelor of Fine Arts from Salem State University and has studied (read more...)