Review: A DOLL'S HOUSE, PART 2: Nora Drops In, Torvald Drops Jaw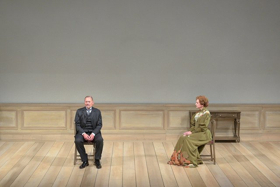 A Doll's House, Part 2
Written by Lucas Hnath, Directed by Les Waters; Scenic Design, Andrew Boyce; Costume Design, Annie Smart; Lighting Design, Yi Zhao; Sound Design, J Jumbelic; Production Stage Manager, Emily F. McMullen; Stage Manager, Jeremiah Mullane
CAST (in order of appearance): Nancy E. Carroll, Mary Beth Fisher, John Judd, Nikki Massoud
Performances through February 3 at Huntington Theatre Company, 264 Huntington Avenue, Boston, MA; Box Office 617-266-0800 or www.huntingtontheatre.org
Nearly a century and a half after Nora Helmer walked out on her husband Torvald and their three children in Henrik Ibsen's 1879 classic A Doll's House, playwright Lucas Hnath proposes a well-thought reply to the speculation of what became of her in A Doll's House, Part 2. Its 2017 Broadway staging received eight Tony nominations, with Laurie Metcalf taking home the award for Best Actress in a Leading Role in a Play, and the Huntington Theatre Company's co-production with Berkeley Repertory Theatre joins a roster of 27 theaters making it the most-produced play in the country during the 2018-2019 season.
Hnath's premise sets the story fifteen years after her departure when Nora (Mary Beth Fisher) returns to the home, not so much to reconcile with her family, but as a changed woman on a mission. Hoping to enlist her old nanny Anne Marie (Nancy E. Carroll) as her confederate, Nora has written to her in advance of her visit, but without being forthcoming as to its purpose. Through a series of events, Nora found out that Torvald (John Judd) failed to file for divorce as promised and she has come back to rectify that niggling detail. For her part, Anne Marie sees Nora upsetting the apple cart once again and is none too pleased.
It is not necessary to have seen or read the original play to become quickly immersed in ADH, P2 as a story with four characters, each looking out for their own best interests. After some initial hardships when she went out into the world that doesn't place women on an equal footing with men, Nora found her niche and success as a feminist writer. She used her books to speak to women and lay out a case against marriage, encouraging and empowering women, while pissing off a lot of men, and one powerful judge in particular who was threatening to expose her as a fraud because she was still married. Thus, the need to re-enter the door she thought she had closed for good.
Torvald's surprise upon seeing her leaves him speechless, yet forces him to re-examine long-suppressed feelings and the details of their married life. The difficulty for Nora is putting herself in a position of needing something from him, a condition that was one of the reasons for her exit, and Torvald easily slides back into his familiar place in the catbird seat. However, one of the more interesting aspects of Hnath's telling of the story is the seismic shift required of Torvald and to observe whether or not the character can come to grips with it. He believes that he has nothing to gain and much to lose if he capitulates to Nora's request, the polar opposite of the scenario for her.
As for the secondary characters, Anne Marie fears losing the security blanket provided her by Torvald for her loyalty to him over the years, and resents Nora's expectation that the nanny will fix yet another problem dumped in her lap by the recalcitrant wife. Her recommendation is for Nora to recruit aid from Emmy (Nikki Massoud), the daughter she abandoned who is now a self-assured, resourceful young woman. However, the latter has her own agenda and is a force to be reckoned with, much to her mother's surprised chagrin. Although their points of view are in conflict, Emmy is a "mini-me" of Nora and their meeting is a verbal battle of wits that is eye-opening for both of them.
Director Les Waters raises the ante in every scene by means of his blocking and the placement of two upright, hard wooden chairs. The actors add color and nuance to the picture being painted with their body language, facial expressions, and tone of voice. Andrew Boyce's scenic design is about as stark and minimalist as you can get (as requested by the playwright's stage directions), with a large door stage right playing a prominent role. Designer Yi Zhao relies on lighting changes to suggest the passage of time and shifting moods, and sound designer J Jumbelic ensures that conversations are heard, whether they be shouting matches or sotto voce remarks. Annie Smart's costume design provides each of the characters with period dress reflective of their station, in contrast to the contemporary style of speech that Hnath employs.
It may not sound like it, but A Doll's House, Part 2 is very funny, vis-a-vis the human comedy and Hnath's ability to imagine the journey of his characters. Also, the quartet of actors on the Huntington stage inhabit their characters with strong performances. Carroll uses her well-practiced straight face to make her delivery all the more comic, especially when the language she spews turns blue. Massoud gives us a very 21st-century woman who would fit right in with some of the recently-elected congress members, thanks to her articulate outspokenness. Each of her scene partners faces a different facet of Fisher's characterization; she bargains with Carroll, butts heads with Judd, and is put in her place by Massoud. She is strong and smart, but rarely sympathetic, while Judd is able to evoke some sympathy for a generally unlikable character.
Hnath has hit upon a clever concept, and, more importantly, crafted a well-thought and well-written vehicle. Beyond hitching his wagon to Ibsen's star, today's playwright went into an old mine to find a rich vein of material that could appeal to a new audience, while paying homage to an iconic work. We may not have known that we needed it, but A Doll's House, Part 2 came along at just the right moment in time.
Photo credit: Kevin Berne (John Judd, Mary Beth Fisher)