BWW REVIEW: Sarah Ruhl's THE CLEAN HOUSE at Williamstown Theatre Festival
Meet Lane, an accomplished, confident, pant-suit wearing woman of medicine who values (no wait, demands) cleanliness. Lane lives in a beautifully crisp "metaphysical" Connecticut home and has no time for the mundane tasks of homemaking.
Meet Matilde, an out of work comedienne from Brazil who recently lost both parents due to extraordinary circumstances and goes to work for Lane as a housekeeper only to discover cleaning clouds her creative process and makes her depressed.
Meet Virginia, Lane's sister, who values cleaning as a holistic approach to self-awareness. Virginia offers up her services to Matilde with the dual goal of reducing Matilde's depression while doing her sisterly duty of checking in with Lane's mental state.
Now revived at the Williamstown Theatre Festival under the direction of Tony winner Rebecca Taichman, THE CLEAN HOUSE earned playwright Sarah Ruhl her first recognition as a Pulitzer Prize finalist in 2005. Ruhl's lyrical comedy has been produced at some of the nation's top regional theatres leading THE CLEAN HOUSE to tie as the second most produced play in the 2007-2008 American theatre season.
How exactly does a play about housekeeping go on to receive such accolades? Ruhl's ability to craft her plays with almost no exposition or outside world substance and still be able to make her characters act and sound human while experiencing larger-than-life tribulations is perhaps what sets her ahead of other playwrights.
THE CLEAN HOUSE successfully demonstrates how a play can be entertaining during the performance and then resonate on a deeper level afterward. The visual image of Virginia performing the white glove test on Lane's living room lamp is hilarious, yet, once the laughs from the audience cease, we are left wondering what all the accumulating particles symbolize.
The challenge in mounting any Sarah Ruhl play is unearthing and then maintaining the bizarre wavelength on which her characters operate. In THE CLEAN HOUSE, laws of physics break, speaking patterns are odd, the narrative takes sudden and baffling turns, and Ruhl never attempts to spoon feed explanations. I've seen productions of Ruhl's work collapse when a director treats the material as an absurdist tale, or with a straight up serving of realism. True, both of those elements have a place in her plays, but the exciting part is seeing the erratic departure from realism into something less compact. Acknowledging that challenge gives a deeper appreciation for Williamstown Theatre Festival's decision to place acclaimed director Rebecca Taichman in charge of wrestling THE CLEAN HOUSE into a production making sense of all fringe elements
Taichman is a frequent collaborator on Ruhl's work (from my count she has directed six Ruhl plays including a 2006 production of THE CLEAN HOUSE in D.C.), so her intimate relationship with the playwright's dramatic style and text combined with her exquisite visual eye make for a successful formula. Taichman crafts each moment beat-by-beat with searing clarity and defined emotional logic that presents even the most dramatic moments truthfully.
Taichman proves, yet again, she's a master at combining grand theatrical aesthetics tickling the surreal side of Ruhl's work with natural performances of an acting ensemble. Jayne Atkinson (Lane), Jessica Hecht (Virginia), Guenia Lemos (Matilde), Priscilla Lopez (Ana), and Bernard White (Charles) make up the cast of five and operate in harmony throughout.
Lopez and White perform double duty on stage playing two characters each and are seamless transitioning out of one character and into another. Their casual approach to both characters blur the line between reality and invite an interesting thought on the duality of their existences. Lemos is delightful as the depressed jokester Matilde. Lemos's flamboyant physicality in the opening monologue (spoken entirely in Portuguese) conveys just enough information to kick-off the action while leaving us wondering the translation throughout the play.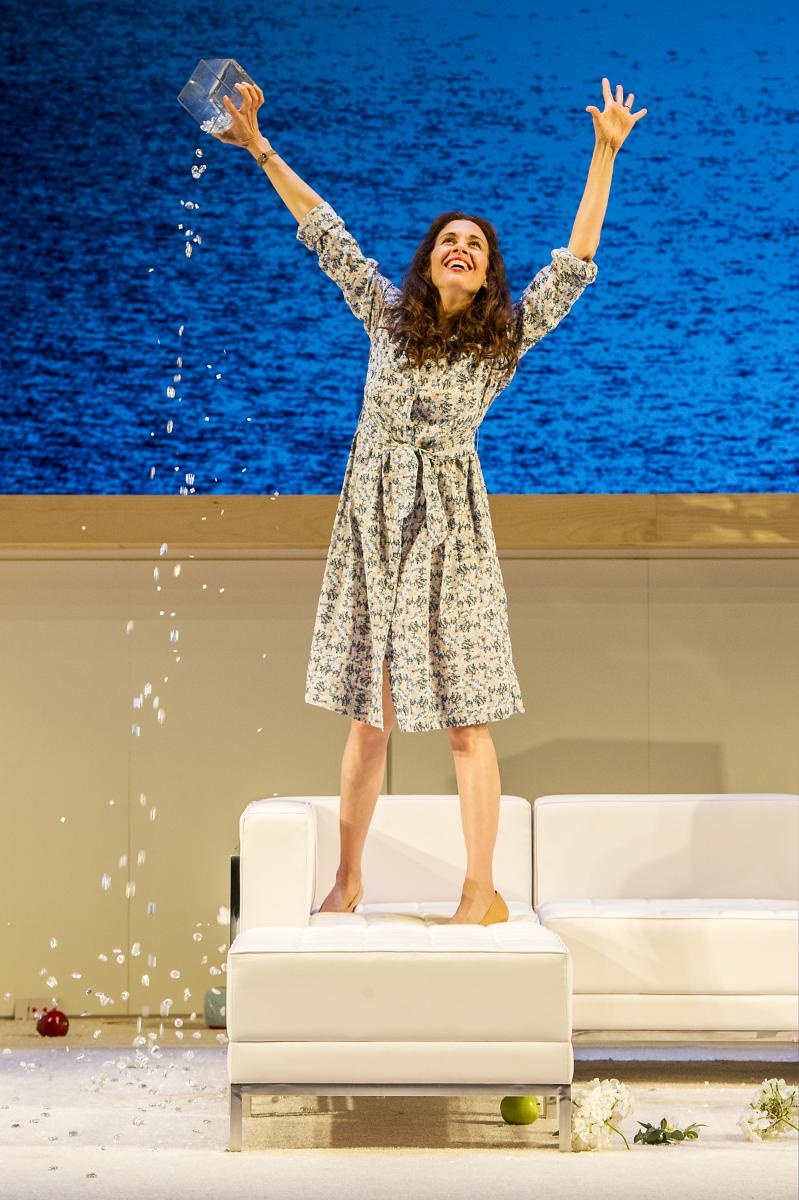 It's our two sisters who end up walking away with the show. Atkinson and Hecht, both accomplished stage actresses, deliver characters full of wisdom, quirks and droll comedic timing. Atkinson is great at contradicting Lane's confidence as an accomplished doctor with the insecurity surrounding her household duties. The way Atkinson portrays Lane's avoidance borders on fear and allows for an easier digestion of Ruhl's "cleaning house" metaphor.
Lane's sister, Virginia is the play's biggest mystery. While the internal conflicts of the other characters are more visible to the audience, it's Virginia who goes unexplained and unresolved by the play's end and Jessica Hecht is determined to keep it that way. I often found myself transfixed on her performance even when attention is meant to focus on someone else. So much was going on behind her eyes, I hoped Hecht would let one of Virginia's secrets slip out. Alas, Hecht held onto all of them with the same fierce clutch in which Virginia clings to her handbag. I won't soon forget the sheer delight Virginia takes in standing perched on a step stool with a telescoping duster to clean the last blemish on the otherwise pristine walls of Lane's living room.
The play's opening and closing moments addressing the philosophical question of translation is the best expression of THE CLEAN HOUSE's profound message. Through Lane's heuristic journey of connecting her well-defined practical self with her unknown spiritual side, Sarah Ruhl reminds us we have two choices for charting out our journeys. We can waste a lifetime living in a vacuum trying to decipher the mysteries thrown at us or, we can open ourselves up to the voices we've often ignored and do the very thing terrifying Lane (and probably us all): listen.
THE CLEAN HOUSE concludes its run at the Williamstown Theatre Festival, in Williamstown, MA on Saturday, July 29th. Visit the website for tickets and information on the entire season