BWW REVIEW: FUN HOME Tour Is Sharply Drawn
Music by Jeanine Tesori; book and lyrics by Lisa Kron; based on the graphic novel by Alison Bechdel; directed by Sam Gold; choreography, Danny Mefford; music supervision, Chris Fenwick; scenic and costume design, David Zinn; lighting design, Ben Stanton; sound design, Kai Harada; orchestrations, John Clancy; music director, Micah Young; music coordinator, Antoine Silverman; hair and wig design, Rick Caroto; production stage manager, Shawn Pennington
Cast in Order of Appearance:
Alison, Kate Shindle; Small Alison, Carly Gold (Jadyn Schwartz at certain performances); Bruce, Robert Petkoff; Medium Alison, Abby Corrigan; Helen, Susan Moniz; Christian, Luké Barbato Smith; John, Henry Boshart; Joan, Victoria Janicki; Roy/Mark/Pete/Bobby Jeremy, Robert Hager
Performances and Tickets:
Now through October 29, Boston Opera House, 539 Washington St., Boston, Mass.; tickets are available by calling Ticketmaster at 800-982-2787, and by visiting www.BroadwayInBoston.com.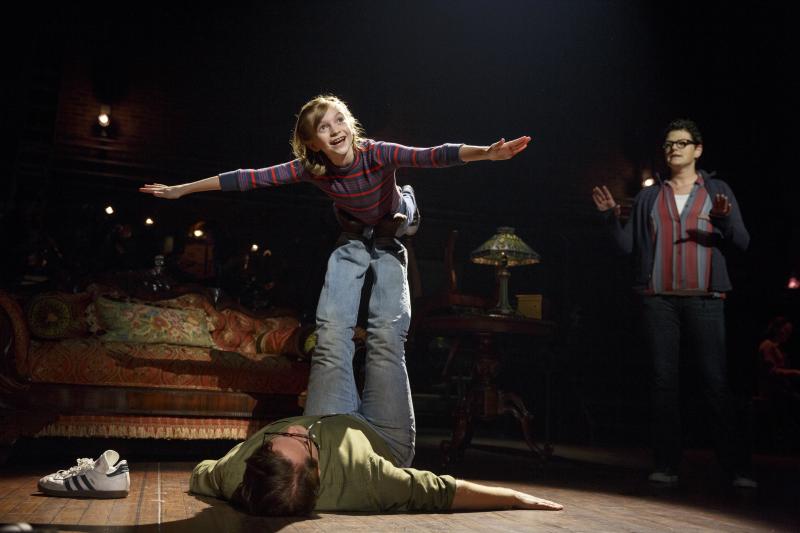 The national tour of the Tony Award-winning musical FUN HOME has landed in Boston and it's as sharply drawn and richly performed as its highly acclaimed Broadway predecessor. Once again mounted on a proscenium stage (it played in the round at Circle in the Square following its original Off-Broadway run at The Public Theatre), FUN HOME loses none of its laser focus as it shines a loving but bittersweet light on the family of a lesbian cartoonist whose memories spring to life from the pages of her latest graphic novel.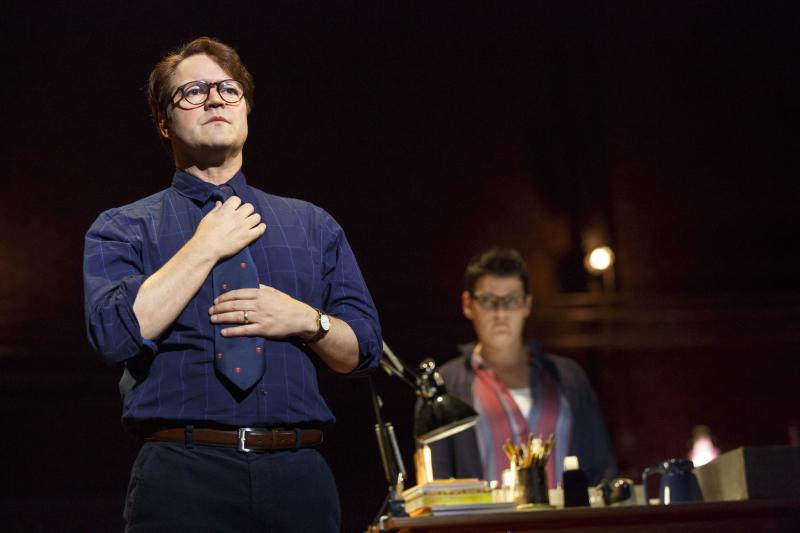 In the grand tradition of great memory plays like Tennessee Williams' The Glass Menagerie, FUN HOME turns autobiographer Alison (Kate Shindle) into an active narrator trying to sort the facts of her past from the fiction of her reveries. On the occasion of her 43rd birthday, Alison struggles to understand what drove her closeted gay father, when he was 43, to commit suicide just four months after she came out to him. Thus her process of drawing and captioning her life from childhood through college is both an artistic endeavor and a catharsis - one that sweeps the audience along on a wave of heartbreak and illumination.
Lisa Kron and Jeanine Tesori's Tony Award-winning book and score, as well as Sam Gold's Tony Award-winning direction, integrate Alison's past and present seamlessly. The adult Alison is ever present but never intrusive - sometimes thinking out loud as she works diligently through her narrative, other times observing her Small (Carly Gold) and Medium (Abby Corrigan) Alison as they reanimate her younger life.
Alison's moments of self-discovery are filled with joy and wonder. "Changing My Major" is Medium Alison's rousing celebration of coming out that captures all of the embarrassment, excitement and insecurity of that first time. "Ring of Keys" is Small Alison's first twinge of knowing who she really is when she sees herself in the "just right swagger and bearing" of a woman whose beauty comes from being handsome instead of pretty. Corrigan and Gold each infuse these musical moments with delightful revelation while Shindle quietly relives the experiences with a self-effacing affection and humor.
Alison's ability to embrace her differences, even at an early age, contrasts starkly with her father's anguish at being "unable to control his urges." A product of his generation, Bruce (Robert Petkoff) cannot accept his clandestine affairs with men and is consumed with self-loathing. Instead of facing himself and his family, he channels his frustrations into his work - as a high school English teacher, restoring historical homes and antiques, and running the family funeral home he inherited, which his three children (Alison, Christian and John) comically refer to as the "fun home." As the years pass, Bruce grows more sullen, and the special silent bond he shares with Alison turns from playful to overbearing.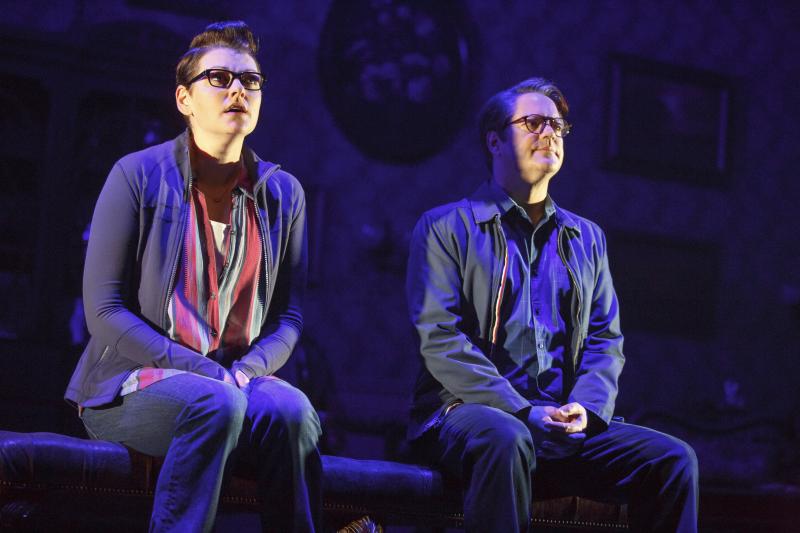 Petkoff is highly sympathetic in this very difficult role. He keeps his love for Alison a constant undercurrent even in his most agonizing outbursts. When he ultimately can no longer hide beneath the layers of polish and wallpaper he manically applies, he ends his life in a devastatingly clear yet surreal moment of calm. Even though we know it's coming, it takes our breath away.
Bruce's denouement is telegraphed in the aptly named song "Telephone Wire" which has Bruce and Middle Alison driving through the Pennsylvania countryside during her first trip home from college. While Alison's new girlfriend Joan (Victoria Janicki) is getting to know Helen Back at the impeccably kept house on Maple Avenue, Bruce and Alison are awkwardly trying to have "the talk," to little avail. In a brilliant stroke, Shindle as the adult Alison slides into the car beside her father, desperately working to rewrite history. "Say something," she chides herself. "Say something to let me know you see me," she implores her father.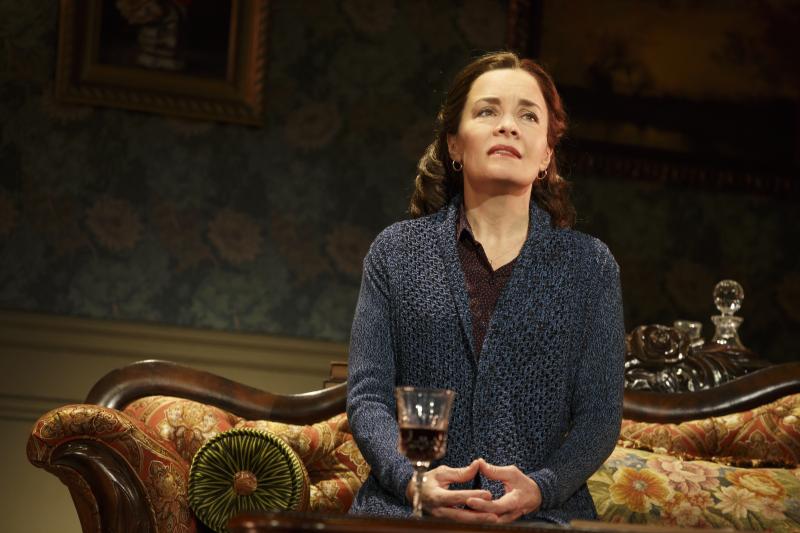 In this poignant moment of hope and regret, Shindle's authenticity is quite simply shattering. It is the point at which Alison allows herself to become fully immersed in her past in order to free herself from its pain.
There isn't one false note in the casting, staging or performance of this national tour of FUN HOME. Moniz brings an exquisitely aching stoicism to her perplexed and lonely Helen. She mixes anger, determination and denial in her rueful "Days and Days." Janicki adds a sexy, playful spark as Joan, and the young Luké Barbato Smith and Henry Boshart as Small Alison's brothers Christian and John put the fun in funeral with their Jackson Five-style television ad "Come to the Fun Home."
The reconceptualization of David Zinn's set from in the round to proscenium isolates each scene's focus more keenly. Skeletal set pieces seem to mimic the panels in Alison's graphic novel, containing only the most important images that emerge from her sketchy memory. Scene changes are also more dramatic, one creating a seedy New York City hotel, another revealing the "fun home" as seen through Joan's untainTed Eyes. Ben Stanton's lighting is sharper, too. It is particularly effective when punctuating Bruce's clarity of purpose during his climactic "Edges of the World."
The storytelling and inventiveness of FUN HOME are at once specific and universal. While the musical beautifully translates to the stage Alison Bechdel's very personal memoir of how her own open lesbianism intersected incontrovertibly with her father's tragic secrecy, there are elements that ring true for any family. Ultimately, it is a story of holding on and letting go. Cherish what lifts us up and jettison what clouds the view.
PHOTOS BY Joan Marcus: Kate Shindle as Alison; Carly Gold as Small Alison, Robert Petkoff as Bruce, and Kate Shindle; Robert Petkoff and Kate Shindle; Kate Shindle, Abby Corrigan as Middle Alison and Carly Gold; Abby Corrigan; Kate Shindle and Robert Petkoff; Susan Moniz as Helen; Victoria Janicki as Joan, Robert Petkoff, Abby Corrigan and Susan Moniz