BWW REVIEW: ALLEGIANCE Is an Earnest Celebration of Resilience and Redemption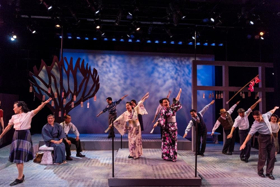 Book by Marc Acito, Jay Kuo, and Lorenzo Thione; music and lyrics by Jay Kuo; directed by Paul Daigneault; music direction, Matthew Stern; choreography, Ilyse Robbins; scenic design, Eric Levenson; costume design, Miranda Kau Giurleo; lighting design, Daniel H. Jentzen; sound design, Andrew Duncan Will; props design, Abby Shenker; production stage manager, L. Arkansas Light; assistant stage manager, Katherine Humbert
Cast:
Kei Kimura, Grace Yoo; Sam Kimura/Ojii-chan, Gary Thomas Ng; Sammy Kimura, Sam Tanabe; Hannah Campbell, Melissa Geerlof; Frankie Suzuki, Tyler Simahk; Tatsuo Kimura, Ron Domingo; Mike Masaoka, Michel Hisamoto; Ben Masaoka (Issei)/Johnny Goto (Nisei), Ben Oehlkers; Mrs. Natsumi Tanaka (Issei), Paige Clark; Mr. Masato Maruyama (Issei), Eymard Cabling; Mrs. Kaori Maruyama (Issei), Elaine Hom; Tom Maruyma (Nisei), Isaac Phaman Reynolds; Peggy Maruyama (Nisei), Kendyl Yokoyama; Nan Goto (Issei), Micheline Wu; Hakujin, Ryan Mardesich
Performances and Tickets:
Now through June 2, SpeakEasy Stage Company, Boston Center for the Arts, 527 Tremont Street, Boston, Mass.; tickets start at $25 and are available by calling the Box Office at 617-933-8600 or online at www.SpeakEasyStage.com.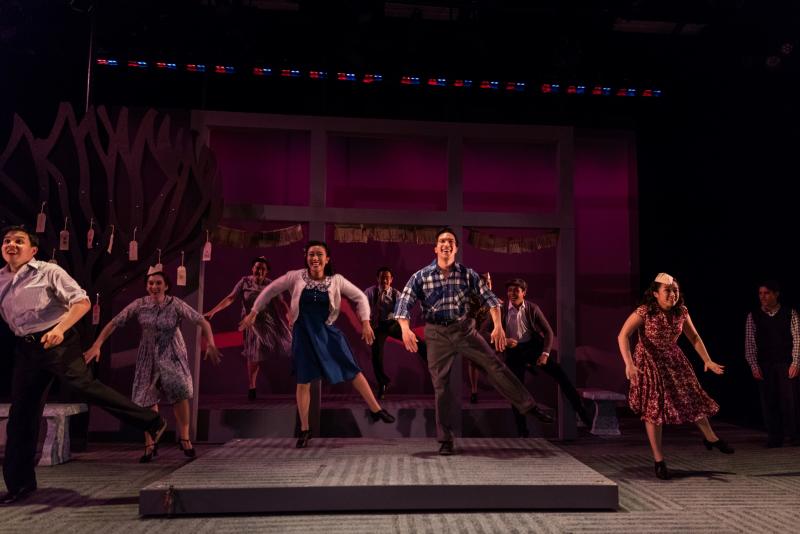 FDR called the attack on Pearl Harbor "a day that will live in infamy." Equally ignominious, though, was his knee-jerk response: the decision to authorize the incarceration of 110,000 Japanese Americans in internment camps - without cause, trials, or hearings - for close to the duration of WWII. The Broadway musical ALLEGIANCE, championed by actor/activist George Takei and based on his true life experiences, attempts to shed light on that particularly ugly chapter in American history precisely at a time when a new generation of immigrants is being persecuted, detained and deported. In its New England regional premiere at SpeakEasy Stage Company in Boston, that mission is only partially achieved.
Part of the problem with ALLEGIANCE is that it tries to do too much. Earnest in its efforts to tell a Japanese American story with the emphasis on American, it dilutes the central horror of unjustified imprisonment with every conceivable war-movie trope. Families feud, friends and lovers die, and patriots question their decisions to get ahead by getting along. The score also never settles on a unifying musical motif. Jitterbug and Swing mix with traditional Japanese instrumentation, while derivative pop opera anthems conjure memories of MISS SAIGON. The result is a jumble of storylines and sentiments that feel more contrived than real.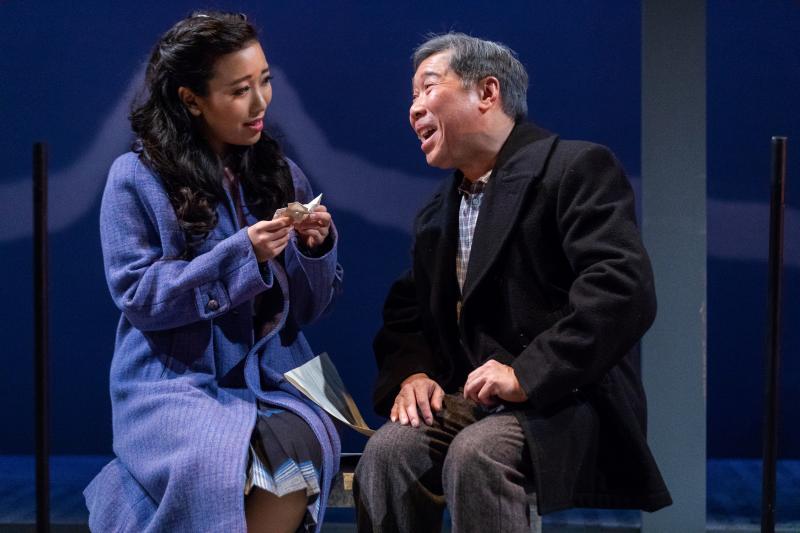 At the center of ALLEGIANCE is the Kimura family, three generations of farmers who supply an abundance of fresh vegetables to the grocers and restaurants in and around Salinas, California. Overnight they are separated, detained, stripped of their land, and sent to a relocation center in the desolate region of Heart Mountain, Wyoming. There they are tagged and herded like cattle into compounds where armed soldiers threaten them and medical care is withheld.
The Kimuras and other detainees do the best they can to adjust to the harsh conditions, planting gardens, playing baseball, and clinging to the few mementos they were able to salvage from their homes when they were abruptly removed. Then, in 1943, the War Department gives the men incarcerated in the camps the opportunity to enlist in a newly formed, segregated Japanese American infantry regiment - for all intents and purposes a suicide squad. The catch? They will need to complete a "Loyalty Questionnaire" swearing allegiance to the U.S. and rejecting all ties to Japan.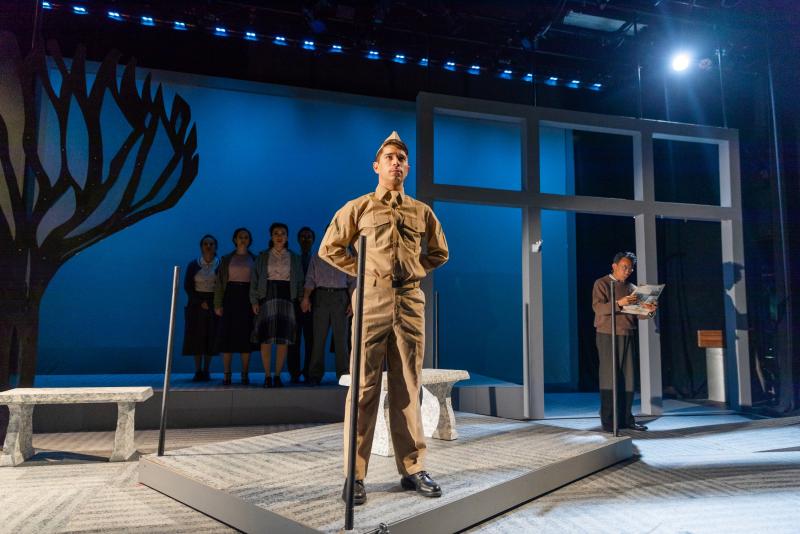 Predictable generational rifts occur. The eldest Kimura, the grandfather Ojii-chan (Gary Thomas Ng), tries to provide balanced counsel to his son Tatsuo (Ron Domingo) and grandchildren Sammy (Sam Tanabe) and Kei (Grace Yoo) when Sam's desire to assimilate by enlisting alienates himself from his father and sister. Sam is also confronted by the leader of the resistance, Frankie Suzuki (Tyler Simahk), a brash young man with whom Kei is smitten. Feeling rejected by, and rejecting his own family and culture, Sam finds comfort with the American Army nurse Hannah Campbell (Melissa Geerlof). When tragedy inevitably strikes, Sam lashes out, failing to reconcile with his family until it's too late.
Ng grounds ALLEGIANCE in a thoroughly authentic performance as both Ojii-chan and the elder Sam Kimura. He seems lightened by wisdom as the former but weighted by it as the latter. Conjuring the mild but indomitable temperament of Takei who assumed these roles on Broadway, Ng quietly expresses the hope and pain of immigrants everywhere.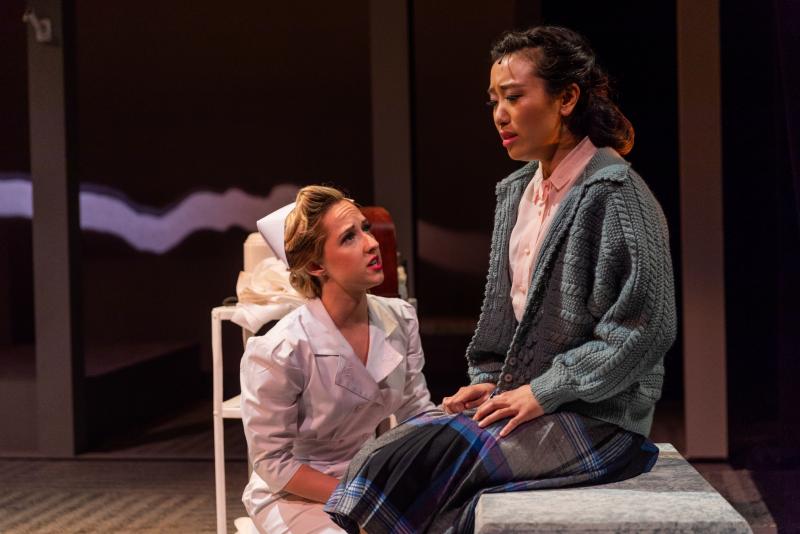 As the defiant Tatsuo, Domingo fuses fear and a well-founded skepticism with a smoldering refusal to capitulate to the War Relocation Authority. He steadfastly rejects the pleas of friend-turned-government-lackey Mike Masota (Michel Hisamoto) to swear undivided fidelity to America. Frankie similarly rebels, though Simahk harnesses all the bravado of a young revolutionist in leading his disciples against the Army's tyranny.
Siblings Sammy and Kei find themselves on opposite sides when he pledges loyalty to the very administration that has robbed them of their rights as citizens. He has made it clear where his allegiance lies, and their relationship suffers irreparable damage as a result. While Yoo as Kei wears her torn emotions unguardedly on her sleeve - and sings with the greatest clarity and intensity of anyone in the cast - Tanabe seems less assured as Sammy. He is at his best when paired in song with Yoo and Geerlof, both lovely singers and strong actresses.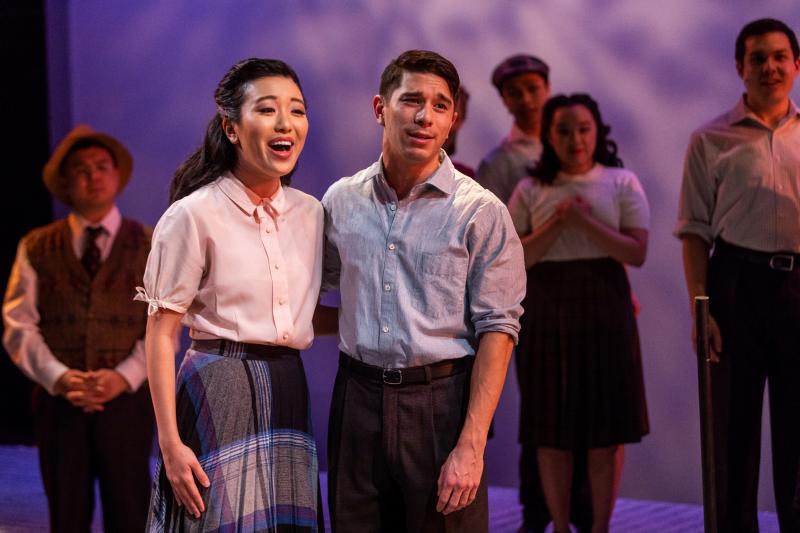 Neither Eric Levenson's antiseptic scenic design, Miranda Kau Giurleo's impeccable period costumes, nor Daniel H. Jentzen's general lighting evoke the sense of danger or despair one might expect in a remote World War II internment camp. While the modular, monotone set pieces do nicely suggest the elder Sammy's fragmented memories of his youth, the stark, bright grays feel thoroughly cleansed of any blood or anguish from the past.
The same can be said of ALLEGIANCE on the whole. The musical is more a celebration than condemnation. There are moments of outrage and sadness, to be sure. But those take a back seat to the themes of resilience and redemption.
In these times of unspeakable immigration policies that are literally ripping babies out of their parents' arms and placing them "wherever" without a shred of regret, ALLEGIANCE seems like a tame reminiscence. The horrific relocation of Japanese Americans to detention centers may have happened 75 years ago. But ALLEGIANCE could have been a much more potent piece of musical theater if it captured the urgency with which non-white American immigrants are living today.
PHOTOS BY NILE SCOTT STUDIOS: The Company of ALLEGIANCE; the company of ALLEGIANCE; Grace Yoo as Kei and Gary Thomas Ng as Ojii-chan; Sam Tanabe as Sammy; Melissa Geerlof as Hannah and Grace Yoo; Grace Yoo and Sam Tanabe