Award Winning Multi-Instrumentalist Sarah Blacker Returns To Club Passim
The concert will take place on February 4th.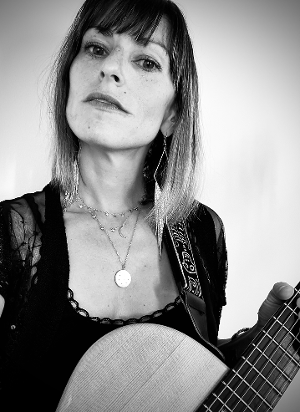 The incredibly talented Sarah Blacker returns to Club Passim in Harvard Square on February 4th for her first Boston area show in three years. Blacker will be joined by her band as she introduces new songs and shares some stories from a life of music. Tickets are on sale now at Passim.org.
Sarah Blacker's forever goal is to "take an audience on a journey" via song, story, and connection. To her, "songs save lives" and have consistently helped her to move from darkness into light, when exploring the ebbs and flows of life.
Also a Board-Certified Music Therapist, Blacker isn't shy to explore the soulful depths of human existence within her lyrics, and she regularly offers a cynical sense of irony tending to struggle juxtaposed over hope in her songs. Blacker is a one-of-a kind performer who's newest single, 'Beautiful Murderer' has been described as "gorgeous, evocative and eerie," and while she is regularly compared to Joni Mitchell with her stop-you-dead-in-your-tracks vocals and unique harmonic twists, she arrives with a side of Classic rock n'roll.
Regularly joined by Aaron Z. Katz of Percy Hill on percussion and harmonies, Phil Selsnick on keys/bass and vocals, and Mark Lipman on vocals, familiar songs find their way from structure into improvisation and the listener from inner peace to gut-punch grooves.
Named 'Female Performer of the Year' in the New England Music Awards, a Boston-Music Award nominee and CBS Boston 'Artist to Watch,' Blacker has also performed alongside Jefferson Starship, America, Paula Cole, Richard Thompson, Zack Deputy, and Sara Bareilles to name just a few.
Sarah Blacker will perform live at Club Passim Saturday, February 4, 2023, at 8:00 PM. Doors will open at 7:00 PM. Tickets ($25) are on sale now at passim.org. Club Passim is located at 47 Palmer St., Cambridge MA 02138.
Patrons and staff must wear masks at Passim unless actively eating or drinking. These policies are subject to change. For updates please visit passim.org.
About Passim
The mission of Passim is to provide truly exceptional and interactive live musical experiences for both performers and audiences, to nurture artists at all stages of their career, and to build a vibrant music community. Passim does so through their legendary listening venue, music school, artist grants and outreach programs. As a nonprofit since 1994, Passim carries on the heritage of its predecessors-the historic Club 47 (1958-1968) and for-profit Passim (1969-1994). We cultivate a diverse mix of musical traditions, where the emphasis is on the relationship between performers and audience and teachers and students. Located in Harvard Square, Passim serves Cambridge and the broader region by featuring local, national and International Artists. Our ultimate goal is to help the performance arts flourish and thereby enrich the lives of members of our community. For a complete schedule, visit www.passim.org.