Velma V. Morrison Family Theatre Series Announced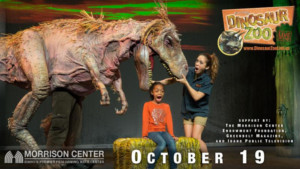 The Morrison Center presents Velma V. Morrison Family Theatre Series. Tickets are $6.50! Price does not include applicable fees. On sale: Friday, August 11, 2017 at 10:00 AM. Tickets available at: Morrison Center Box Office, MorrisonCenter.com or (208) 426-1110.
Erth's Dinosaur Zoo Live
Thursday, October 19, 2017 at
7:00 PM
Get ready for the ultimate play date - 65 million years in the making - as Erth's DINOSAUR ZOO LIVE guides your family on a breathtaking tour that begins in pre-historic Australia. You'll observe, meet and interact with an eye-popping collection of amazingly life-like dinosaurs and other creatures presented in a theatrical performance that will thrill and entertain kids while stimulating their imaginations in ways that will forever connect them to their world. Brought to life by a team of skilled performers and puppeteers, and designed with the help of professional paleontologists, Erth's DINOSAUR ZOO LIVE's puppets are so extraordinarily realistic you may feel the urge to run and hide - but don't! Because you won't want to miss a minute of this fun, unique, entertaining and educational live show created by Erth Visual & Physical of Sydney, Australia. While it may indeed have been 65 million years in the making, we think you'll agree, it's well worth the wait.
Recommended for ages 5+
Dinosaur Zoo Study Guide

Mr. Popper's Penguins
Saturday, March 17, 2018 at
2:00 PM
Painter and decorator by day, Mr. Popper spends his time dreaming of Antarctic adventures. He is astounded when one day a packing crate arrives on his doorstep and a penguin waddles out! With original songs and performing penguin puppets, this delightful, action packed musical adaption of Richard and Florence Atwater's popular book (also made into a Hollywood film starring Jim Carrey) is the perfect family treat!
Recommended for ages 4+
Mr. Popper's Penguins Study Guide Click, Clack, Moo
Friday, May 4, 2018 at
7:00 PM
"Cows that type? Hens on strike! Whoever heard of such a thing!" Farmer Brown cries. When his granddaughter Jenny comes for a visit, Farmer Brown declared the farm a "tech-free zone." He confiscates her laptop in the cold barn along with the shivering cows who use her computer to type messages requesting blankets. "No way," replies Farmer Brown. "No blankets!" So the cows go on strike and the chickens join them in solidarity. No blankets: no milk, no eggs! Will Farmer Brown give in to the animals' demands? Will Jenny get her computer back? Find out in a hilariously "mooooo-ving" musical about negotiation and compromise, based on the Caldecott Honor Book by Doreen Cronin and Betsy Lewin.
Recommended for ages 5+
Click, Clack, Moo Study Guide
More Hot Stories For You