Sun Valley Music Festival Announces Michael Feinstein and Jean-Yves Thibaudet for 2023 Gala Concert
The gala Performance of Two Pianos: Who Could Ask For Anything More? will take place on August 8.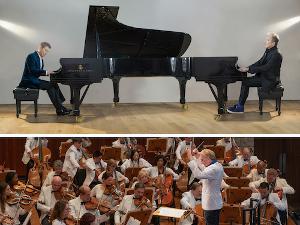 The Sun Valley Music Festival has announced Michael Feinstein and Jean-Yves Thibaudet Two Pianos: Who Could Ask For Anything More? for its 2023 Gala Concert on Aug. 8. Feinstein is an acclaimed force in American music with five GRAMMY nominations, a collection of multi-platinum-selling albums, and an Emmy nomination for his PBS television special Michael Feinstein: The Sinatra Legacy. For more than three decades, Jean-Yves Thibaudet has performed worldwide, recorded more than 50 albums, and built a reputation as one of today's finest pianists. Thibaudet is well-known to Sun Valley audiences for his sparkling virtuosity and vivacious stage presence. Together, they'll perform works by George and Ira Gershwin, Cole Porter, and Leonard Bernstein, along with forays into jazz, ragtime, Latin music, and stride. The program will include piano duos and solos, vocals from Feinstein, and works featuring the Festival's all-star orchestra. This is a special opportunity to hear these two fantastic artists with Alasdair Neale and the Festival Orchestra, all in a beautiful, alpine setting.
Music Director Alasdair Neale comments, "I'm so thrilled to welcome the amazing Jean-Yves Thibaudet and Michael Feinstein for what I know will be a hugely enjoyable and entertaining evening of music-making at this year's Gala. You won't want to miss this exceptional experience!"
Gala sales support the Sun Valley Music Festival and its community initiatives, helping keep the concerts and education programs free for everyone.
"It is a rare, humbling, and joyful opportunity to collaborate with Jean-Yves," says Michael Feinstein. "Having been a fervent admirer of his for so long, it's a heady experience to actually create with him in tandem. As an artist, he is a peerless musical talent, one truly for the ages!"
Performing together for the first time with their nationwide tour, Feinstein and Thibaudet have curated a program for their appearance in Sun Valley that will showcase their unique talents and interpretations of popular American music from the 20th century and the Great American Songbook. The artists will offer commentary and anecdotes to provide historical and social context for their selections, which will feature a number of works by George Gershwin (including his beloved Rhapsody in Blue) and other iconic American composers and songwriters.
"This opportunity to collaborate with Michael is really a dream come true," says Jean-Yves Thibaudet. "Since our first meeting I felt that incredible chemistry between us and we are thrilled to share the stage in Sun Valley with the renowned Festival Orchestra."
The concert takes place in the open-air Sun Valley Pavilion - in the shadow of Bald Mountain and Idaho's iconic Smoky Mountains. The performance begins at 6:30 PM; gates open at 5:00 PM for all Pavilion and lawn seating.
Tickets
Gala tickets will range in price from $85 on the lawn and in the Pavilion to $1,250 for the Sponsor Package tickets and $2,000 for Artist Package tickets. New this year: the Gala Artist Package will be a two-day experience, which includes a private reception, performance, and dinner with Michael Feinstein and Jean-Yves Thibaudet on August 7 at a lovely private home in a beautiful setting. On August 8, Artist Package ticketholders receive VIP parking, premium reserved concert seats, and a pre-concert reception at the Sun Valley Lodge Terrace. A very limited number of Artist Package tickets will be available. Purchase yours by calling 208-622-5607.
The Sponsor Package includes premium reserved concert seats, a pre-concert cocktail reception, VIP parking, and a seated post-concert dinner at the Grill at Knob Hill with an opportunity to meet Michael Feinstein and Jean-Yves Thibaudet. Sponsor package tickets are only available by calling 208-622-5607.
Tickets at the $275 and $550 levels include the pre-concert cocktail reception and reserved preferred seating in the Pavilion. Reserved Pavilion seats at $110 and $85 are also available.
General admission lawn tickets are available for $85. The concert will be broadcast on the Pavilion's state-of-the-art big screen and sound system, which provides an enjoyable concert experience from just about any vantage point on the lawn. Lawn tickets will be available to purchase only online.
Gala sales open to the public on Wednesday, April 19. Tickets may be purchased on the Festival website (svmusicfestival.org) or by calling 208-622-5607. Sponsor Package and Artist Package tickets must be purchased by phone; lawn tickets must be purchased online. Festival donors of $1,250 and above and Encore Society members will have the opportunity to purchase Gala tickets early. Early purchase details will be announced on the Festival website and by email for those who subscribe to receive Festival news electronically. Early Gala ticket sales will take place only by phone.
Visit the Festival website at svmusicfestival.org for Gala details and up-to-date information on tickets and attending, or sign up for e-news at svmusicfestival.org/subscribe to receive the latest Gala updates by email.
About the Sun Valley Music Festival
The Sun Valley Music Festival's mission is to enrich, inspire, and instill in our community a lifelong love of classical music through extraordinary, free concerts and education programs. Festival programs provide opportunities for people from all walks of life to listen, learn, and play. Now in its 39th year, it is the largest privately supported, free-admission orchestra in the United States.
More than 100 world-class musicians from North America's most distinguished orchestras, including the San Francisco Symphony, Pittsburgh Symphony Orchestra, New York Philharmonic, and Houston Symphony, comprise the Festival Orchestra. Summer Season concerts are held in July and August at the spectacular R.E. Holding Sun Valley Pavilion, in the mountain resort town of Sun Valley, Idaho. Winter Season concerts are held in February or March at the Argyros Performing Arts Center in nearby Ketchum, Idaho, which is adjacent to Bald Mountain, Sun Valley Resort's primary ski area. Internationally renowned guest artists such as Gautier Capuçon, Midori, Emanuel Ax, Audra McDonald, Daniil Trifonov, Joshua Bell, Joyce Yang, Yefim Bronfman, Kristin Chenoweth, and Jean-Yves Thibaudet have performed with the Festival.
The Festival strives to introduce every Wood River Valley student to the joys of classical music, to inspire the next generation of music lovers. Its year-round and summer Music Institute programs provide tuition-free instruction for string, piano, and voice students of all skill levels - from elementary through high school - that goes beyond the fundamentals and embraces the entire musician.