Aspire Presents ALL SHOOK UP Next Month
Performances run February 10-19.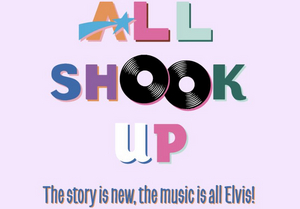 It's 1955, and into a square little town in a square little state rides a guitar-playing young man who changes everything and everyone he meets. Loosely based on Shakespeare's Twelfth Night, this hip-swiveling, lip-curling musical fantasy will have you jumpin' out of your blue suede shoes. Featuring Elvis classics "Heartbreak Hotel," "Hound Dog," "Jailhouse Rock," and "Don't Be Cruel" to name a few.
Aspire's second show of their sixth season, All Shook Up is fun for rock 'n' roll rebels of all ages!
Dates and times are as follows:
Feb 10, 11, 15, 16, 17, 18 @ 7:30
Feb 11, 18, 19 @ 2:00
Where:
Kroc Center Theater
Salvation Army Ray & Joan Kroc Community Center
1765 W Golf Course Road
Coeur d'Alene ID 83815
Tickets: $15-28
Discounted group rates are also available.
Buy online at aspirecda.com or (208) 696-4228