BWW Review: At Toby's In Columbia, JOSEPH's DREAMCOAT And Five All-Star Leading Ladies Dazzle In Amazing Technicolor.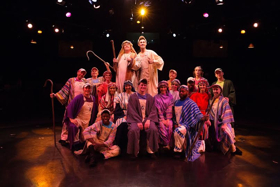 Jim Rouse's Ambitious Multicultural Dreamtown, Columbia, is fifty years old. Close behind is Toby's Dinner Theatre, celebrating 45 years. Bang in between is JOSEPH AND THE AMAZING TECHNICOLOR DREAMCOAT, which debut in 1968. One expects some nostalgic retrospective, and Toby's delivers. As part of the larger celebration of Columbia, Toby Orenstein invites five former Toby's leading ladies to share the choice role of Narrator in this fresh, fun production of an old favorite.
JOSEPH AND THE AMAZING TECHNICOLOR DREAMCOAT is unique in being an Andrew Lloyd Webber show written before Andrew Lloyd Webber was anybody. JESUS CHRIST SUPERSTAR's astounding popularity assured that Andrew Lloyd Webber would never be nobody again, which hasn't always worked in his favor.
From now through June 23, the Narrator part is sung by Caroline Bowman, WICKED's Elphaba on Broadway, who, at age 16, began her professional career at Toby's.
June 24- July 9 will feature Janine Sunday, who played Maria in WEST SIDE STORY at Toby's.
July 11- 26: Coby Kay Callahan takes over. Fiona in SHREK is one of her many roles in many Toby's shows.
July 27- August 11 brings in Cathy Mundy, Toby's JOSEPH Narrator in '97, also Auntie Mame in MAME at Toby's.
August 12- 27: MaryKate Brouillette, who played Eponine in LES MIS and Peter in PETER PAN at Toby's, finishes the run of the show.
Toby's Dinner Theatre is in Columbia, Maryland, easily accessed from 29 Southbound, with plenty of free parking all around the building. From Essex, it takes slightly more than an hour in rush-hour traffic, less horrifying than usual due to my special secret use of the Key Bridge instead of either tunnel.
Toby's offers its customary fine welcome, though we're running a smidge later than is polite. The large, clean ladies' room is our first happy stop following our journey. With me for Opening Night is a theatre newbie, who marvels at everything and cries at several points during the show, probably the highest compliment any theatrical production could wish, except for her later remark, "It's inspired me to be involved in theatre and other cultural things."
The multi-tiered seating around the floor that's both stage and buffet area assures every seat is a good one. It's snug-ish; leave unnecessaries elsewhere. The buffet offers variety to please everyone- our vegetarian tablemate seems satisfied- and includes a sturdy salad bar, shrimp cocktail and a basket of impressively delicious bread. Everything is well prepared, though there will be preferences: Toby's signature spinach dish, which I love, our vegetarian friend decrees 'bland,' and is judged to have 'too much spinach' by my companion. Tonight's special drink, the Calypso, sounds a bit sticky, and it is- but just a bit, with a little kick.
I like JOSEPH AND THE AMAZING TECHNICOLOR DREAMCOAT and its optimistic sixties spirit. Though Andrew Lloyd Webber's not my favorite, I'm a fan of Tim Rice's snappy lyrics and their occasional linguistic flourishes. Like JESUS CHRIST SUPERSTAR, JOSEPH is less musical theatre and more contemporary opera, without spoken dialogue. In 1968, JOSEPH was a 15 minute pop cantata at a boys' school in London, then recorded as a concept album (remember those?) and continued as a work in progress thereafter. JCSS's success allowed Rice & Webber to promote an expanded JOSEPH as a 'follow-up,' regardless the inaccurate description of both script and story.
David Hopkins, scenic and lighting designer for JOSEPH, presents a three-dimensional modular set -he credits Lynn Sharp Spears for the design- in a bright and sparkly rendition of what is, let's admit, a fun but silly libretto. The stylistic musical pastiche of hoedown, Calypso, jazz, rock-n-roll, Broadway, and others, is supported by costuming, props and musical arrangement, but the set is primarily Old Testament, with some well-done '70s disco tossed in for fun.The sphinx has an enchanting moment of brilliance. I admire the modular "rocks" which transfigure into nearly everything and provide what is known as 'levels' to give prominence and height (both literal and figurative) to moments or performers. Co-directors Toby Orenstein and Mark Minnick have a coherent vision for this potluck show, and action moves smoothly with barely a pause between sequences. Minnick's choreography is up to his usual standards, lively, varied and well executed, with a few twists of the unexpected and a couple of moments (those knee pops!) that make me want to send him a love letter this second.
The cast is beautiful, everyone imminently watchable. Minnick and Orenstein have assembled a cast of many colors, ages, sizes and character types. The only thing homogeneous about the cast is the level of talent displayed. Caroline Bowman enchants me from her opening notes, and without overshadowing the rest of the cast, provides a focal point, and the blend of voices in each number is a treat to the ears. Wood Van Meter, newcomer to Toby's, is lovely as Joseph- alternately confident, bewildered, vulnerable and vengeful- despite being mostly naked for most of the show, and delivers a delightful interpretation. As Levi, Gregory Banks is thrillingly acrobatic in One More Angel In Heaven. The entire Ensemble is versatile and quick, and manages without incident many MANY costume changes. Particularly noteworthy is the Women's Ensemble of Heather Beck, Rachel Kemp, Nia Savoy, Rebecca Vanover plus future Narrators MaryKate Brouillet and Coby Kay Callahan. The show isn't written to feature women; however, they shine, by being consistently step- and note- perfect, no matter which scene or costume.
Some songs simply move the plot, others amuse and engage, and in the absence of a powerhouse finale, I think a medley works fine, but there are a few numbers which are practically showstoppers. Music director Ross Scott Rawlings adjusts arrangements and orchestrations, and has crafted a lovely journey through the stylistic smorgasbord of this show, in every case highlighting their differences. This thematic choice is reinforced by splendid costuming, courtesy of Lawrence Munsey. From the hats in 'Joseph's Coat' to the 42nd Street outfits for 'Potiphar' and a Sphinx where a poodle ought to be in 'Song Of The King,' Munsey comprehensively enhances the patchwork of a show that refuses to settle down and behave seriously.
The arrangements and performance of the live mini-orchestra, directed by Ross Scott Rawlings, also keyboards tonight, makes the score sound better than any other rendition I've heard. My special favorite is the jazzy, bluesey trumpet of Tony Neenan. A common critique of musical theatre is unbalanced sound, but sound designer Corey Brown ensures that's not problematic here. Excepting some shu-bop-she-wadda-waddas muddying Pharoh's recounting of his dream, everything sounds swell. The music envelops us without weird distortions or overwhelming the space. Despite a minor mic issue, all singers are clear and capable, and some downright wonderful.
Though the production is lighthearted and bright, the story holds a stockpot of family discussion topics: parenting, favored children, sibling rivalry, slavery, political power and its use or abuse, sudden reversal of circumstance, false accusation, stewardship of a nation, perseverance, forgiveness, and whether one who has special gifts or talents has the responsibility to share them for the good of the community. Toby's fabulous rendition of JOSEPH AND THE AMAZING TECHNICOLOR DREAMCOAT is good for the community of Columbia, it's good for families, it's good for anyone who loves musical theatre, and unless you're a Beckett fan or confirmed curmudgeon, it'll be good for you, too.
Toby's Dinner Theatre of Columbia, 5900 Symphony Woods Road, Columbia, MD 21044
For additional information including pricing, buffet menu and directions, visit www.tobysdinnertheatre.com.
For tickets, phone the box office at 410-730-8311, 301-596-6161 or 1-800-88-TOBYS 10 am - 9 pm. Doors open at 6 Tuesday through Saturday evenings, with dinner from 6:30-7:20 for an 8 pm showtime. Wednesday and Sunday Matinees, the buffet is 10:30-11:50 am for a 12:30 pm show. Sunday evening supper is at 5:30 pm, with a 7 pm showtime. The show runs about one and a half hours, including a 20 minute intermission.
Photos credit- Jen Tidwell L to R: Cast of JOSEPH AND THE AMAZING TECHNICOLOR DREAMCOAT at Toby's Dinner Theatre in Columbia, featuring Jacob & Sons; Narrator Caroline Bowmen and Wood Van Meter as Joseph