Bio:
Latest News on Wood Van Meter
Wood Van Meter Biography
Wood Van Meter News
Friday 5(+1): Getting To Know The New Faces of Nashville Rep's RAGTIME
by Jeffrey Ellis - Nov 12, 2021
Ragtime opened last night, featuring a cast of Nashville stage veterans and a sizable coterie of performers, heretofore unknown to local audiences, who are certain to become fast favorites. Taking a brief respite from their hectic schedules of rehearsals, fittings, photo calls, more rehearsals and getting to know one another, four of those newcomers – Shelby Denise Smith, Wood Van Meter, Kortney Ballenger and Steven McCoy – took the time to answer our questions to tell you why you need to score those tickets for Ragtime now if you haven't already.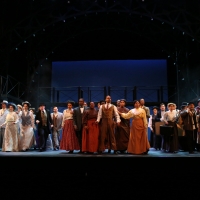 BWW Review: Star-Studded RAGTIME Heralds Nashville Repertory Theatre's Return to Live Performance
by Jeffrey Ellis - Nov 11, 2021
Ragtime, the Tony Award-winning musical about life in these United States during the very early years of the 20th century, is a richly drawn and evocatively told rumination on the pursuit of the American dream seen from the perspective of a diverse, multi-ethnic cast of characters. Now onstage through Sunday at the Tennessee Performing Arts Center's James K. Polk Theatre, in a glittering and sumptuous revival from Nashville Repertory Theatre, Ragtime proves an ambitious choice for the company's return to live performance after more than 18 months of darkness due to the Covid-19 pandemic.
Nashville Rep Comes Home to TPAC's Polk Theatre for Season-Opening RAGTIME
by Jeffrey Ellis - Nov 9, 2021
Opening Thursday night, November 11 and continuing for five performances through Sunday, November 14, Ragtime – the musical by Stephen Flaherty (music), Lynn Ahrens (lyrics) and Terrance McNally (book) which, in turn, is based upon E.L. Doctorow's 1975 novel of the same name – promises to be a grand undertaking, which hopefully will blow away the cobwebs and the dust that's collected in the past year-and-a-half during which the theater was dark and the company strived to remain relevant and productive amidst all the challenges that ensued.
Creative Cauldron Presents Holiday Cabaret Series 2020
by Stephi Wild - Dec 19, 2020
Every night through December 23rd Creative Cauldron is offering a live streamed, social distanced cabaret from DMV artists, almost all at 7:30 pm.
NextStop Theatre Company Finds a Way Back with THE PARKING LOT CONCERTS
by Chloe Rabinowitz - Sep 18, 2020
NextStop Theatre Company has announced their brand new outdoor concert series called a?oeThe Parking Lot Concerts,a?? being performed on Saturday evenings at 7:30pm from September 26th to October 31st.
BWW Review: FOREVER PLAID is Heavenly at Pittsburgh CLO Cabaret
by Greg Kerestan - Nov 15, 2019
The line between parody and nostalgia has never been slimmer than in this slick, funny and beautifully sung production of America's weirdest favorite show.
Photo Flash: First Look At FOREVER PLAID At Pittsburgh CLO
by Chloe Rabinowitz - Nov 14, 2019
Pittsburgh CLO is celebrating the 15th season of the CLO Cabaret with the first show ever performed at the venue – FOREVER PLAID! This show is just as perfect a fit for the unique Cabaret space now as it was in the Cabeinaugural season. This New York musical comedy hit is the deliciously funny and charming story of "The Plaids," a classic 1950s all-male singing group, who were killed in a car crash on their way to their first big gig!
Meet The Cast Of FOREVER PLAID at the Greer Cabaret Theater
by Stephi Wild - Oct 2, 2019
Casting has been announced for Pittsburgh CLO's exclusive engagement of the hit musical comedy FOREVER PLAID at the Greer Cabaret Theater October 31 - December 29, 2019. Don't miss the legendary Off-Broadway smash that has been making crowds swoon for years. Join 'the Plaids' as they pay affectionate - and hilarious - musical homage to the close-harmony crooners of the 1950s.
Theatre Week Kickoff Party To Feature 45+ Theatre Organizations, Children's Programming
by A.A. Cristi - Aug 26, 2019
The 2019 Theatre Week Kickoff Party celebrates the launch of the 2019-2020 theatre season and the start of Theatre Week in the Washington region. The event will take place on Saturday, September 7, 11am-4pm at Arena Stage Mead Center for American Theater. It is a free event and tickets are available through the TodayTix app and website.

BWW Review: SINGIN' IN THE RAIN at NextStop Theatre Company
by Jack Read - Jun 4, 2019
Certain shows are practically foolproof bets for audiences. A Midsummer Night's Dream, for example, is such an exquisitely crafted play on the page that a good time is all but guaranteed. Singin' in the Rain, the stage musical based on the 1952 film directed by Gene Kelly and Stanley Donen, is one of those guarantees. But NextStop Theatre Company's new production, their 2018-19 season closer, is not complacent to simply let the natural charms of this show lure in its audience. They've built a showcase for a dynamic ensemble of on and offstage talent, and the work put into every single moment is palpable and dazzlingly joyful.