Student Blogger: Macy Mae Cowart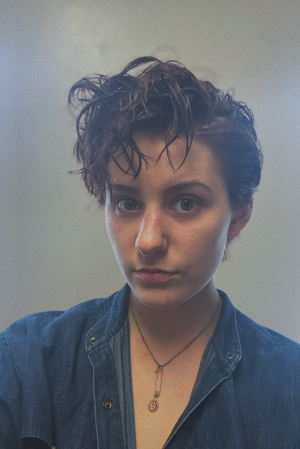 Macy is currently a theatre student at SMU's Meadows School of the Arts, set to graduate in 2023.
MOST POPULAR ARTICLES
LAST 30 DAYS
LAST 365 DAYS
Student Blog: How Kitchen Theatres Shape is Breaking the Barrier Between Women and Weight Lifting

June 25, 2021

Director and playwright Kara-Lynn Vaeni on the world-premiere of Shape at the Kitchen Theatre.
---
Student Blog: Broadway Pride Playlist

June 3, 2021

Happy Pride month, BroadwayWorld! I have pulled together my favorite show tunes that celebrate pride. From shows like Rent and Fun Home to songs by Broadway stars like Danny Quadrino and Ben Platt, I got you covered. Go to the Spotify link below and let the party begin!
---
Student Blog: Youtube Yoga for Actors

May 25, 2021

As in person classes increase and live theatre begins to open, a yoga practice has never been more important for an actor. These are my favorite yoga practices from Yoga with Adriene that I find beneficial for actors.
---
Student Blog: Three Fictional, Yet Oddly Familiar and Realistic, Journals From The Author Themself

May 20, 2021

Three realistically fictional journals from three different eras of the author. Self reflection, self evolution, Broadway, Broadway's return, and Broadway's power.
---
Student Blog: Yale Drama Series Prize Winner Rachel Lynett on 'Apologies to Lorraine Hansberry (You Too August Wilson)'

April 23, 2021

The 2021 Yale Drama Series Prize has been awarded to Rachel Lynett who says, 'the seed of the play is two things: One, I wanted to address that the black experience is not monolithic [...] Two, what does it mean when we ask actors to take on all these roles and what's the toll on it for them?'
---
Student Blog: 10 Plays That Are Better Than Lysistrata

April 10, 2021

"I have an idea," you say, "I am going to write a Newer, Cooler, and Better play than Lysistrata. We will perform my Newer, Cooler, and Better play instead."
---
Student Blog: Pop/Rock Songs For Your Next Audition

March 30, 2021

This style of musical theatre is rapidly growing in popularity. I found ten audition songs that will show off your range and storytelling skills!
---
Student Blog: How Three Theatre Students Turned a Class Project into an Award Winning Film

March 15, 2021

Read this interview with first year theatre students Leon Jones, Rhett Goldman, and Caleb Mosely on their film "Through My Mind."
---
Student Interview: Award-Winning Director and Writer Kara-Lynn Vaeni on "In Search of The Sublime"

February 17, 2021

To get a better idea of Kara-Lynn's thought process behind "In Search of The Sublime," we hopped on a Zoom call. 
---
BWW Blog: Regaining Creative Power

February 4, 2021

Until I can get out of my own way and let elementary school Macy back in, I'll continue reading beautiful plays and writing silly little stories, exercising my creative writing muscle back to strength. ​​​​​​​
---
Student Blog: 28 Plays in 28 Days by Queer Playwrights

February 1, 2021

Student blogger Macy is sharing 28 plays by Queer playwrights for the month of February!
---
BWW Blog: 28 Plays in 28 Days

January 26, 2021

I give you a 28 plays by queer playwrights in 28 days reading list. Shoutout to The New Play Exchange. 
---
BWW Blog: How to Rehearse Monologues When the Country is on Fire

January 11, 2021

As you know, the country is on fire. "Life goes on" though doesn't it? I wish I could read the recent headlines and go "c'est la vie!" and proceed to rehearse monologues and be a creative artist. 
---
BWW Blog: Four Things to Know Before College Auditions

December 21, 2020

To those auditioning this year or in years to come, here are four things I wish I knew before walking into my first college audition.
---
BWW Blog: Read 31 Plays in 31 Days With Me

December 1, 2020

A play calendar is exactly what it sounds like- a calendar with one play assigned to each day of the month.
---
BWW Blog: Creating Space for Creativity (Part 1)

November 23, 2020

If you are losing your arts school basement like me, or haven't had one at all, here are some tips on creating a space at home that supports and fuels your creative endeavors.
---
BWW Blog: Overcoming the Overworking Mindset in an Industry That Never Sleeps

November 12, 2020

So how do you avoid burn out? Just rest, right?! Take a break?! Put down the work and relax?! Super easy right? Ha. Haha. *sigh*
---
BWW Blog: Why I Needed to See Jagged Little Pill Before the Broadway Shutdown

October 19, 2020

Cast members suddenly, and stealthily, claim the stage. The energy zaps you. Each cast member dances, acts, and sings directly to you. The theatre shakes and rattles your bones. I knew in the Overture that my dad and I were watching a special piece of theatre. Jagged Little Pill.
---
BWW Blog: Using YouTube as a Learning Tool for Theatre Artists

October 9, 2020

Like most people in the world, quarantine threw me for a loop. What do I do with all this free time? For the first time in years, no rehearsals, auditions, or classes were inked on my calendar.
---