Student Blog: Three Fictional, Yet Oddly Familiar and Realistic, Journals From The Author Themself
Featuring The Return of Broadway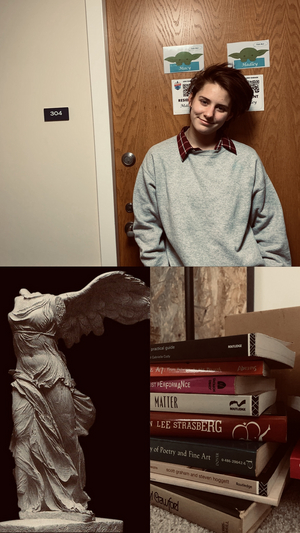 MACY'S JOURNAL
TODAYS DATE/2020
Hello, self. Good morning.
Today I woke up at 5:00 a.m.
Waking up before everyone else makes me feel like a winner.
Lately, I have felt like anything but a winner.
Things that make me feel like a winner:
Parking
Making a smoothie
Not snoozing my alarm
Brushing my hair
Brushing my dog's hair
Cutting my hair
Reading a book on acting
I love acting. I miss acting. I miss Broadway. Everyday, I feel it's bright New York City presence absent from my Texas hometown. Not like it ever existed in my hometown- Broadway's presence. It did for me, but not for everyone else. Probably because I'm different and destined for big things like Broadway. When Broadway reopens, the world will shake.
Here is why:
It's opening night of Broadway
7:50 p.m. : Tickets scanning. People file into the Gershwin, the Winter Garden, the O'Neill, the Broadhurst.
7:55 p.m. : The seats are almost full. "Quickly! I'll meet you at the seats," rush to the bathroom. Unknowingly to the audience, a stage manager/theatre god calls, "5 minutes." The house manager is crying tears of joy and also stealthily stress eating M&Ms out of their pocket.
7:59 p.m. : Because this is a perfect world that I am creating, I make the rules. So at 7:59, every seat is filled and everyone is in places. Every single theatre is ready to go when the clock strikes eight.
8:00 p.m. : Time Square is quiet. Maybe vacant. Empty, but somehow still pumping with life and light. The lights go out and...BOOM. The shake from every theatre on Broadway playing the first note to its Overture is such a relief. Like a taut string that's stretched tighter every night Broadway's been quiet, finally cut. The anticipation and collective need for Broadway's first note back creates a roar in the audience. Everyone stands clapping and hooping and hollering. Dancing. Crying. Cheering. Hugging. There is so much energy, it shakes the world.
This is all I want. I won't feel right until Broadway shakes awake.
MACY'S JOURNAL
TODAYS DATE/2021
Hello, self. Good morning.
Today I woke up at 6:55 a.m.
Waking up early makes me happy. I love the air in the mornings. It hasn't been breathed in too much yet, so it's still crisp and fresh. Like when you open a soda can and the first few sips are good, but all the sips after that are warm and dull and taste like what I imagine a car tire would taste like.
Lately, I have felt like I'm Jumping Out of Water...(think Mermaid.)
Things that make me feel like I'm Jumping Out of Water (Mermaid):
Dancing
Believing that casting directors want to be my best friend because they asked about that show on my resume in my five minute callback. They don't want to be best friends. It takes me a few days to stop missing their company.
Pineapple juice
Conversations with people who are retiring
Conversations with people who also like The Group Theatre
Conversations with people who want to write plays, but haven't yet
My frog earrings
I've written a copious amount of Tony award acceptance speeches in the shower. My earliest one dates back to the third grade.
This year in college, we got to do scenes. Which is great because I am in acting school. Doing acting scenes would seem like an, "of course" kind of thing. Why wouldn't we?! Exactly, why wouldn't we. I did seven scenes this year. We, my scene partner and I, put up each scene in class at least two times, sometimes three. Each time felt like a performance. I would go to sleep early the morning before class and set my clothes out for the next day. I could never sleep the night before putting up a scene- I was too nervous and excited and anxious and excited. In the mornings, I'd do a long warm up and get to class about forty five minutes early for absolutely no logical whatsoever. I was already warmed up. I just wanted to be in the room and wait. It felt like waiting for places in a dressing room. Whoever was first to arrive for class, my professor or fellow classmate, whipped me out of my opening night fantasy. All the pre show nerves still danced through my body, up my spine, down my arms, and into my skull. When my scene was called to go up, I'd have to take a deep breath before standing up just to calm myself down. I still don't know what I needed calming from- too nervous, or too excited? The scene itself always felt like a fever dream, which is separate from the opening night fantasy dream. Hate to break the vibes but putting up the scene was everything "putting up a scene in class as an acting major" is like...if you know, you know. There's no crying in baseball and there's no daydreaming when you gotta pull a new objective out of your ass after the first run. When class was over, I floated out of the room. Every time I did a scene in class, I'd leave on cloud nine. Usually, I'd call my mom later in the day and tell her all about it. Then journal about it. Tell my therapist about it. That feeling I had putting a scene up in class- It was better than Broadway.
I had never treated theatre with such delicacy.
I never knew I could find so much fulfillment in my scenes for acting class. More fulfillment than Broadway.
I thought that kind of stuff only lived in true theatre performances. On big stages with a sold out house. Like on Broadway. Broadway can open. Please, actually. Do open.
But open as a new evolved self.
Broadway has a lot of evolving to do before it shakes the world with its first Overture note.
MACYS JOURNAL
TODAYS DATE/2028
Hello, self. Good afternoon.
Today I woke up at 9:00 p.m.
I missed the sunrise and I have a headache.
As you can see, many years have passed and it is now 2028.
I have a great job that is vaguely related to my college degree.
I'm in my late twenties, so I am growing herbs from my windowsill so I can tell Tinder dates that I garden for fun.
Things that I do for fun:
Job
Herbs
Headache
Afternoons
Tinder
Dates
Garden
My job might be related to Broadway. I live near Broadway. THE Broadway. Yeah, I know. The Big Dream.
All I know about my job is that it's exactly what I dreamed it would be and also my worst nightmare.
Remember when Broadway closed? I thought that was the end of my world and I wasn't even on Broadway. I don't think I've ever been on Broadway. Yeah, no, I haven't. No Broadway. And when I was in college pouring my soul into those scenes because theatre was still closed, I kinda thought that it would be the end of the world if I wasn't on Broadway too. I knew it really wasn't the end all be all and I knew that my chances were slim to none, but I still believed in myself. But now I am in my late twenties and see that Broadway holds so much power. The power to lead a reset in the theatre community when it is long overdue, tell diverse stories by diverse artists, call out harmful ill intentioned people, and uplift underdogs. The power to show me my greatest passion in life, a community of artists, and characters who talk, dress, and love like me. Broadway is powerful. And I'm so glad Broadway uses its power to make change and meet demands.
I'm not even a part of Broadway. I don't think I'll ever be...remember, I loved those scenes in acting class too much? I'm probably still paying old people to watch me act in exchange for five minutes of notes, three minutes of which is them telling stories of, "one time...on set..." which are great stories, don't get me wrong.
Anyways.
All this to say.
I'm glad Broadway exists. So glad.
I'm glad Broadway reopened.
I'm glad Broadway did the right thing and made the right changes when it returned, way back in the day...since I'm in my late twenties now, ya know?
Anyways I'm off to my job that is vaguely related to my college degree.
Broadway, no hard feelings. But also.
Broadway, what would have happened if you didn't make those changes?
Make sure that fantasy doesn't exist.
Sincerely,
Macy