Student Blog: How Kitchen Theatres Shape is Breaking the Barrier Between Women and Weight Lifting
"Women would come up to me after the show and say, "I want to learn how to lift heavy but I'm scared." So, can a play make you less scared to lift?"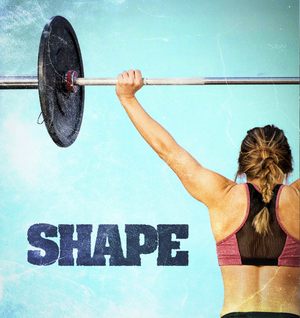 Can a play make you less scared to hit the gym? I don't mean the stairmaster or the treadmill, I mean front squats, cleans, and kettlebell swings. Kara-Lynn Vaeni is the playwright, director, and heavy weight lifter behind the Kitchen Theatre's production of Shape in Ithaca, NY.
Shape follows Puppy, a 47-year-old East Coast woman who moves to Texas and learns to get strong in more ways than one. Throughout the play, audience members watch Puppy, played brilliantly by Annie Henk, perform deadlifts, difficult ab workouts, and challenging cardio, all while delivering a hilarious and honest story that's making women wonder, "maybe it's not too late to start lifting weights?" After watching Shape through its online streaming format, I hopped on a call with Vaeni to hear more about the show's effect on audience members.
To begin, tell us about the writing process for Shape?
Well, Shape is about a period in my life that was really hard and how I got through it.
I thought I was just writing a play about idiosyncratic experiences that happened to me and how I deal with them, which is usually through humor or anger or both. That's how I deal with everything. So I thought I was writing a play with in-jokes to myself. I didn't think it would ever be produced.
And then other people started to read it, other women, and everybody was like, "this is my story. I want to produce this play because it's my story." All the design team, even the men were like, "This is my story." And people tell me that it's their story with such ownership which is weird because one, I thought it was just my story. Two, I didn't think it was universal in any way whatsoever. So that sort of response of ownership is fascinating to me, and a little depressing that it's such a common experience.
For Shape, you are doing these post show surveys. What's the intent behind that?
The surveys are for an experiment which is asking, can a play that shows actual weight lifting on stage in all its truthfulness change anybody's behavior? Weightlifting can be boring. It's boring to try and crank out reps to chase a number and not get it. But that's the main thing about weightlifting. One day you get it and the next day, you may not be able to. Progress is not linear. It's a really interesting part of weight lifting and something that's important for type A achievers to know. Once you break a weight barrier, it doesn't mean you live happily ever after. All it means is that you do it on that one day, and the next day You May Go down again.
The population I'm most interested in is women, because we are traditionally afraid of the weight lifting section of the gym. We just don't go in there because we get cat called, hit on, or shit explained to us that we don't need explained. You're just at the gym to work out, but there's a huge barrier for women to get into the weight lifting section.
So if I put what happened to me and like all the scary shit and how one person deals with that scary shit on stage, will it make a difference. Will any women be like, I'm going to try weight lifting now?
How was the survey conducted?
So the survey is really simple. You fill it out after you see the show and it asks for your age, your gender, your race, do you think about your weight monthly, weekly, or daily, do you have a weight lifting practice now, and have your feelings about weight lifting changed after seeing the show. There's also a section for, "anything else you want to tell me?"
What kind of response are you getting?
So far, it's breaking down very clearly along gender lines. Who thinks about their weight daily? More women do than not. I mean, you could have predicted that but it's also what I'm seeing.
But there are two things that really stand out to me in the "anything else you want me to know" section. I get three comments showing up all the time:
One, this play says fuck too much.
Two, thank you for showing my journey onstage. Thank you for being honest about this. It's such a relief to know that there are other women who also feel this way.
Three, comments from people of color who are saying, it's really nice to see a play with people who look like me and they're not performing racial trauma at all.
In general, that part of the survey is showing people saying, I feel seen in a way that hasn't existed in other places.
The show is focused on Puppy, who is a woman. Did you receive any responses from men connecting with her story and the show?
Yes. A surprising amount. I think if you're a woman who thinks about her body at all, the show is going to appeal to you in that way. But based on the feedback I've been getting, if you're
capable of having enough empathy to watch a play with a woman lead and you are not a woman, what you can get out of Shape is the relationship with your body. Also, themes around getting older in a youth culture, being afraid of how people will view you, and being afraid to lift weights.
Did you anticipate the show would have this great of an effect on people?
I'm pretty cynical. I don't think theatre can change the world because I think people who go to theatre already want to be there; you're preaching to the choir. So when I created the survey, no I did not expect to see anything. But the amount of people who are like, "No I did not weight lift before this play. But after seeing this play, yes I am excited to try it" is f-ing great! We have more strong women to overthrow the patriarchy if nothing else.
Yes! Get off the deadly treadmill and to the fun stuff!
I mean really, weight lifting should be targeted to women because we get osteoporosis and weight lifting helps prevent that. But weight lifting goes beyond our health. In the play the lead character overcomes a lot of hardship that she's scared of and that strength transfers into other areas of her life. She even says that in the play and it happened to me as well. I had a moment in life of, "holy shit I can lift that much and I'm the age that I am!?" There's this narrative in this country that you're going to achieve everything that's good and interesting about you by 25 and then after that, you're not a kid genius anymore so it doesn't matter. And I didn't realize the extent to which I had internalized that. But now I'm like, "oh I lifted 265 at age 49- hell I wrote my first play at 50 and here it is! What else can I do?"
What is it like directing weight lifting on stage?
So the biggest challenge is that we're also performing outdoors in the summer. So much respect for these actors. So obviously some of the weights are fake. She's not really lifting 200 pounds on stage because that would be ridiculous to do Tuesday through Saturday and twice on Sunday. What she does have to do is deadlift 75 pounds every time. She does ten reps of 75 pounds which means in about three minutes, she's lifted 750 pounds. That stuff is real. The approach I took in directing it was safety first, so working with a personal trainer. I worked with the theatre so she could be getting massages once a week. We have water bottles set around the stage. We also have alternatives so if she isn't feeling an exercise one day, she has a bunch of easier options. We also went much heavier and harder in rehearsals so that performances would feel really easy.
Did you see the same growth from Annie Henk (Puppy) that you experienced in writing the show and weight training?
That's a hard question because Annie is already tough as hell. She is a badass. Period. She worked really hard to get great at these moves and she only leaves the stage for five minutes at the end. Otherwise, she talks in paragraphs. So it's two horrible things right? Learning all these f-ing lines that are written very idiosyncratically and learning a new way of moving your body and putting those two things together? That is a bear. So to your question, what I noticed was the further we got in the process, the less she would deliberate about stuff and the quicker she would just get to it. She got like, super efficient and as the process went on she would apologize a lot less and just sort of be matter of fact about mistakes rather than getting upset. It was great.
Is there anything else you want people to know about Shape?
I mean yeah, she says fuck a lot. People are like oh this is your attempt to be hip. And I'm like no it's not an attempt to be hip, it's because that's how I f-ing talk! And then I really I was like, why are people so bothered by fuck and why am I so in love with it? And for me saying fuck all the time whenever I want feels powerful. I know that there's a lot of arguments against why that is not the case but for me, growing up with a minister father the rampant use of fuck to me is powerful.
In the play, the trainer James never swears. He hates swearing, he hates hearing about "women stuff" like menstruation, he's pretty prim, actually. So of course, Puppy is going to swear and talk about sex and periods all the time to get to him. Saying "fuck" is the tool she employs most to get to him and apparently it worked on some audience members too.
Apparently some of them need to get more used to it too!
I mean, David Mamet gets to write his f-ing misogynist plays and no ones tells him not to say fuck, nor do they tell him not to write misogynist plays so...
So true. He can just do what he wants.
Let's play a game: If I Was A Man Would Anyone Care If I Said Fuck?
This is the summer you finally get in Shape!
The world-premiere of Shape runs at the Kitchen Theatre until June 27th.
You can also pay-what-you-can and stream the show online.
Follow the link below for tickets.