Steve Callahan

A native Kansan I have a BA (Math and Theatre) and MA (Theatre). I was working on a PhD in Theatre when IBM sniffed my math background and lured me away with money enough to feed my (then two) children. Nevertheless I've been active in theatre all my life--having directed fifty-three productions (everything from opera in Poughkeepsie to Mrozek in Woodstock to musical melodrama in Germany) and I've acted in seventy others. Now that I'm retired I don't have that eight-to-five distraction and can focus a bit more. I've regularly reviewed theatre in St. Louis for KDHX since 1991 and am tickled now to also join BWW.
MOST POPULAR ARTICLES
LAST 30 DAYS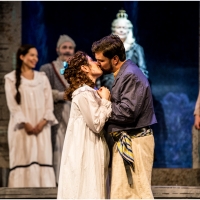 BWW Review: THE PIRATES OF PENZANCE Charms at Winter Opera
Posted: Nov. 10, 2019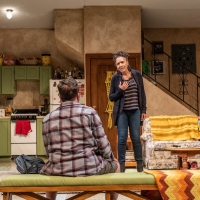 BWW Review: THE LIFESPAN OF A FACT at Repertory Theatre Of St. Louis
Posted: Oct. 22, 2019


LAST 365 DAYS

BWW Review: A Glorious RIGOLETTO Opens at Opera Theatre St. Louis
Posted: Jun. 4, 2019



BWW Review: FIGARO is Brilliantly Married in St. Louis
Posted: May. 28, 2019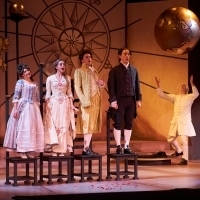 BWW Review: Union Avenue Opera Gives St. Louis a Brilliant CANDIDE
Posted: Jul. 8, 2019


BWW Review: St. Louis Repertory Theater Presents A DOLL'S HOUSE, PART 2

October 14, 2018

A scandalous drama is still politically potent after 139 years! When Nora Helmer slammed that door in 1879 she told the world that her duty to herself was greater than her duty to her family. Henrik Ibsen's A Doll's House has been an iconic inspiration to generations of second-wave feminists. In that simple, strong action Nora--Torvald's 'little songbird'-- flipped the bird to centuries of patriarchy.
---
BWW Review: A Dark Story And Bright Music In THREE DECEMBERS At The Kranzberg

September 10, 2018

The St. Louis Opera Collective is an adventurous tiny company that brings us chamber operas. Their current offering at the Kranzberg Studio is Three Decembers, with music by Jake Heggie and libretto by Gene Scheer.
---
BWW Review: Paula Stoff Dean Brings Bright Cabaret to The Monocle

August 29, 2018

I first saw Paula Stoff perform-oh, years ago¬-in a revue by the Non-Prophet Theatre. They had some fine local talent who were performing very well indeed. But when Paula stepped into the spot-light and sang I swallowed my gum! What in the world was this Broadway talent doing with this tiny company in St. Louis?? Now (as Paula Stoff Dean) she appears in her cabaret debut. I can only say, 'IT'S ABOUT TIME!!
---
BWW Review: 'KING CHARLES III' Probes Royal Power at the Ivory

August 26, 2018

What is the place of monarchy in today's world? An utterly fascinating 'King Charles III' opens at the Ivory.
---
BWW Review: SArTrE! 'No Exit' brings Hell to the Chapel.

August 25, 2018

Jean-Paul Sartre's iconic play 'No Exit' is receiving a solid production under the aegis of the Slightly Askew Theatre Ensemble (SATE). It's directed by Bess Moynihan and uses a fresh new translation by Alyssa Ward.
---
BWW Review: THE LIGHT IN THE PIAZZA at R-S Theatrics

August 21, 2018

Lonely woman finds true love in sunny, romantic, magical Italy! It's an all-too-familiar trope in films. It's happened to Kate (and Audrey) Hepburn, to Marisa Tomei, to Renee Zelwigger, to Miranda Richardson and others.
---
BWW Review: A Powerful Production of Weill's 'Lost in the Stars' Closes Union Avenue's Season

August 21, 2018

Kurt Weill's 'Lost in the Stars' brings a moving tale of South Africa to the Union Avenue Stage.
---
BWW Review: Stray Dog's 'Robber Bridegroom' Is A Hoot!

August 10, 2018

Stray Dog Theatre, August 3-18, 2018 Stray Dog Theatre has opened that strange, hilarious, almost surrealistic hoot of a show, The Robber Bridegroom.
---
BWW Review: GYPSY Is Still The Greatest!

July 30, 2018

The grandest of all of America's grand outdoor theaters has opened Gypsy. In its one hundredth season the MUNY in St. Louis brings us one of their very finest productions. It's certainly one of the best musical theater offerings I've ever seen.
---
BWW Review: NABUCCO Conquers St. Louis

July 29, 2018

Verdi's Nabucco has opened at St. Louis' Union Avenue Opera, and it is a remarkably fine production. Of the many beautiful shows that this amazing small company has presented in its twenty-four seasons Nabucco is, perhaps, the most vocally gorgeous of all. This is due not only to the stellar quality of the principals, but also-and especially-to the quite wonderful work of the chorus. In this opera the chorus plays a starring role.
---
BWW Review: H.M.S. Pinafore is a Bright, Merry Musical Romp!

July 9, 2018

The Union Avenue Opera opens its 24th season with a splendid production of Gilbert & Sullivan's H.M.S. Pinafore, and it brims with glorious music, wonderful voices, and bright, delightful, timeless comedy.
---
BWW Review: Decades of marital bliss fly by in 'I DO! I DO!' at Stages St. Louis

June 23, 2018

Stages St. Louis is one of the great success stories in American theater. Jack Lane and Michael Hamilton started a little group in 1987 and it soon grew into a dynamite company producing season after season of superbly professional musical theater.
---
BWW Review: ORFEO & EURIDICE at OTSL Dazzles

June 15, 2018

Orpheus could charm the very stones with his lyre and his singing. Just such magic can be seen on the stage of Opera Theatre St. Louis when Jennifer Johnson Cano portrays the mythical superstar in the company's current production. She gives an utterly stunning performance.
---
BWW Review: OTSL Stages a Shocking Story in AN AMERICAN SOLDIER

June 9, 2018

Opera Theatre St. Louis continues its 43rd season of exceptionally fine opera with another world premiere. An American Soldier is their twenty-seventh such premiere, a record which sets OTSL among the forefront of producers of new opera in America.
---
BWW Review: Opera Theatre St. Louis Gives Us An Utterly Flawless REGINA

May 29, 2018

Opera Theatre St. Louis has produced many wonderful productions, and a handful of simply perfect ones. Their production of 'Regina' is among the latter.
---
BWW Review: TRAVIATA Triumphs at Opera Theatre of St. Louis

May 22, 2018

Of all the composers in the world Giuseppe Verdi is by far the most popular. Of all the operas in the world his 'La traviata' is by far the most frequently performed. Have you missed out on this mega hit? You can fill in that cultural gap with the splendid production now offered by Opera Theatre of St. Louis.
---
BWW Review: The Bantam of the Opera Strikes Again!

May 15, 2018

For several seasons I've searched for a term to describe Gateway Opera. In a city flush with larger companies-Opera Theater St. Louis, Union Avenue Opera, and Winter Opera-which offer truly 'grand opera', what can one call this little company which gives us such delicious bite-sized treats? They're so small, so full of feisty energy and spirit. Aha! I think this company is 'The Bantam of the Opera'! And, like that murderous older haunting figure, Gateway Opera, in it's evening of '15 Minute Mozarts,' really slays 'em-but without the need of a chandelier. The grandest chandelier would be dimmed by the brightly blazing talents on display at The Chapel last week-end.
---
BWW Review: Winter Opera of St. Louis Presents L'ELISIR D'AMORE

March 12, 2018

We went out into the chilly spring evening - and it became, for me, one of the most totally pleasing evenings of opera I've ever experienced. Winter Opera of St. Louis presented Donizetti's 'L'Elisir d'Amore' in a production that was as near perfection as one could ever ask.
---
BUD, NOT BUDDY Gets Live Jazz Support

February 14, 2018

The Metro Theater Company produces some of the best children's theater you'll ever see. They've been at it for over four decades. Now they have opened Bud, Not Buddy at the newly reopened Grandel Theater.
---
BWW Review: Winter Opera Brings Pearls to St. Louis

January 31, 2018

Sooner or later it had to happen. Somebody had to notice the similarities between pearl divers, who must free-dive as deep as one hundred feet, and opera singers, who must make one breath last to the very end of that bel canto cadenza. Well, in 1863 Georges Bizet and his librettists saw that link between these two crafts of gifted breathers and brought it to the stage in the opera Les pêcheurs de perles or The Pearl Fishers. Now Winter Opera has brought it to St. Louis in a lovely production that played January 26 and 28.
---
2