Review: Brilliant Voices in MADAMA BUTTERFLY at Winter Opera in St. Louis
The most Puccini of Puccini operas in a glorious production
​
Such astonishing voices! Winter Opera, in St. Louis, has been offering splendid singers for 15 seasons now. But I've never heard more brilliant voices than those flourished by the cast in Winter Opera's latest production, Giacomo Puccini's MADAMA BUTTERFLY. These are of truly Olympian quality.
Puccini is the most romantically lyrical of all operatic composers, and BUTTERFLY is one of his most beloved works. It is, in fact, the sixth-most-frequently-produced opera in the world. The work is based on an 1898 short story by John Luther Long, which was adapted two years later into a one-act play by the great impresario David Belasco.
The play and story were then adapted into an opera that opened at La Scala in Milan with music by Puccini, libretto by Luigi Illico (who wrote the script) and Giuseppi Giocosa (who turned it into poetry). It was a flop! (It is thought there was a faction in the audience paid by Puccini's enemies to jeer and boo.) A few quick revisions--and friendlier audiences--turned it into a hit. In 1906 the French director Albert Carré suggested further changes. Thus we have the edition most commonly produced and universally loved today-one set, three acts.
We see a lovely small Japanese house featuring all the romantic oriental elements our imaginations fancy for such a place: a garden full of flowers, a blossoming cherry tree, a small decorative bridge. Behind, a peaceful vista overlooking Nagasaki Bay. This is the house rented by Lt. Benjamin Franklin Pinkerton of the U.S. battleship Lincoln as a sort of love-nest for a proposed liaison with an innocent 15-year-old Geisha.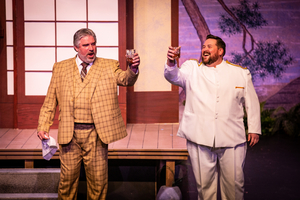 ​ They are to be "married", but only in a Japanese marriage, not in a real American way. The girl, Cio-Cio (called "Butterfly" for her fragility and beauty), is utterly in love with him and expects a real forever marriage. Pinkerton, however, views the arrangement as nothing more than a lovely, rather inexpensive sexual entertainment. The handsome Pinkerton is not even an anti-hero; he is simply a swine, a true cad, and, it turns out, a total coward.
MADAMA BUTTERFLY is a small, pathetic tragedy. As in all true tragedy, we really already know how it's going to end. Sharpless, the American Consul, serves as Pinkerton's "Jiminy Cricket"; he warns at the start that Pinkerton is going to break the girl's heart when he leaves her. This is more than just foreshadowing; it is fore-stating. And when Butterfly shows Pinkerton the few mementos from her once proud, but now impoverished family, she shows him a hara-kiri knife that her father had used. A firm dramatic rule is that if a weapon is displayed in Act 1 it had damned well better be used by the end of the show. So yes, we know!
The role of Butterfly is sung by the lovely Seon Duk Kim, who seems born for this role. Her voice, sweet and clear and pure, seems larger than her small physical self. She captures the utter innocence and vulnerability of Butterfly. Her incomparably lovely aria, "Un bel di", is the tune to which, for decades now, my whistler's lips return whenever my mind is otherwise absent. Miss Kim delivers it with heartbreaking beauty. When she thinks Pinkerton is returning, this Butterfly's smile of joy carries to the last balcony.
Tenor Jonathan Kaufman, as Pinkerton, has a voice so grand--even heroic--that there are many times when, lost in the glory of that voice, we quite forget what a cad the Lieutenant is. Superb! When he joins Miss Kim to sing "Vogliatemi bene" ("Love me") their voices blend in a tender, ever-ascending passion.
Michael Nansel sings Sharpless, the Consul, with a rich, powerful baritone that fills the role with utter confidence. Such ease! He is so at home in this role!
Suzuki is Butterfly's servant and companion. Mezzo Sara Louise Petrocelli brings great vocal beauty, as well as great compassion, to the role. She makes Suzuki humble, yet very graceful, very dignified.
All these principals have the vocal gifts to rise easily over the orchestral power rising below them. They soar!
Supporting roles are very strong. Goro, the marriage broker, is sung by tenor Marc Schapman, who gets the comic most out of this half matchmaker/half pimp. Another tenor, Joseph Park, does fine work as the handsome Prince Yamadori, who earnestly hopes to marry the abandoned Butterfly. (Her rejection of this bright opportunity recalls Sally Bowles' dismissing her last chance to leave Berlin.)
Jess McCawley plays Pinkerton's new American wife, Kate. This is a role with only six very-brief lines to sing (which Miss McCawley does quite ably). But it has important other requirements: humility in privilege, poise, and the carriage to appear striking in a fashionable Edwardian traveling dress. In these she excels.
Little Guy Bisaillon is adorable as Butterfly's son, Sorrow.
The chorus is vital to the soft romance of this work, and Chorus Master Jesse Cunningham gets delicious effect from her singers.
Mark Freiman again does wonderful work as the stage director. The ubiquitous Mr. Freiman is a godsend to St. Louis opera. In the past seven or so years I've personally seen him direct six operas and sing major roles in another six. (Here he also does fine work as the Bonze, the priest who furiously protests Butterfly's embracing her husband's religion.) As director of Butterfly he's quite up to his usual level of excellence.
One directorial masterstroke is the scene in which Suzuki helps Butterfly dress herself for her wedding night: behind closed paper doors we watch while, in lovely slow silhouette, one bit of robe, then another, are gracefully removed to be replaced by others. Utterly beautiful. Another lovely, careful touch is when Kate Pinkerton, waiting in the garden, now and again appears briefly at precisely the right syllable being sung by those central to the scene.
The only flaw I found in the whole production was in the scene where Butterfly and Suzuki scatter flowers around the room in preparation for Pinkerton's return. This scene really requires more of what I'd call gentle choreography. And the women kneel too soon; one can't, when kneeling, strew blossoms with the floating grace that is so urged by the music.
Scott Loebl designed the very lovely scenery. Costumer Lauren Smith Bearden clothes the cast beautifully, colorfully, and authentically.
Lighting is by Neil Bearden, and it is quite gorgeous. When David Belasco premiered his one-act "Madam Butterfly" in 1900, the audience and reviewers were in awe of what he achieved with an amazing new technology: electric stage lighting! As Butterfly, her son, and Suzuki patiently, anxiously, watched for the return of Pinkerton's ship, the evening sky slowly faded to night, and the night slowly brightened into dawn.
The whole effect took, as I recall, eight minutes! Eight minutes of silence! That's an eternity on stage--but it was a theatrical sensation. Well, in this production we don't quite have that lovely eight minutes of night, because Mr. Puccini went and put an act break right about midnight. But we do get the lovely twilight fade and the magical appearance of a vast romantic and slightly ominous pinkish-tinged moon. Morning gently comes after the intermission. And of course Puccini's soft, gentle music accompanies this effect.
Conductor Ed Benyas led the excellent orchestra, effectively supporting all shifting moods of this most Puccini of all Puccini operas.
All in all it was a memorable--even a triumphant--evening. The long, cheering, standing ovation was well deserved. A thousand "Bravos!"
Winter Opera's MADAMA BUTTERFLY played at the Kirkwood Performing Arts Center March 25th and 27th.
​