BWW Review: HIGHWAY 1, USA Opens at Opera Theatre of Saint Louis
Stage Director Ron Himes shows mastery in his managing of this cast of ten on the rather small stage.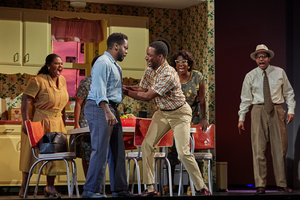 Opera Theatre Saint Louis continues its refreshing festival season with a revival of the rarely seen Highway 1, U.S.A. by William Grant Still.
The performance is in their new temporary outdoor theater, this being necessitated by the health strictures still required by local authorities and by performers' contracts. In our convalescent world the scope of the OTSL festival has been reduced in several ways:
-There's a smaller stage and necessarily smaller audiences.
-They are presenting three operas rather than their usual four.
(They will also present an evening of three very short brand new operas.)
-All operas this season are one-act pieces (around an hour in performance time).
-You won't get one of those door-stop glossy season programs to which you've become accustomed. ("Save a tree!")
But what is definitely not reduced is quality! That is still absolutely world class.
The composer of Highway 1, U.S.A., William Grant Still, has been called "the dean of African American composers". He was a gifted and prolific composer of ballets, symphonies, tone poems, suites, and operas. Highway 1, U.S.A premiered in 1963 and only recently has seen a revival or two. It has an all-black cast, but it is not at all about race.
The story takes place in the home of Bob and Mary, a very ordinary couple who run a filling station on Highway 1 (which, by the way, runs from Key West to Maine). These good folks have, for years, invested much of their income in supporting the education of Bob's younger brother, Nate. This was in fulfillment of a promise Bob made to his mother on her deathbed. Bob and Mary deeply love each other but the problem of Nate is driving a wedge between them. Mary feels that it's time to think of their own future, not just Nate's.
We don't meet Nate until a year later. He's completed his degree but he's still living with (and off) Bob and Mary-and he is brazen in his shameless ingratitude. Nate feels himself so superior to such common folks as they. After all he "can quote Shakespeare, Schopenhauer and Whitman for days."
As always with Opera Theatre the cast is brimming with sterling vocal talents. Nicole Cabell sings Mary, and hers is a voice as fine as any I've ever heard on the OTSL stage-pure, clear, strong and beautiful. And she has superb diction. (Her final consonants ping like BBs.) She fills the role with love and with pain. It was wonderful just being so close to such a talent.
Bob is sung by Will Liverman, a very fine dramatic baritone. He gives an almost tragic feeling to this man torn between his love for Mary and his commitment to the dream of his dead mother.
(Mr. Liverman and Ms. Cabell were originally contracted to sing Porgy and Bess, before Covid made such a large production unfeasible. I'd love to see them in those roles.)
Rehanna Thelwell is superb as Aunt Lou, who spends a night or two with Mary while Bob is away on a trip. Mary has long been a second daughter to Lou, whose first child died young. It's an intimate scene, and Thelwell fills it with warmth-her voice rich and lovely.
Brother Nate is sung by the strikingly handsome tenor Christian Mark Gibbs. It's a brilliant performance. Gibbs brings attractive glimmers to this very unattractive character. (Gibbs, by the way, would make a terrific "Sportin' Life".)
A number of church friends and neighbors join the scene from time to time. Lovely work is done by the group under Chorus Master Kevin Miller. Early on the friends sing a simple, folksy song about what good people Bob and Mary are. The music is almost a "traveling song"; you can hear the rhythm of a horse and carriage (which is odd, given that Bob's profession is caring for automobiles).
Leonard Slatkin leads the large orchestra. They give a wonderfully sensitive and expressive interpretation of William Still's score. That score is rich in variety and it is quite "programmatic"-i.e. it closely supports the dialog, the actions, and the emotions on stage. In this it is like a very fine film score.
The opera is, for the most part, "through-composed"; as in Wagner the solos are not set-piece arias, but each flows seamlessly into the next. This gives an integrated feeling to the piece, but it often denies us the opportunity to express our urge to applaud.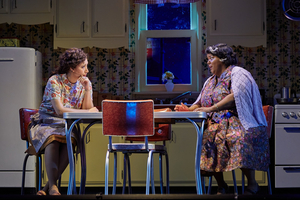 And William Grant Still gives us such gorgeous orchestration! Rich and full and varied. Each orchestral section is deftly used to express the differing moods. One passage features the two bassoons. Now the bassoon is often used as the clown of the orchestra (think Peter and the Wolf). Here they sing a swooningly warm, honeyed, mellow song-as smooth and romantic as a bouquet of cellos.
There is no single melody you'll leave the theater whistling. (It's not Puccini.) But it is truly wonderful music.
So this opera has many fine aspects. But its libretto is not among them. It was written by Verna Arvey, the composer's wife. I find problems in both the dialog and the plot.
-An old Speech professor of mine was fond of distinguishing between "tongue-born speech" and "pen-born speech". The words of the characters in this opera are sadly not tongue-born; they are stilted and literary. Moreover there is little imagination and no poetry shown here. The dramatic function of that "traveling" chorus number is to show us what good people Bob and Mary are. Their friends just explicitly list their virtues. It's as artless as reciting the points of the Boy Scout Law: "Bob and Mary are Trustworthy, Loyal, Helpful, Friendly . . . "
-As to the plot: What begins as a serious domestic drama makes a late and ill-supported jerk into violent melodrama. Now, as an opera fan, I of course have no objection to melodrama. But this twist? It'll give you whip-lash.
And Nate is such a pure villain. Couldn't he have been a little more three-dimensional? As appropriate to a pure villain, at curtain call the audience jokingly booed him--and then bravoed him.
But we come to opera for the music, don't we. The libretto's failings can't diminish the glory of the music and the voices in this show.
Stage Director Ron Himes shows mastery in his managing of this cast of ten on the rather small stage. The excellent set, by Allen Moyer, presents a realistically detailed kitchen from the early '60s. Lighting Designer Christopher Akerlind and Video Projections designer Greg Emetaz show us, beyond the house, the filling station and the surrounding sky, which from time to time roils with moody red sunset or sunrise clouds. Costumer James Schuette dresses his singers perfectly for the time.
William Grant Still's Highway 1, U.S.A. continues at Opera Theatre of Saint Louis through June 17. Next up is Poulenc's La voix humaine, opening June 5.
(By the way, I recommend OTSL's video on Highway 1. Aurelia Andrews, the production's repetiteur (rehearsal pianist) gives an excellent introduction to the work. To view it click HERE.)
Photos by Eric Woolsey