Nancy Grossman

From producing and starring in family holiday pageants as a child, to avid member of Broadway Across America and Show of the Month Club, Nancy has cultivated her love of the art and respect for the craft of theatre. She fulfilled a dream when she became an adult-onset tap dancer in the early 90's ("Gotta dance!"); she fulfills another by providing reviews for BroadwayWorld.com. Nancy is a member of the Boston Theater Critics Association, the organization which bestows the annual Elliot Norton Awards which honor the outstanding achievements of the Boston theater community, and she formerly served on the Executive Board of the Independent Reviewers of New England (IRNE). Nancy is an alumna of Syracuse University, has a graduate degree from Boston University, and is a retired Probation Officer-in-Charge in the Massachusetts Trial Court system.

MOST POPULAR ARTICLES
LAST 30 DAYS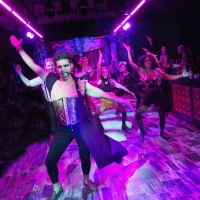 BWW Review: THE ROCKY HORROR SHOW: Moonbox Productions Brings It Back to Harvard Square
Posted: Oct. 21, 2019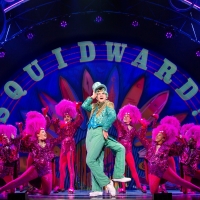 BWW Review: THE SPONGEBOB MUSICAL: A Sunny Outlook Under the Sea
Posted: Oct. 18, 2019


BWW Review: New England Premiere of TRAYF: You Don't Have To Be Jewish
Posted: Oct. 16, 2019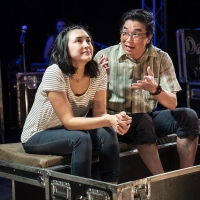 BWW Review: CAMBODIAN ROCK BAND: Feel the Beat at Merrimack Repertory Theatre
Posted: Oct. 23, 2019


BWW Review: THE THANKSGIVING PLAY: Pardon Our Political Correctness
Posted: Oct. 29, 2019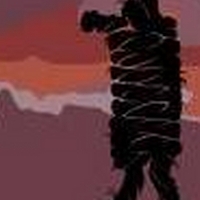 BWW Review: SALTONSTALL'S TRIAL: THE SALEM WITCH TRIAL'S UNTOLD STORY at Larcom Theatre in Beverly
Posted: Oct. 25, 2019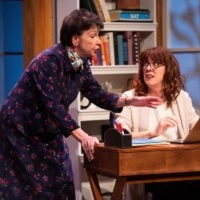 BWW Review: ADMISSIONS: Biting Comedy Asks You to Check Your Privilege
Posted: Nov. 1, 2019


LAST 365 DAYS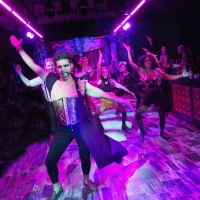 BWW Review: THE ROCKY HORROR SHOW: Moonbox Productions Brings It Back to Harvard Square
Posted: Oct. 21, 2019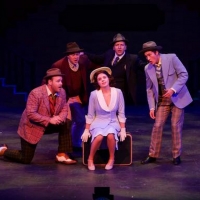 BWW Review: 42ND STREET: Thunderous Opening For The Umbrella Stage Company
Posted: Oct. 2, 2019



BWW Review: World Premiere THE HAUNTED LIFE: Kerouac's Back in Lowell
Posted: Mar. 30, 2019



BWW Review: ONCE: Guy and Girl Extend Their Stay at SpeakEasy Stage
Posted: Mar. 7, 2019


BWW Review: MAN IN THE RING Goes The Distance
Posted: Dec. 1, 2018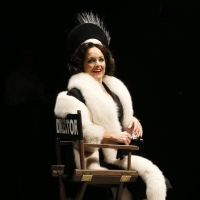 BWW Review: SUNSET BOULEVARD: Alice Ripley Puts Her Stamp on Norma Desmond
Posted: Sep. 30, 2019


BWW Review: THE EBONIC WOMAN: Gold Dust Orphans Restore American Values
Posted: May. 6, 2019


BWW Review: SYLVIA: The Lady Is A Tramp

April 20, 2019

Theater UnCorked drains the bottle of its inaugural season this weekend with a fully-staged production of SYLVIA, prolific playwright A.R. Gurney's homage to man's best friend. Hilarious and heartwarming in equal measure, the play is a welcome respite from the spate of heftier, more serious dramatic works meant to resonate with our times and make us think. The only thing that Gurney wants us to think about is the inescapable joy shared between a man and his dog, and how their connection changes three lives and one marriage for the better. Supported by strong performances by Allan Mayo, Kimberly McClure, and David Anderson, Theater UnCorked's Artistic Director Shana Dirik is the top dog.
---
BWW Review: Zeitgeist Stage Company Cements Its Imprint With World Premiere of TRIGGER WARNING

April 15, 2019

The world may end with a whimper, but Zeitgeist Stage Company goes out with a bang, presenting the world premiere of Jacques Lamarre's TRIGGER WARNING. David J. Miller and company bring down the curtain after eighteen seasons on the Boston theater scene, leaving a void that will not be soon or easily filled.
---
BWW Review: A BRONX TALE: Standin' On The Corner

April 5, 2019

The North American tour of A BRONX TALE doo-wops its way into the Citizens Bank Opera House through April 14th as part of the 2018-2019 Lexus Broadway In Boston Season. It is at once a nostalgic stroll down memory lane with an original rock 'n' roll score, a gritty depiction of urban turf wars, and a well-told story about loyalty, love, and family. Based on Chazz Palminteri's 1989 one-man Off-Broadway play that inspired a 1993 film, the musical reunites the author with his directors, Jerry Zaks and Robert DeNiro, and they are joined by composer Alan Menken, lyricist Glenn Sater, and choreographer Sergio Trujillo. Like other musicals that have come before it (HAIRSPRAY, JERSEY BOYS, WEST SIDE STORY, to mention a few), A BRONX TALE feels familiar as it evokes a time, a place, and a genre that we recognize. It is a good, solid show with great music, performances, and design elements that provides a couple of hours of entertainment and escape.
---
BWW Review: World Premiere THE HAUNTED LIFE: Kerouac's Back in Lowell

March 30, 2019

It's a different time and a different war, but the protagonist in this coming of age story faces many of the same challenges as would a young person today. What do I want to do with my life? Where do I fit in the world? How can I make my mark? Meanwhile, set in the City of Lowell in 1941-2, as it is struggling to come to terms with a surfeit of immigrants, that city today remains a diverse community in a nation that is roiled by the debate over how to deal with a flood of immigrants and asylum seekers. Artistic Director Sean Daniels has adapted Lowell native Jack Kerouac's unfinished, long-lost novel THE HAUNTED LIFE into a play of the same name, now having its world premiere at Merrimack Repertory Theatre, with Daniels co-directing with christopher oscar peña.
---
BWW Review: New England Premiere of CARDBOARD PIANO at New Repertory Theatre

March 28, 2019

What does God want, and who truly knows? Who gets to decide what is right? These are just a couple of the questions raised in Hansol Jung's wrenching new play, CARDBOARD PIANO, in its New England premiere at New Repertory Theatre. Set in Northern Uganda at the turn of the millennium, a forbidden love story unfolds with the backdrop of rising civil unrest, setting in motion a series of events that spans fifteen years in the lives of the principals who survive the violence and hostility that is endemic to the African nation. Directed by Benny Sato Ambush with a quartet of outstanding performances from Marge Dunn, Rachel Cognata, Michael Ofori, and Marc Pierre.
---
BWW Review: NOT MEDEA: Motherhood Gone Awry

March 20, 2019

Playwright Allison Gregory combines myth and magic to craft a non-linear narrative about betrayal, death, motherhood, and the darkest tragedy. It is to her credit that she weaves a great deal of humor and humanity through the play, and Juliet Bowler is adept at playing both sides of the character. Toga-clad Gene Dante is cocksure in the dual roles of the mythological Jason (of Golden Fleece fame) and modern-day Jason, the woman's ex-husband who left her for a younger wife. Every Greek play must have its Chorus to contribute commentary, ably provided here in both spoken and sung verses by Cassandra Meyer. Elizabeth Yvette Ramirez directs with a clear-eyed vision of both the real world and allegorical components of the play, and elicits strong performances from her tight-knit ensemble.
---
BWW Review: ONEGIN: Russian Romantic Collusion

March 19, 2019

The Greater Boston Stage Company presents the U.S. premiere of a new musical by Amiel Gladstone and Veda Hille, based on the poem by Pushkin and the opera by Tchaikovsky. The pop rock score takes flight, but the sung-through libretto doesn't rise to the same lofty level as the music. Depending on your point of view, ONEGIN pays homage to NATASHA, PIERRE & THE GREAT COMET OF 1812 and HAMILTON, or borrows from both.
---
BWW Review: AN INSPECTOR CALLS: Gripping Revival Rings True

March 17, 2019

The U.S. tour of the National Theatre's multiple award-winning production of J.B. Priestley's classic thriller, AN INSPECTOR CALLS, presented by ArtsEmerson at Emerson Cutler Majestic Theatre, features masterful direction by Stephen Daldry (who also directed the 1992 West End revival), Ian MacNeil's grand-scale set, spectacular design elements (lighting, sound, and music), as well as a sterling cast of British actors in the principal roles, making you feel as if you have crossed the pond and are in attendance at the venerable National Theatre. Written in 1945 at the end of World War II, Priestley set the action in the fictional town of Brumley, England, in 1912, when the winds of the Great War were in the offing, and these bookends provide a sociopolitical arc to the plot. Pitting the attitudes of the wealthy proponents of industrial capitalism against the socialist view of the needs of the working class, the play strikingly resonates with the current climate of privilege, income inequality, and #MeToo.
---
BWW Review: ROMEO AND JULIET: Capturing the Zeitgeist

March 9, 2019

The Huntington Theatre Company digs into the William Shakespeare canon and pulls out a plum written more than four centuries ago. After dusting it off and giving it a spin in the time machine, Artistic Director Peter DuBois has crafted a contemporary, muscular version of the romantic tragedy ROMEO AND JULIET, featuring a who's who of the Boston acting community and introducing a pair of engaging newcomers to the local stage as the ill-fated young lovers. Inspired by the zeitgeist of American tribalism, DuBois' updating affirms the timelessness of one of the Bard's most enduring works.
---
BWW Review: ONCE: Guy and Girl Extend Their Stay at SpeakEasy Stage

March 7, 2019

Once upon a time, a guy and a girl meet on the streets of Dublin, bond over their shared passion for music, enrich each other's lives, and find the way forward to the separate paths that their lives were meant to follow. With its current homegrown production of ONCE, SpeakEasy Stage Company demonstrates once again its penchant for capturing the essence of an award-winning musical and successfully molding it to fit the expectations of their audience and the parameters of the Roberts Studio Theatre at the Boston Center for the Arts. It was announced today that the run is extended for an additional week due to overwhelming demand.
---
BWW Review: THE ILLUSIONISTS - LIVE FROM BROADWAY: A Great Escape

March 7, 2019

THE ILLUSIONISTS - LIVE FROM BROADWAY can make you forget your troubles and get happy for a couple of hours. From start to finish, the six-member team of multi-talented performers takes turns completing stunning works of prestidigitation, illusion, and daring, mixed with charm, comedy, and extraordinary lighting and sound effects. THE ILLUSIONISTS has been on Broadway and traveling around the world for nearly a decade, so it is a finely-tuned machine that knows how to capture and hold an audience. The National Tour cast gracing the stage of the Emerson Colonial Theatre consists of Colin Cloud (The Deductionist), Raymond Crowe (The Unusualist), Paul Dabek (The Trickster), Jonathan Goodwin (The Daredevil), An Ha Lim (The Manipulator), and Sabine Van Diemen (The Sorceress), with a quartet of Magician's Assistants (Alison Karoly, Ashleigh McCready, Nick Raiano, Jesus Sepulveda Maldonado) whose athleticism and dance skills add some extra flair to the already hefty entertainment value.
---
BWW Review: ENDLINGS World Premiere at American Repertory Theater

March 4, 2019

With North Korea so much in the news these days, the American Repertory Theater is offering the opportunity to take a virtual trip to that part of the world with its production of Celine Song's new play, ENDLINGS. Set in part on South Korea's remote Man-Jae Island, and in part on the island of Manhattan, the Korean-Canadian-American playwright whisks us across borders, plunges us into the depths of the ocean, and endeavors to convey the immigrant experience and advocate for the concept that everyone has a right to just exist.
---
BWW Review: BIRDY: Timeless Story of War and Friendship Achieves Liftoff at CommShakes

March 2, 2019

Pigeon keepers are an interesting and unique, albeit diminishing, subset of humans, and within that group is a subset, presumably small, of people who identify with the birds. Taking it one step further, Birdy, the protagonist in Naomi Wallace's adaptation of William Wharton's novel BIRDY, identifies, not with, but as a bird. Strange as it sounds, it may be the most sane response to an insane world in this drama that toggles back and forth between a pre-World War II Philadelphia suburb and an Army hospital in post-war Kentucky. It is a war story that plays out on the battlefield of an intense, intimate friendship, where the psychological wounds are more damaging and enduring than the physical ones. Steve Maler's skillful direction unleashes a dazzling palette of colorful performances, each actor contributing a broad brush stroke to the communal masterpiece.
---
BWW Review: World Premiere of Lauren Gunderson's THE HEATH at Merrimack Rep

February 27, 2019

Patrons of the Merrimack Repertory Theatre are quite familiar with playwright Lauren Gunderson, named the most produced playwright in America by American Theatre Magazine in 2017, most recently for the much-lauded MRT December production of MISS BENNET: CHRISTMAS AT PEMBERLEY which she co-authored with Margot Melcon. MRT now presents the world premiere of Gunderson's THE HEATH, a heartwarming tribute to the memory of her late grandfather. Miranda Barnett and George Judy inhabit their real-life counterparts with care and humanity.
---
BWW Review: SPAMILTON: AN AMERICAN PARODY National Tour Extends at Huntington Theatre

February 22, 2019

Needham native Gerard Alessandrini has been practicing the craft of parody professionally for nearly four decades, ever since FORBIDDEN BROADWAY debuted in New York in 1982. Numerous iterations later, he has pointed his pen at perhaps the biggest target on Broadway, the award-winning juggernaut, Hamilton, and its creative genius, Lin-Manuel Miranda. Following its 2016 premiere and successful run at the Triad Theater in New York, Huntington Theatre Company presents the extended Boston engagement of the national tour of SPAMILTON: AN AMERICAN PARODY on its Wimberly Stage in the Calderwood Pavilion at the Boston Center for the Arts.
---
BWW Review: THE LITTLE FOXES: Lillian Hellman's Classic Bares Its Fangs At Lyric Stage

February 20, 2019

Eighty years after the Broadway premiere of Lillian Hellman's THE LITTLE FOXES, the Lyric Stage Company production, under the direction of Scott Edmiston, demonstrates that the classic American drama has lost none of its punch. A titanic team of actors portrays the dynamic within the rapacious Hubbard family and the collateral damage they impose on all who have the misfortune of being in their path. Without exception, the characters are three-dimensional, fully realized, and thoroughly alive, compelling the audience to engage with them on an intensely emotional level.
---
BWW Review: THE CHRISTIANS: Come To Jesus At Chelsea Theatre Works

February 18, 2019

THE CHRISTIANS by Lucas Hnath takes us into the world of an evangelical megachurch, a place that holds a certain amount of mystery for those of us who practice different religions or lack belief in any faith. Apollinaire Theatre Company and Director Brooks Reeves set the stage with a 16-voice choir, accompanied on the organ by their conductor, and a supersized wooden cross looming over them on the upstage wall. To create an ambience of authenticity, when the pastor and his associate make their entrance, they reach into the audience to shake hands and welcome us to the service while the choir rocks out on a processional hymn.
---
BWW Review: SCHOOL OF ROCK - THE MUSICAL: From Brainiacs to Musical Maniacs

February 15, 2019

SCHOOL OF ROCK - THE MUSICAL is bursting with kids, all of them bursting with talent. Based on the 2003 movie starring Jack Black, the stage version is the brainchild of Andrew Lloyd Webber, a guy who knows a thing or two about creating successful musicals. Nominated for four 2016 Tony Awards, the show ran for more than three years on Broadway, a little over a year in London, and the national tour has been on the road since September, 2017. It's a feel good musical with a happy ending, something to lighten up the winter doldrums.
---
BWW Review: STILL STANDING: A MUSICAL SURVIVAL GUIDE FOR LIFE'S CATASTROPHES

February 13, 2019

Anita Hollander lost her left leg to cancer in 1977 and channeled her experiences and musical theater skills into writing and performing a solo show, STILL STANDING: A MUSICAL SURIVAL GUIDE FOR LIFE'S CATASTROPHES. With songs, wit, and a powerful message of resilience, Hollander represents something far greater than mere survival when she takes the stage in New Rep's BlackBox Theater at the Mosesian Center for the Arts.
---
BWW Review: World Premiere BARE STAGE: A Play for the Zeitgeist

February 12, 2019

The world premiere of Boston playwright Michael Walker's BARE STAGE lands smack in the middle of the zeitgeist, surrounded by the swirling maelstrom of #MeToo and a building movement within the theater arts community to pay attention to the needs of actors when they are at their most vulnerable. Walker wades deeply into an exploration of nudity on stage, seeking to answer the question of when it is essential to the play, and when it crosses the boundary to objectification or exploitation. The bottom line is to find the balance between the point/counterpoint of censorship vs. artistic freedom.
---
...
3