Emily Noxon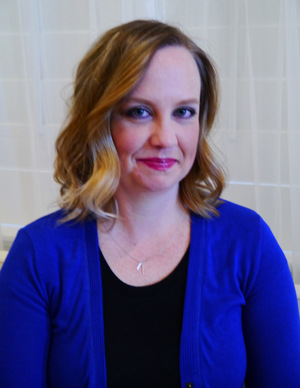 Emily Noxon has been singing since she found her voice as a baby. Emily has had the opportunity to sing with Rascal Flatts, The Little River Band, and open for Boyz II Men. Her first major role was Ado Annie in Oklahoma! She has also had the opportunity to play Alice Nutting/Edwin Drood in The Mystery of Edwin Drood, Judy Bernley in 9 to 5, Alice Beineke in The Addams Family, and the Chaperone in The Drowsy Chaperone. She played dual roles in Legally Blonde (Enid/Paulette), she was a member of the ensemble in Sister Act, and was a featured ensemble member in The Scarlet Pimpernel as Mrs. Danvers. Her dream roles include Molly Brown and Bea in Something Rotten. Emily graduated from ASU with a degree in English Literature and completed a Master's Degree in publishing at Oxford Brooks University. Her goal is to perform on Broadway and hear her mom say "that's my kid!" at the Tony Awards.
BWW Review: OBJECTION! DISORDER IN THE COURT at Limelight Performing Arts

November 15, 2020

How do you prove you aren't a murderer when the whole town is against you?
---
BWW Review: THE 39 STEPS at Hale Centre Theatre

November 10, 2020

Richard Hannay is tired of his boring life. It becomes far from boring after meeting a dark stranger. Murder, mayhem, and hilarity ensue.
---
BWW Review: RICHARD II at Southwest Shakespeare Company

March 1, 2020

Richard II was crowned King at a young age and his immaturity ultimately causes his downfall when his Crown is threatened by his cousin, Henry Bolingbroke.
---
BWW Review: A MIDSUMMER NIGHT'S DREAM at Southwest Shakespeare Company

February 26, 2020

2 couples head into a forest and get caught in the middle of a magical prank that leads to disastrous and hilarious results.
---
BWW Review: MEG JO BETH AMY & LOUISA at Southwest Shakespeare Company

January 27, 2020

Little Women is arguably one of the most recognizable pieces of literature, and meg jo beth amy & louisa provides an intimate look into the creative experience of Louisa May Alcott.
---
BWW Review: MACBETH at Southwest Shakespeare Company

October 28, 2019

Macbeth and his wife are determined to ascend to the throne. Following a prophesy that comes true, Macbeth will do whatever it takes to keep the throne. Macbeth murders everyone he perceives to be a threat to his throne and loses his grip on reality as he does so.
---
BWW Review: THE MYSTERY OF IRMA VEP at Southwest Shakespeare Company

October 28, 2019

Lord Edgar has a new wife, but his connection to his dead wife, Irma Vep, threatens to destroy his new relationship and his career as an Egyptologist.
---
BWW Review: LADIES IN WAITING: THE JUDGEMENT OF HENRY VIII at Southwest Shakespeare Company

September 25, 2019

King Henry had an insatiable desire to continue the Tudor dynasty. His legacy remains in the women he wronged and murdered in order to obtain this goal which ultimately fell to a female heir. His wives shaped his legacy and they won't let him forget it.
---
BWW Review: LITTLE SHOP OF HORRORS at Arizona Regional Theatre

June 25, 2019

Everyone wants to get out of Skid Row, including Seymour. So, when an unidentifiable plant brings him fame and resources, how will Seymour respond to the pressures of fame?
---
BWW Review: OTHELLO at Southwest Shakespeare Company

April 24, 2019

Othello is led astray by Iago, the power hungry villain. In this condensed and adapted version, the all-female cast disappears into their roles and presents the story of Othello with reverence and expertise.
---
BWW Review: NOISES OFF! at Mesa Community College

April 23, 2019

Putting on a show is hard, especially when the cast is involved in romantic relationships with one another. Jealousy, anger, frustration, and laughs abound in Noises Off!
---
BWW Review: THE DEATH OF KINGS: SEIZE THE CROWN at Southwest Shakespeare Company

March 30, 2019

Heavy is the head that wears the crown, or seeks to steal it from another.
---
BWW Review: HELLO, DOLLY! STEAMPUNK REVIVAL! at Mesa Encore Theatre

March 5, 2019

With a fresh take on a classic story, the steampunk revival of Hello, Dolly! showcases inventive choreography and a fantastic cast.
---
BWW Review: AS YOU LIKE IT at Southwest Shakespeare Company

February 27, 2019

Exiled to the forest of Arden, the residents of the forest learn about love, folly, and themselves.
---
BWW Review: THE TAMING OF THE SHREW at Southwest Shakespeare Company

February 26, 2019

Bianca cannot marry until her older sister does. Katherine is a vexing and uncompromising individual until she meets her match in the arrogant, but loveable, Petruchio.
---
BWW Review: XERXES at ASU School Of Music

February 15, 2019

Xerxes is the King, and the King gets what he wants. Unless it's Romilda, who is in love with the King's brother, Arsamene. In Handel's 40th opera, the humor and absurdity of love is presented.
---
BWW Review: ARSENIC AND OLD LACE at Toro Theatre Company

February 10, 2019

Abby and Martha Brewster are pillars of the community in Brooklyn. When their nephew, Mortimer, finds out about their 'merciful' good deeds, his life is in a shambles. Further complications arise when his brother, Jonathan returns home and demands a place at home.
---
BWW Review: ALADDIN at ASU Gammage

February 4, 2019

Aladdin wants to change his life and he gets the opportunity when he befriends a Genie. Will three wishes be enough to help him win the heart of Princess Jasmine?
---
BWW Review: VANYA AND SONYA AND MASHA AND SPIKE at Mesa Encore Theatre

January 20, 2019

Vanya and Sonya and Masha have to learn how to deal with aging, living with one another, and youths.
---
BWW Review: HELLO, DOLLY! at ASU Gammage

January 9, 2019

Dolly Levi is a fast-talking, relationship adviser. She has her hands in several relationships, including her own with Horace Vandergelder. Hijinks ensue as Dolly gets exactly what she wants.
---