Dara Homer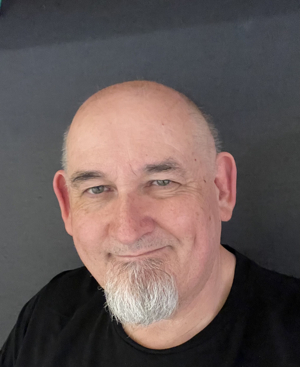 Dara Homer grew up reading, writing, and performing in plays and musicals in Miami, Florida. She graduated cum laude from Columbia University with a degree in English and Comparative Literature, and she received Departmental Honors for her senior essay on Hamlet and Angels in America. In her junior year, she was selected for the Oxbridge Scholars Program and spent a year studying at Cambridge University, where she wrote a thesis on the works of Samuel Beckett. During her time at Columbia, she worked as a Theatre Education Intern for The 52nd Street Project, a nonprofit community-based arts organization that brings kids together with theatre professionals to create free productions for the public. Teach for America brought her to Tulsa, where she taught Pre-K at CAP Tulsa and English at the UHS Freshman Academy. Dara served as the Program Coordinator for Leadership Tulsa, an organization dedicated to identifying and developing diverse leaders in the Greater Tulsa region. She currently works on the Development team at the Good Food Institute, a nonprofit working internationally to make alternative proteins like plant-based and cultivated meat delicious, affordable, and accessible.
MOST POPULAR ARTICLES
LAST 365 DAYS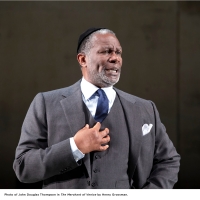 BWW Review: THE MERCHANT OF VENICE at Shakespeare Theatre Company
Posted: Mar. 27, 2022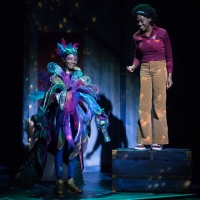 BWW Review: A WIND IN THE DOOR at the Kennedy Center
Posted: Sep. 6, 2021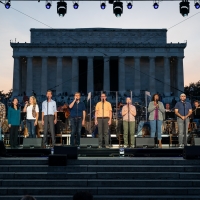 COME FROM AWAY: In Concert at the Lincoln Memorial
Posted: Sep. 14, 2021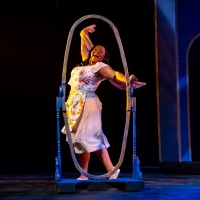 BWW Review: CINDERELLA at Synetic Theater
Posted: Dec. 6, 2021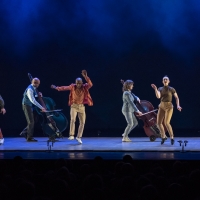 BWW Review: DORRANCE DANCE at The Kennedy Center
Posted: Dec. 5, 2021


BWW Review: THE MERCHANT OF VENICE at Shakespeare Theatre Company

March 27, 2022

The Merchant of Venice is traditionally categorized as a comedy, but the character of Shylock anchors one of Shakespeare's most maddening tragic arcs. Here, Shylock is played by the magnificent John Douglas Thompson, whose powerful interpretations of the character's frank yet contorted appeals for justice make this production unmissable.
---
BWW Review: CINDERELLA at Synetic Theater

December 6, 2021

The story of Cinderella has been told and retold around the world countless times, from its probable origins in Egypt to the Brothers Grimm version to dozens of film and TV renditions. Synetic Theater's adaptation transcends boundaries of age and language by presenting a wordless version of the classic story designed to charm children and adults.
---
BWW Review: DORRANCE DANCE at The Kennedy Center

December 5, 2021

Dorrance Dance notes on their website that "tap dance is a subversive form." The radical delight, playfulness, and palpable trust between the members of the Dorrance Dance company feels beautifully subversive in another holiday season of covid anxiety, distancing, and skepticism. What better time, then, for Dorrance Dance to share tap dancing with the next generation and celebrate its legacy of resilience and joy in the face of adversity.
---
COME FROM AWAY: In Concert at the Lincoln Memorial

September 14, 2021

On the eve of the 20th anniversary of 9/11, the Reflecting Pool on the National Mall was lined with lawn chairs and picnic blankets, and the surrounding lawns were packed with thousands of people eagerly awaiting a performance on the steps of the Lincoln Memorial. These outdoor theatergoers were gathered to see a free one-night-only concert production of the Tony-winning musical Come From Away, a work that invites us to process unthinkable tragedy through storytelling and song.
---
BWW Review: A WIND IN THE DOOR at the Kennedy Center

September 6, 2021

The Kennedy Center's Performances for Young Audiences season is back, and it kicked off with a world premiere adaptation of the young adult fantasy classic A Wind in the Door. The whirlwind performance brings the novel's unique blend of sci-fi and whimsical poetry to life.
---
BWW Review: THE LAST FIVE YEARS at Theatre Tulsa

May 6, 2021

If Theatre Tulsa weren't already a wellspring of stellar live performances, I would consider encouraging them to go into the movie business.
---
BWW Review: MIDNIGHT AT THE NEVER GET at Signature Theatre

May 1, 2021

Midnight at The Never Get begins as a cabaret act that transforms into a love story and concludes as a meditation on the way we grieve our past selves. The entire show takes place in a 1960s nightclub where things are not quite as they seem: the star of the act, singer Trevor Copeland (Sam Bolen, who also co-conceived the show), has died, and he's chosen to spend his afterlife inside a cabaret of songs and stories. We are the audience to Trevor's memories as he takes us on a journey through a chapter of his past in which he performed in a nightclub routine with the love of his life, songwriter Arthur Brightman (Christian Douglas).
---
BWW Review: The Orbit Initiative's Hamlet

June 12, 2020

Traditionalists might lament the transition of an ancient art form to the medium of a glowing rectangle. However, we all must come to terms with the fact that this is theatre in the age of covid-19, whether we long for the buzz of packed houses or not. The Orbit Initiative has stretched the boundaries of what it means to create truly equitable productions, and in doing so, they have provided a potential solution to the paradox of performing live while socially-distanced.
---
BWW Review: AUGUST: OSAGE COUNTY at Theatre Tulsa

February 20, 2020

If you've seen American family dramas, you've already seen arguments erupt around the dinner table, secrets whispered in dark corners, and pontification from oblivious patriarchs - but in August: Osage County, playwright Tracy Letts makes a bid for the most grand and outrageous possible rendering of these tropes. How wonderful then for Tulsa audiences that his play is set just a few miles from home, near Pawhuska, OK: while it takes a few scenes to become acquainted with the prickly Weston family, we can't help but be immediately understanding of their plains-induced malaise.
---
BWW Review: THE NOSTALGIA WILL EAT ITSELF at Heller Theatre Company

January 24, 2020

It's rare to discover a new play that's so topical yet unexpected that any complete description of its merits might spoil the experience for future audiences. The Nostalgia Will Eat Itself, by native Tulsan John Fisher, doesn't just provide suspense, but also a healthy dose of self-awareness, humor, understated insight, and humility.
---
BWW Review: LOVE, LOSS, AND WHAT I WORE at World Stage Theatre Company

November 19, 2019

Clothes can be incredibly evocative, especially for women, and the play Love, Loss, and What I Wore explores this idea with great playfulness and depth. The production at World Stage Theatre Company that closed this past weekend was a testament to the female capacity to overcome adversity and the ability of an ensemble cast to inspire a sense of sisterhood on stage.
---
BWW Review: THE DEATHS OF SYBIL BOLTON at Heller Theatre Company

November 14, 2019

The mission of Heller Theatre Company is to present original theatre pieces that 'raise awareness and open minds through art' - and this production proves that they are absolutely a company to watch out for in Tulsa's dynamic theatre landscape. The one-act play packs in a great deal of information and character exploration in its short 90 minutes.
---
BWW Review: LES MISERABLES at the Tulsa Performing Arts Center

September 30, 2019

Whether you have been waiting for a first time to see Les Miserables, or if you're debating getting tickets for the 10th time, the US Tour production provides a chance to see the show at its very best.
---
BWW Review: PICASSO AT THE LAPIN AGILE at Theatre Tulsa

September 20, 2019

There is a real bar in France called the Lapin Agile. There was a real physicist named Albert Einstein, and a real artist named Pablo Picasso. But their serendipitous meeting over drinks at said bar is entirely imaginary - straight from the mind of comedic visionary Steve Martin, to be exact. His play depicting this encounter, entitled Picasso at the Lapin Agile, is currently playing at the Tulsa PAC. Theatre Tulsa's production brings a gutsy and committed cast to a script that is as eccentric as its titular character.
---
BWW Interview: Theatre Tulsa's Jarrod Kopp

June 12, 2019

Tulsa is a great city for entertainment, but sometimes locals are reluctant to take a chance on homegrown performances when big names come to town. Theatre Tulsa is working hard to expand on the name-brand mindset and bring local productions into the spotlight. I had the opportunity to sit down with Theatre Tulsa's executive director, Jarrod Kopp, and chat about how Theatre Tulsa has gotten to where it is today and their plans for the future of theatre in Tulsa.
---
BWW Interview: In Conversation with Jeremy Stevens of The Orbit Initiative

June 8, 2019

Last fall, I had the opportunity to chat with Jeremy Stevens, the Education and Development Coordinator at the Tulsa Performing Arts Center, about a project called the Orbit Initiative. During a rare break from tech rehearsal, I sat down to chat with Mr. Stevens about the Orbit Initiative's upcoming production of The Tempest and some of what his team has accomplished in the past 6 months.
---
BWW Review: THE CURIOUS INCIDENT OF THE DOG IN THE NIGHT-TIME at Theatre Tulsa

May 28, 2019

A great play can serve as a window into a character's mind, and that window helps audiences develop a deeper understanding of what it would be like to inhabit the world as someone else. Theatre Tulsa's production of The Curious Incident of the Dog in the Night-Time provides a unique opportunity to peer into the mind of an exceptional person and emerge with a heightened sense of compassion and affinity for anyone who experiences life a little differently.
---
BWW Review: DENIM DOVES at American Theatre Company

April 26, 2019

The resistance is alive and well at American Theatre Company this spring: their production of the feminist farce Denim Doves was a masterpiece of modern political theatre. While it was absurd and outright silly at times, the play's web of messages and themes resonated all the more powerfully due to the infusion of humor into an otherwise ominous tale.
---
BWW Review: WAITRESS at Tulsa Performing Arts Center

April 19, 2019

The national tour of Waitress, which is running in Tulsa through this weekend at the PAC, is powered by a vibrant female energy, but it is also packed with moments of joy and humor for pie-lovers of all genders. Waitress combines a refreshingly contemporary but accessible score with classic musical theatre influences, both in terms of sound and storytelling. Just as a pie doesn't need to be perfect to be well-worth savoring to the last bite, Waitress is a beautifully imperfect treat, full of sweetness and a cast that you absolutely don't want to miss while they're in town.
---
BWW Review: MY FAIR LADY at Theatre Tulsa

March 5, 2019

Near the end of My Fair Lady, the transformed heroine Eliza Doolittle shares an insight about her experience: 'The difference between a lady and a flower girl is not how she behaves, but how she is treated.' The Theatre Tulsa production that just finished its 2-week run at the Performing Arts Center takes this idea one step further. In their interpretation of My Fair Lady, the difference between a lady and a flower girl also has to do with how she is empowered to treat others and advocate for herself.
---