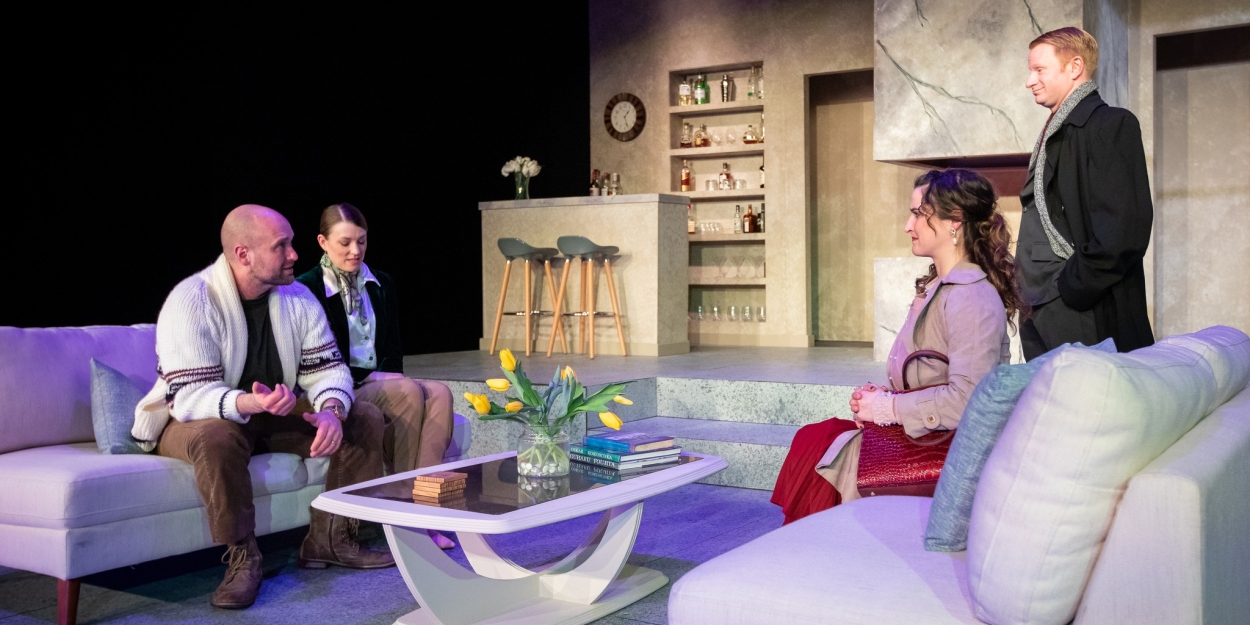 Review: GOD OF CARNAGE at Tallgrass Theatre Company
The annual Dream Project production continues through February 19
Conflict. It's something that can be challenging for anyone. Imagine that conflict centers around your child or a family member. Tallgrass Theatre Company's production of "God of Carnage" by Yasmina Reza, translated by Christopher Hampton, asks us, an audience, to do just that. This play is the 8th Dream Project that Tallgrass Theatre has produced, and the program keeps getting stronger each year.
"God of Carnage" tells the story of two couples, the Novaks and the Raleighs. They have come together to discuss what they each plan to do after Raleigh's son injured Novak's son. While their discussion starts as any straightforward adult conversation to go. As the evening continues and other issues come to light, their discussions and arguments become more childish. How does this conversation turn out? For that, you will have to attend the show to find out.
One of the unique things I appreciate about going to any show with Tallgrass is the art on display in the lobby. They always seem to find art that ties directly to the performance the audience will see, becoming a vital part of the whole experience. This show featured colorful art by Jack Marren. Fitting with this being the Dream project, the artist shared that one of the words that inspires their art is "Dream."
The experience continues as you walk into the theatre and see the amazing set, designed by Natalie Hining, that does two things at once. It gives this feeling that you are looking into the room of the house this conversation is happening in, but it also gives the impression of a child's playbox.
The lighting around the floor of the set by designers Erica Spiller and Ty Klobassa plays into that child's playbox with the colors that light the edges around the set/play area. This all is tied together by sound by Cory Hug and Costumes by Caroline Frias.
Director Jennifer Nostrala continues this playbox feeling as the cast, at times, comes together on stage, and at other times pulls themselves away just like you see kids in a sandbox.
When this dream project was announced, so was the dream cast seen onstage. The cast consists of couple Dan Haymes and Kim Haymes as Michael and Veronica Novak, and Michael LaDell Harris and Maggie Jane Tatone as Alane and Annette Raleigh. Having two couples and two sets of friends playing these characters gives a built-in chemistry that is felt from the top of the show, allowing what could be a jarring beginning to feel more natural. It also comes with a built-in trust allowing them to take their characters as far as they go in the show.
Whether it's your first time visiting a Tallgrass Theatre Company production or you are returning, "Gods of Carnage" will have you laughing and pondering about how you handle conflict. The way each element comes together in this show reminds the audience of the importance of the Sarah Frank and Jack Balcombe Dream Project. It continues to allow artists to come together, play, and take on material that pushes them to their best performances and designs. The show continues through February 19. To find out more information, visit the link below.