BWW Interview: Johannes Glück of KRAWUTZI KAPUTZI at Vindobona
Johannes Glück the man behind Krawutzi Kaputzi!
Krawutzi Kaputzi is getting closer to it's opening night. The cast and creatives are in the rehearsal process. During rehearsals, Johannes Glück found some time to sit down and talk with us about the show and where it all started. Glück is one of this rare diamonds in the business. He is not only a writer/composer, he is also a singer/actor and one of the finest comedians in the country. If you caught yourself asking, is there anything this guy can't do, relax, there is and he is totally honest about, "drumroll", it's dancing.
Glück spent some time in New York City a couple of years ago. He took part in the BMI Lehman Engel Musical Theatre Workshop. The very same workshop where Avenue Q was developed.
Krawutzi Kaputzi tells the stories of famous austrian puppet characters from the 80ies and what happend to them since they are grown ups. They moved from their usual space to a not so charming district in Austria's capitol Vienna. Inspired by Avenue Q but much more explicit and what makes it so special, it's written in dialect.
BWW: Was it, when you have seen Avenue Q on Broadway that you got inspired, to to something like this in German?
Johannes Glück:
Yes, during my time in New York, i was able to see the show a couple of times. I got my tickets during the lottery. The show was one of the hottest in town with tickets far out of my price range. But i was lucky enough to got in during the lottery. When i went there for my second visit, i was drawn first and told myself, that's a sign, i have to do a Viennese adaption of Avenue Q.
I wrote to Jeff (Marx) and Bobby (Robert Lopez) who i know from BMI (they where guest lectures when Johannes was a student at BMI) but they have been busy with the Tony Awards preperations.
I sent them my translation from It Sucks To Be Me, which would be "I Geh Ma Am Oasch". They said maybe it will work out some other time, there are no plans for a german/Austrian adaption at the moment but enjoy what your doing and they finished the letter with: Johannes, I Geh Ma Am Oasch. Back in Vienna i talked to theatre people and showed them my Viennese adaption of Avenue Q but as said before, there have been no plans for a german adaptation at this time.
I had a meeting with the producer of Krawutzi Kaputzi, Albert Schmidleitner and director Werner Sobotka. They said, let's to something on our own.
I agreed and said i want to write the songs but who is going to write the book and they told me it should be me. Werner (Sobotka) said that he want to direct it but i should write it.
BWW: Petzi, Dagobert and co had to grew up because of you?
Johannes Glück:
Yes, i was thinking what if Petzi and all the others grew older far away from their "Kleines Felsental" in Vienna. They have to life in Meidling. ( Meidling is the 12. District of Vienna and a main target for a lot of jokes)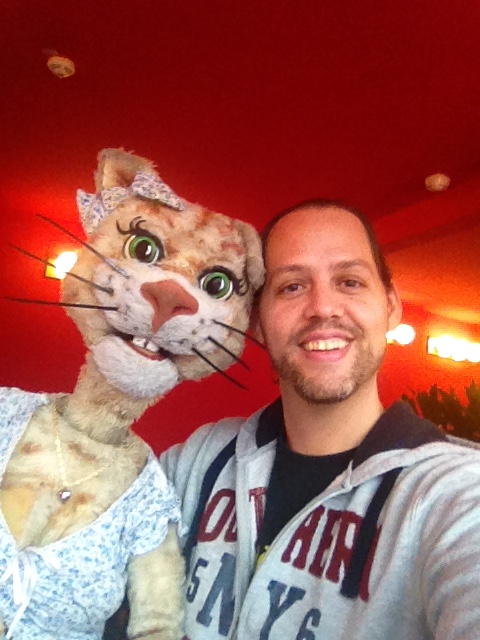 BWW: Why Meidling, because it sucks to life there?
Johannes Glück:
Probably yes (he laughs). It was a request from the producer. The Working Title was Tschau Stadlau( anotherone district of Vienna) but the producer said Meidling would be a better fit! And it worked.
BWW: After the BMI workshop you have been well prepeared for writing it all on your own?
Johannes Glück:
I started as a composer and had to work with many lyricists where i learned a lot about collaboration. I was able to try a lot of things, it was a great experience.
BWW: Krawutzi Kapuzi opens in April 2007 and was running until 2010. The show went out as a huge success. Was it necessary to rewrite parts of the show because the world has changed since?
Johannes Glück:
Krawutzi Kaputzi is still presented in a strong Viennese dialect, which makes it so special. No, there wasn't much to change about. Only minor changes in the book. What's new is, that we are going to introduce a new figure at the end of the show but let's keep it a secret for now. We also changed Herr Özgül into Frau Özgül.
BWW: There are some shows around, using the austrian dialect as a main element in the show. Something you and Krawutzi Kaputzi are responsible for?
Johannes Glück:
It might be but i don't see myself as influential but maybe. When i was playing Schikaneder in the MOZART Revial i had to negotiate how much dialect i am allowed to bring to my character. Maybe Krawutzi Kaputzi changed something.
We are looking forward to see Krawutzi Kaputzi back on stage. Krawutzi Kaputzi is playing from April 1st untill the end of August, which means, Krawutzi Kaputzi is also playing during the theatre summer break.
Tickets are on sale. Prepare yourself for a fun night out!