New Queer Musical BEARDED Comes to Frankston Arts Centre in March
Performances run March 1st – 3rd at Cube 37, Frankston Arts Centre.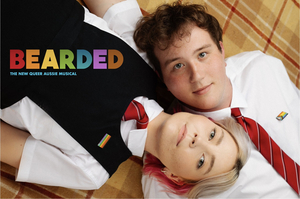 The brainchild of session musician Sean Donehue and writer Nick Waxman, Bearded is set to hit Frankston Arts Centre's Cube 37 stage on March 1st for an extremely limited run. Bearded has been in development since 2019 with support from The Australian Music Theatre Festival, The Victorian College of the Arts, Home Grown Theatre Company and Proudly supported by Frankston City Council's Artist Project Grant program.
So what's it like figuring out you're queer in 2023? Well for best-friends Bet and Ace, it's not great. In order to appease the masses, escape the spotlight, and just be seen as "normal" for once, Bet and Ace decide to "date" one another; be each other's beards. However, living comfortably in their lie can only last so long. The cracks begin to form as Ace falls for an older boy and Bet learns things about her family that have long been hidden. No matter the lie they live, it would seem the truth will always find a way to reveal itself. Despite the show's Queer context, Bearded is ultimately a story about family, given and chosen. This passionate and hilarious new musical is like reading the diaries of two Aussie queer teenagers; it is intellectual but it sounds and speaks like the youth of today. Bearded is biting and satirical and poses the idea that despite our society being inherently more progressive, there actually hasn't been all that much progression. Through a campy, self parodying music theatre lens, Bearded seeks to challenge opinions on sexuality, gender, religion and privilege.
Imagine if Dear Evan Hansen was written by Jason Robert Brown after he'd just spent 72 hours in a Miami gay club in 1994. That's the vibe. Camp, ironic and unashamedly catchy; Bearded is intentionally eclectic. Its songs reflect its characters, from flashy show tune numbers; to EDM dance parties; to honest ballads that belong in the world of Sara Bareilles. Bearded takes you on a sonic journey that pulls you in all different directions, one that is intentionally symbolic of Bet and Ace's journey, and ultimately the journey we all face when trying to discover, accept and express who we are. Bearded will make you raise an eyebrow, shake your head in disappointment, wet yourself with laughter, and then just when you're feeling comfortable it will punch you in the gut and hold a mirror to your face.
Bearded's message and appeal is universal. It's about love, it's about family, it's about hope. Bearded peels back the layers on the classic coming out tale and looks at why, even now, anyone would still find it hard to come to terms with their sexuality. The show doesn't deny the fact that queer youth are still subject to blatant queer-phobia and abject hatred, however it also explores distinctly 21st century problems like queer misrepresentation, tokenism, gaslighting and toxic positivity.