BWW Review: ANGELS IN AMERICA an Epic Pilgrimage For Us All at fortyfive Downstairs
Some argue it is the epic play of our generation, an iconoclast of politics, existentialism and the last health crisis to impact the modern world indiscriminate of race, class or religion. Tony Kushner's opus Angels in America: A Gay Fantasia on National Themes premiered in 1991 and opened on Broadway in 1993. It became a cult classic: turned into a miniseries and several highly successful remounts, the latest of which is being raved about as you read this; the National Theatre in London's production starring Hollywood hero and homo-controversy-courting treasure Andrew Garfield.
It was fortuitous then for those of us unable to get to the UK, that fortyfive downstairs should be concurrently presenting an independent production by Cameron Lukey, directed by Gary Abrahams. As sensational as it is ambitious, heart-wrenching as it is wonderfully well-executed over the two parts Millennium Approaches and Perestroika, which this reviewer saw the opening of each across two consecutive nights. Audiences will in this production have a chance to choose their adventure to see the work across evenings, weeks, or all in one emotional filibuster. Productions of this are rare, so for the pure reason that it is a soulful, and important archive of our collective history, not just for queer people, but for all of us impacted by the politics, social mores and relationship dynamics that coincided with the AIDS crisis, which includes Australians, please go and see it.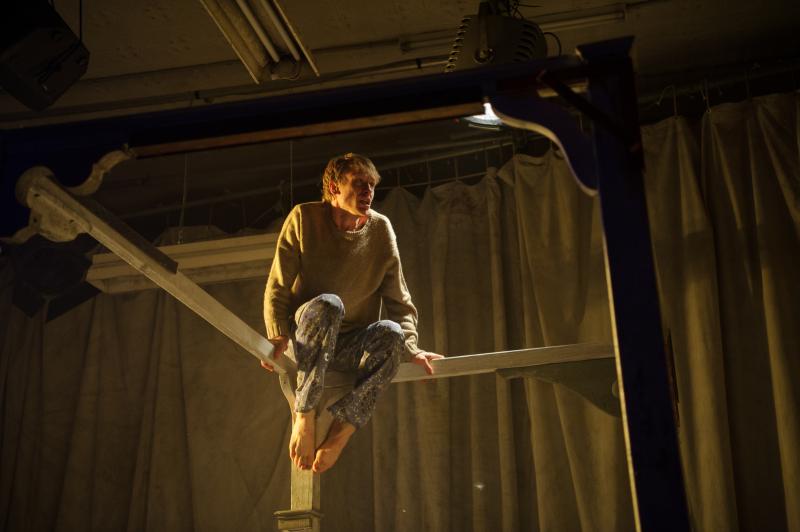 For those unfamiliar with the story, allow me to enlighten you: the narrative of Angels in America is perhaps its least distinctive quality; it has withstood the test of time for its themes of passion, its phenomenally written prosaic insights, its ability to weave spiritual and physical worlds together with realism and candour, as well as its timeless representation of the era and its complex structure. But if you do wish to boil it down, then what you need to know is Prior and Louis are boyfriends until Prior contracts AIDS, when Louis leaves him into the arms of closeted married Mormon Joe, who is the protégé of wheeler-dealer-lawyer Roy Cohn who has also contracted AIDS. Joe's wife Harper is a mentally unwell drug addict who comes across Prior in a shared hallucination, shortly after which Prior is met by an angel who tells him he is a prophet. Have I piqued your interest? Good, because that's just part one!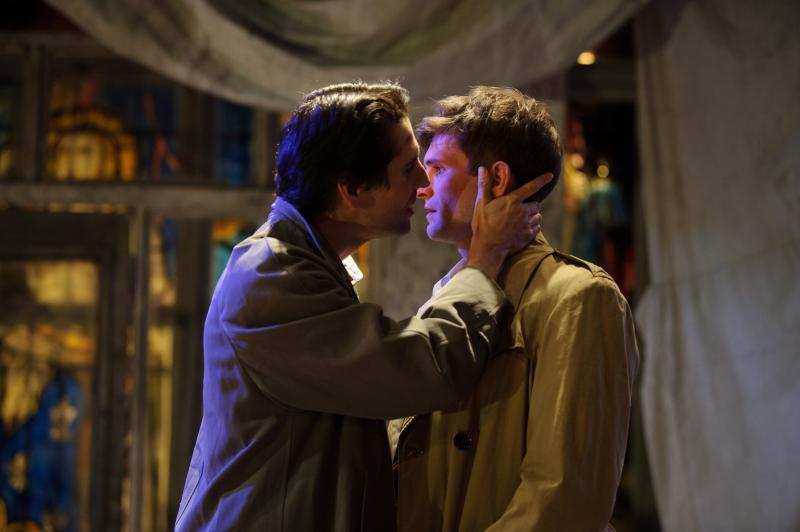 The transformation of the fortyfive space to accommodate this vast and complex work is nothing short of jaw-dropping - and reason itself to witness the show. The creation of a cloud-like theatre-magic aesthetic that shapes itself to reveal whole worlds made for a clarity and excitement that could have been a complete confusion if not for the incredible work done by Dann Barber (Set/Costume), Rob Sowinski, Bryn Cullen (Lighting) and Benjamin Sheen (Assistant Set). Director Abrahams, assisted by Joanna Pidcock - yay a woman! - combines the cast's choreography with the set with incredible trust and not a little bit of magic, to a point that had audience members desperately craning (sometimes into stranger's laps) to catch every angle of the intricacy and stagecraft. Russel Goldsmith, assisted by Victoria Hofflin and Sidney Millar has layered this twenty-tier cake of a production with epic score and ambient soundscapes to feed not only the realism but the emotion to great success.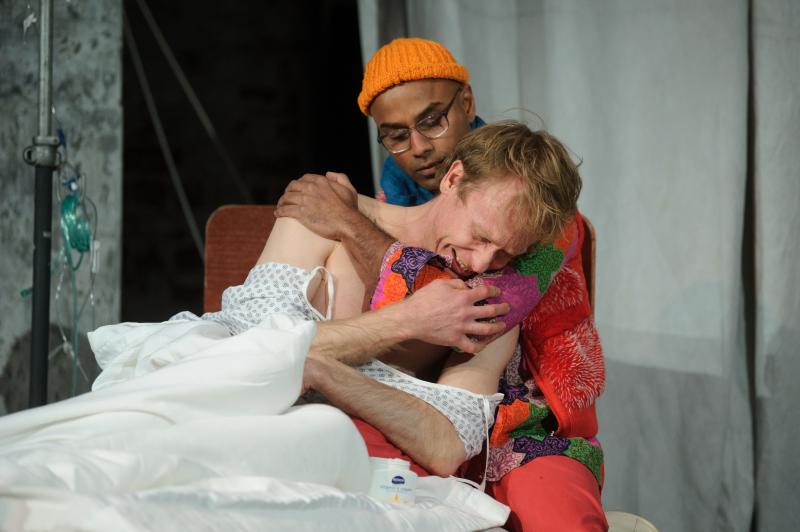 It is hard to judge the work, these characters, by a standard which seems impossibly far away from where we are now; homosexuality is engaged in discourses of privilege, battles for basic rights are no longer-or are rarely-physical in the Western world, and changes to treatment of HIV have been significant, arguably to the point of even laissez-faire attitudes in the younger generations. Opening of this production is unlike any other, firstly because there's two of them (and you thought Season 6 of RuPaul's Drag Race was so original!). Secondly, because this show is a marathon, one which will be lost and won by members of the audience who have varying degrees of attachment to the content, not to mention ability to sit still. There will be a knife-edge to walk for any director between allowing each character's potency to emerge in an authentic way, and giving the play a chance to express itself while the audience's attention can be held. Abrahams treads this edge incredibly well with his cast and active-play, feeding comedic elements and misdirection to keep energy levels circulating. It's masterful.
The same challenge faces the actors. Dense content, dense emotion, dense stagecraft over a period of time they're likely never to have had to work before, and potentially never will again - for in the modern age of UberEATS, 24/7 Kmarts and Rapid Testing, epic artistic works are rare. It was important that the ensemble hold each other up in this, and each performer showed strengths. If the action is fast-paced, there is a threat to authenticity of the character's thoughts revealing the actor behind the mask. Simon Corfield held this balance very well as Louis, vulnerable yet proud in his ideologies that formed some of the hardest text to pull off without being didactic, which Corfield had down. Grant Cartwright's character seemed intended to be one of the emotional axes of the work, but Cartwright stayed slippery and lithe to venture across the work like a welcome surprise to every scene, never stagnant in his own storyline. Dushan Philips by far had the strongest grip on his role as Belize, the moral compass of the action and the "black man in a world of white people", and to boot managed to both play to and beyond the stereotypes set by the text and the context.
Emily Goddard's interpretation of Harper drove more of the play's comedy than might be intended, but her work was welcome in the scope of the show, distinctive and considerate. Caleb Alloway delivered a Joe desperate and doomed, which varied in its precision of pathos, but his place in the work is natural. Margaret Mills is utterly compelling in the various roles she assumes, most critically of course as the titular Angel of America, where she commanded humour and intrigue as the play's mythology is revealed. Vying for star of the show are Brian Lipson and Helen Morse, whose professionalism and poise on stage are completely enthralling. The speed of the work suits Lipson's Cohn, where his ridiculous displays are more often alarming than entertaining which is not an easy feat in the context of a deeply tragic work, and yet he does above almost any character, steal himself some endearment which plays heavily on the audience when he ultimately dies. Morse takes perhaps the most guises of the ensemble, but in each she shines with authentic talent, raw emotion and the lady is unfairly funny to watch, even in her deepest compassionate deliveries.
This review is desperate to go into more detail: to talk about the revelations, the sex, the snow and the astounding repartee. But instead, better you experience it for yourself. A rarity, and a fantastic universe to climb into, whereupon emerging from you'll surely find a new perspective on the life you live, and the way you connect again to the world around you. The very essence of theatre's gift.
Tickets available here.
Images by Sarah Walker.

Related Articles View More Australia - Melbourne

Stories

Shows
Brodie Turner is an avid theatregoer and theatremaker. Trained as a publicist in Adelaide, Brodie's passion for performance art developed under the bright lights of (read more...)