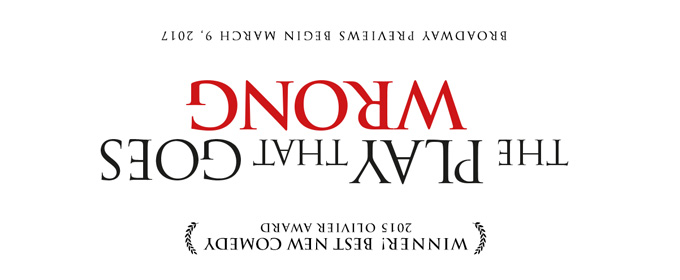 Click Here for More Articles on THE PLAY THAT GOES WRONG
BWW Interview: Ned Noyes as Max in THE PLAY THAT GOES WRONG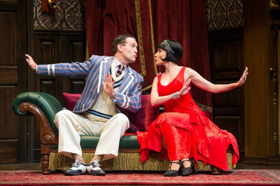 THE PLAY THAT GOES WRONG is certainly a play that seems intriguing just by the title. "The Murder at Havernesh Manor" is the title of the play within the play that can't seem to stay on script. It seems that everything and anything goes wrong. This sets in motion so many mishaps, the audiences can't stop laughing from start to finish. Ned Noyes has enjoyed being part of THE PLAY THAT GOES WRONG from Broadway to the tour. BWW had a chance to chat with Ned as the show heads to Austin, Texas and the Bass Concert Hall.
Why don't you start out by telling us about how you first got involved in performing?
I'm from New York originally. I grew up on the East End of Long Island. I was involved in school plays and community theater in high school. I attended Northwestern University to study theater. I began working professionally in the Chicago theater scene while I was still a student at Northwestern. I lived in Chicago for several years after graduating school working professionally there. I decided to move back to New York and pursue a career there.
I see you've been in TV shows and film like "Boardwalk Empire" and "The Post." You've been doing a lot.
Part of that was what inspired my move. In addition to Broadway/Off-Broadway, I was interested in pursuing television and film opportunities as well. Chicago is certainly caught up in that but when I was living there it was somewhat limited in terms of TV and film available there.
What do you find is most different about doing shows on stage in front of an audience as opposed to film and TV besides the obvious in getting instant reactions?
It's a completely different timeline in terms of rehearsal hours where you really get to dig deep in a play. You're usually rehearsing four to six weeks at a time. Whereas, with film and television, obviously you have limited time in order to go into rehearsals. I enjoy working in all mediums. There's something wonderful and immediate about working onstage because the audience is right there. There's no editing of the performance. It happens for one time only with that audience in that space as a shared experience. You can't really imitate that.
So, how did you get involved with THE PLAY THAT GOES WRONG?
I was asked to audition for the American replacements for the original Broadway company who are the writers and creators of the show; The Mischief Theatre Company. They had a very successful run but, limited Visa contracts. The producers of the show wanted to keep the show running on Broadway. They had an audition for American men to succeed the British Company. I began my time with it as an understudy. I was covering five of the six men in the show. I was eventually promoted to a role in the Broadway Company; a different role than I'm currently playing now. Then they asked me if I was interested in the tour. They were very interested in having me join the company as Max. It's my favorite part in the show.
I know from the title that there are mishaps that happen throughout the show. What kinds of injuries have occurred completely by accident and how do you play them off?
It is a very physical show and a physically demanding show so we take very good care of our bodies. I would almost liken it to a professional sports team. We kind of function that way as an ensemble. Of course, there are going to be bumps, scrapes and bruises along the way but we try to do our due diligence to avoid that, any sort of serious injuries whenever possible. We have physical therapy weekly and we do our best to keep in shape. It is a very physical show and there's a certain amount of risk involved every night, so we do our best to be as safe as possible.
Are there mishaps that happen during the show that aren't supposed to and the audience doesn't catch on?
We like to say at THE PLAY THAT GOES WRONG, if something goes wrong for us, basically, it's just like the play goes right for a few seconds. If we're expecting a mishap to happen and for some technical reason, it doesn't happen, we actually are still performing the play, "The Murder at Havernesh Manor" for a few seconds. The audience never knows.
Do you have any specific examples you can share about mishaps that weren't supposed to happen?
I don't want to give away surprises but, there's a moment where there is a pyrotechnic effect. Something happens to cause a fire onstage and occasionally, the pyrotechnic effect misfires. There's a moment when another character has to deal with the fire. That character is standing backstage waiting to come on, and some nights, the audience doesn't get to see that bit. We just carry on. We have contingency scenarios if major things go wrong. It keeps us on our toes for sure.
If you had not gotten into show business, what do you think you would have done?
My early loves were writing and music. The Arts have always been very strong in my life. They were a big part of my education growing up. I think that writing is still something that I'm interested in pursuing. I've also been very lucky to have incredible teachers throughout my life and my entire career so that is something that I always considered as a potential route. I enjoy getting back whenever possible.
So, what can go wrong? Come see for yourselves THE PLAY THAT GOES WRONG as it comes to Austin, Texas and the Bass Concert Hall from October 23-28, 2018. Get your tickets at the Texas Performing Arts website.
PHOTO CREDIT: Jeremy Daniel
Related Articles
Kathy Strain grew up outside of Philadelphia and enjoyed listening to many genres of music including Broadway musicals. She also enjoys attending Broadway shows wherever (read more...)