Click Here to Visit the College Center

Blogs are the opinions of the authors and do not necessarily reflect the opinions of BroadwayWorld. BroadwayWorld believes in providing a platform for open and constructive conversation.

Student Blog: Why My Dream Roles Are My Dream Roles
A Deep Dive On Why I Want To Play The Characters I Consider To Be My Dream Roles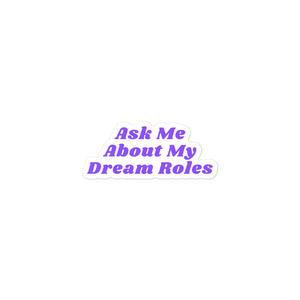 Dream Roles. Most every theatre lover has them. But why do we have them? What truly draws us to the characters we call our "dream roles"? Sure there's the typical "I just really want to sing this song" or "They're absolutely perfect for my range/type". However, today I'm truly focusing on the deeper reasons. I sat down and thoughts through all my dream roles. I sat and tried to think of what really drew me to these roles beyond the standard performance aspect. Today, I'll talk you through my personal dream roles and the reasons I decided are why I truly want to play them.
1. Mother from Ragtime: I absolutely adore this role. I fell in love with Mother fully when I saw a local production of Ragtime back in 2019. The transformation that Mother goes through throughout the course of the show is maybe one of my favorite character arcs in all of theatre. We see Mother changing her views with the changing views of the new century. She goes from being dependent on Father and letting him make all her choices for her to being a strong, independent thinker and realizing her own true potential. Mother's character journey is one that I'd love to portray one day. She's such a strong and beautifully written character and I hope to one day play her.
2. Katherine Plumber from Newsies: Again, another strong female character. I love how Katherine isn't your stereotypical Disney lover interest. She's not afraid to take Jack's quips and sass and give it right back to him. She's a woman who wanted her own career, not one simply handed to her through her father. I just adore Katherine's passion and strong sense of justice. After all, she is one of the main reasons why I decided to get bangs (ha ha).
3. Belle from Beauty and the Beast: Thinking about it now, Belle was probably my first ever dream role. I've wanted to be Belle every since I was little. Beauty and the Beast is one of my favorite movies of all-time and I've always seen myself in Belle. I love how Belle is not afraid to be true to herself. She loves what she loves and she's not going to let the opinions of others change that. She's confident in who she is and no one can change that. I also admire Belle's kindness and heart. She even tries to extend kindness to those who aren't all too kind to her. Quite frankly, I think we can all take a page out of Belle's book.
4. The Baker's Wife from Into The Woods: The Baker's Wife is the last character I'll be discussing today. This is another character whose passion I adore. She has a goal and she is going to achieve it, not matter the cost. I just love The Baker's Wife's spirit. She was truly a light throughout the entire show and tried to make the best out of every bad scenario she was given. I also love how The Baker's Wife isn't afraid to acknowledge her bad decisions (see Moments In The Woods). She is perhaps one of my favorite Sondheim characters out there.
I hope you enjoyed this article and the insight I shared. I encourage you now to think about your own dream roles. Why do you REALLY want to play them? What's the deeper reason behind them? Once again thank you so much for reading and I'll see you next time!