Van Zandt And Vetere Appear In THE REHEARSAL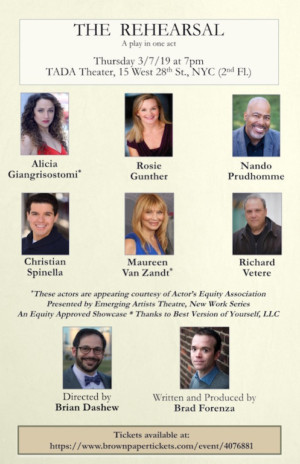 The Rehearsal, a new play about marriage, divorce, and blended families - will be read as part of the Emerging Artist Theatre (EAT) New Work Series on Thursday March 7, 2019 at 7pm at TADA Theater (15 West 28th Street, NYC).
The play is written by Brad Forenza and directed by Brian Dashew. The ensemble cast includes: Alicia Giangrisostomi*, Rosie Gunther, Nando Prudhomme, Christian Spinella, Maureen Van Zandt*, and Richard Vetere (*these actors are appearing courtesy of Actor's Equity Association, in this Equity approved showcase).
The Rehearsal takes place during the wedding weekend of Eric (Christian Spinella) and Kim (Alicia Giangrisostomi). As Spinella notes, "Weddings can be chock-full of drama. And drama is exactly what Eric is faced with."
"What I like about Kim is that she's a go-getter," adds Giangrisostomi (the bride-to-be). "She wants to be more and do more, and I can relate to that."
Specifically, Eric and Kim want to start their new life far, far away from the groom's mundane family (Rosie Gunther and Nando Prudhomme). As Gunther observes, "You're never too sure how the M.O.G. feels about her son's wedding. Then again, this M.O.G. is probably skeptical of most weddings."
Prudhomme plays Gunther's stage husband, Howard. "Every family has a Howard," says Prudhomme. "He's a good soul, trying hard to win your love."
When an absentee relative (prolific writer, Richard Vetere) arrives unannounced for the rehearsal dinner, an emotional maelstrom is unleashed. "The Rehearsal is a play about one, specific family," says Vetere. "However, the themes explored are universal."
Rounding out the cast is award winning actress, Maureen Van Zandt, as the self-martyring M.O.B. "The joy of being an artist is conveying the human condition. And there's a lot of comedy and tragedy to convey here," notes Van Zandt.
"Weddings are among the only times we make a conscious decision to permanently alter who we are relative to those around us, which inherently means an opportunity for self-reflection," notes director, Brian Dashew. "In The Rehearsal, characters are forced to reconcile their relationships in the context of those heightened stakes."
"I am very grateful to EAT-and this stellar team of actors and mentors-for bringing The Rehearsal to life," says playwright Brad Forenza. "I am equally grateful for everyone not mentioned, who has had a role in The Rehearsal's evolution."
The Rehearsal will be read as part of EAT's New Work Series on Thursday March 7, 2019 at 7pm at TADA Theater (15 West 28th Street, NYC). For tickets ($10), please visit: https://www.brownpapertickets.com/event/4076881?fbclid=IwAR0GbiZL0qdby8RMVILaF59gy1dXaRoH7QD3NRMgD4hlbIN4jF2qcp0ZWu4