VIDEO: Sara Bareilles Shares Clips From Recording New Album 'More Love'
The album includes songs she wrote for "Little Voice" on Apple TV Plus.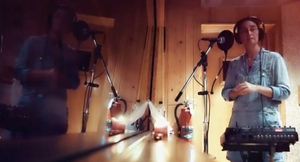 On September 4, Sara Bareilles released a surprise album of the songs she wrote for "Little Voice" on Apple TV Plus.
Ten songs appear on the new album, "More Love: Songs from Little Voice Season One."
Bareilles took to Instagram today to share clips from recording the album.
"For this record I found my voice singing (behind a mask) surrounded by (but socially distant from) friends making music again," she writes in the caption. "It was a strange and precious savior, as the world in 2020 feels bizarre and in many ways unrecognizable. A global pandemic, a societal awakening to deep seated inequities and prejudice, an economic depression, and a complete lack of leadership. It has been the most traumatic year of most of our lives. 2020 is a beast but as always, the medicine remains the same: more love."
Watch the video below!
Related Articles
More Hot Stories For You
Dr. Fauci on the Return of Theatre: 'We [Could] Gradually Approach True Normal as We Get Through 2021'
As we pass six months since the lights of Broadway last lit up the theatre district, much talk has ensued concerning when theatre might realistically ...

Volume II of All-Female JESUS CHRIST SUPERSTAR Concept Album to be Released This Week
On September 18, we will see the release of She Is Risen: Volume II, the hotly awaited follow-up that brings together the extraordinary team that made...

Kenny Ortega Says - 'I'd love to do HOCUS POCUS on Broadway'
Forbes has reported that Kenny Ortega would love to bring Hocus Pocus to Broadway! The director/choreographer shared, 'a?oeIa??d love to do Hocus Pocu...

Neil Patrick Harris Reveals He and His Family Contracted COVID-19 Earlier This Year
In an interview on The Today Show recently, Neil Patrick Harris revealed that he and his family contracted COVID-19 earlier this year....

Governor Cuomo Says 'We Are Not Yet at a Point' Where Movie Theaters, Concert Venues and More Can Reopen
In a press conference yesterday, New York Governor Andrew Cuomo discussed the reopening of businesses in New York, including movie theaters and concer...

Lin-Manuel Miranda, Brandon Victor Dixon, Rory O'Malley and More Unite for #MeBecomesWe
Brandon Victor Dixon and Ashley 'Monet''s WeAre Foundation and Rory O'Malley and Kristen Wyatt's Belt The Vote are uniting the theatre community in a ...