Uma Thurman, Jesse Tyler Ferguson, and More Among Performers Set For 2019 Williamstown Theatre Festival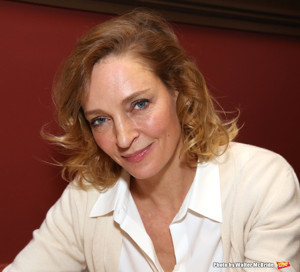 Artistic Director Mandy Greenfield has announced the Williamstown Theatre Festival 2019 Summer Season, the 65th season for the Tony Award-winning theatre company, which will include a production of A Raisin in the Sun by Lorraine Hansberry marking the 60th anniversary of the Broadway opening, a new translation of Henrik Ibsen's Ghosts, five world premieres, two WTF-commissioned plays, and much more.
The season, running from June 25 - August 18, 2019, begins on the Main Stage with A Raisin in the Sun (June 25 - July 13) by Tony Award nominee Lorraine Hansberry, directed by Obie® and NAACP® Award winner Robert O'Hara and featuring Golden Globe® and Emmy® Award winner S. Epatha Merkerson andObie Award winner Francois Battiste. A Raisin in the Sun premiered on Broadway in 1959 and ran for 530 performances between the Ethel Barrymore and Belasco Theatres.
The Main Stage season continues with the world premiere of Grand Horizons
(July 17 - July 28), a Williamstown Theatre Festival and Second Stage Theater Co-Commission by Drama Desk® Award winner Bess Wohl, directed by Tony Award and Drama Desk Award nominee Leigh Silverman and featuring Academy®, Golden Globe, and Screen Actors Guild® Award winner Mary Steenburgenand Screen Actors Guild and Drama Desk Award winner and Emmy Award nominee Jesse Tyler Ferguson.
The final play of the Main Stage season will be Ghosts (July 31 - August 18) by Henrik Ibsen, with new translation from the Norwegian by Paul Walsh, directed byCarey Perloff and featuring Golden Globe winner and Academy, Emmy, and Screen Actors Guild Award nominee Uma Thurman.
The Nikos Stage season kicks off June 26 with the world premiere of A Human Being, of a Sort (June 26 - July 7) by Jonathan Payne, directed by Whitney White. It will be followed by the world premiere of 2018 L. Arnold Weissberger Award winner Selling Kabul (July 10 - July 21) by Sylvia Khoury, directed byTyne Rafaeli and featuring TV and film star Omar Metwally, Marjan Neshat, and Babak Tafti. The next production will be the world premiere of Tell Me I'm Not Crazy (July 24 - August 3), a WTF Commission by Sharyn Rothstein, directed by Tony Award nominee Moritz von Stuelpnagel and featuring Golden Globe, Emmy, and Screen Actors Guild Award nominee Jane Kaczmarek and stars of screen and stage Mark Feuerstein and Nadine Malouf.
The season on the Nikos Stage closes with the world premiere of Before the Meeting (August 7 - August 18) by Obie Award winner and Drama Desk Award nominee Adam Bock, directed by Obie Award winner and Drama Desk Award nominee Trip Cullman and featuring Obie Award winner and Drama Desk Award nominee Jason Butler Harner.
"In the course of just eight weeks, we will create world premiere work with some of the most thrilling theatre makers in this country and breathe new life into the all-too-resonant words of cherished playwrights of the western theatrical cannon," Greenfield said. "Where else but Williamstown can a daring and loyal audience experience the range and impact of Lorraine Hansberry, Bess Wohl, Henrik Ibsen, Jonathan Payne, Sylvia Khoury, Sharyn Rothstein, and Adam Bock, not to mention the directors, actors, designers, technicians, administrators, and students who will make it all possible? The vital urgency of the questions at the heart of these plays hopefully equals a meaningful, relevant, and powerful Festival experience for us all. Now, more than ever, live theatre possesses the unique ability to remind us of our best selves. I am grateful to everyone who will fearlessly put their artistic guts on the line in service of these provocative and diverse plays."
Additional programming and events, as well as complete casting and creative team information, will be announced at a later date. Ticket Bundles are available now at www.wtfestival.org.