Click Here for More Articles on STRAIGHT WHITE MEN
Trans Performer Kate Bornstein Takes Audience Member's Heckling Gracefully in Stride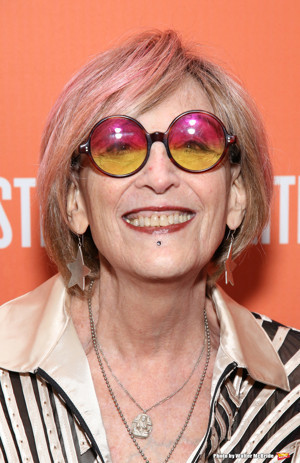 Trans performer and activist Kate Bornstein is currently lighting up the Broadway stage with her electric energy in Second Stage's Straight White Men. Despite her unquestionable talent, however, she was recently interrupted by a heckler while giving her opening monologue.
In a Facebook post, Bornstein confirmed rumors of a rude audience member saying, "It's true what people are saying: a woman, in response to my opening line of the show, 'Good evening, ladies, gentlemen, and the rest of us,' called out from the audience 'You're not welcome here.'"
In the same post, Bornstein responded in a touchingly sensitive manner to the insensitive heckler, "I was not shamed by her. I was puzzled. What could have caused this woman's outburst?"
Bornstein also makes it clear that she feels welcome every day she enters the theatre. "The cast, crew, and company of "Straight White Men" have been warm, welcoming, and inclusive of me and the other trans actors in the show, Ty Defoe and T.L. Thompson. The Production Company, Second Stage Theater, have only expressed delight in welcoming us aboard."
Read Bornstein's full Facebook post below:
Kate Bornstein (Person In Charge 1) is a celebrated performance artist who's toured nationally and internationally for over thirty years. Most recently, she performed On Men, Women, and the Rest of Us at La Mama in New York City. She is the subject of the documentary film, "Kate Bornstein Is A Queer and Pleasant Danger," and appeared with Caitlyn Jenner on E! TV's "I Am Cait." Kate has also written six groundbreaking books, including "Gender Outlaw," and "Hello, Cruel World."
Photo Credit: Walter McBride / WM Photos