The Town Hall And Peoples' Symphony Concerts Present Miloš Karadaglić In An Andrés Segovia Tribute Concert
Miloš Karadaglić is reinvigorating the classical guitar repertoire with his passionate and intricately focused performances.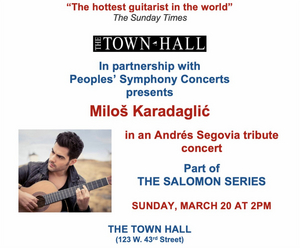 The Town Hall and Peoples' Symphony Concerts present Miloš Karadaglić at The Town Hall (123 W. 43rd Street) on Sunday, March 20th at 2pm in an Andrés Segovia tribute concert. In addition to in-person attendance, the concert (together with a conversation with the artist) is also available virtually for six days starting on March 21st.
This collaboration celebrates The Town Hall's centennial season.
Miloš Karadaglić is reinvigorating the classical guitar repertoire with his passionate and intricately focused performances. A graduate of the prestigious Royal Academy of Music, Miloš was named by BBC Music Magazine as one of the six greatest classical guitarists of the last century alongside guitar legend Andrés Segovia, to whom this program is dedicated.
This performance highlights works written for and transcribed by Segovia, along with pieces played during his famous sold-out New York concert in 1928. This Segovia tribute concert is part of The Town Hall centenary celebration and the Hall's tradition of great guitar concerts.
The concert will include the following:
Sor: Mozart Variations
Bach: Chaconne
Villa Lobos: Prelude 1, 3 and 5
Tarrega: Lagrima
Albeniz: Asturias, Granada and Sevilla
Segovia's 1928 debut at The Town Hall was the first classical guitar program in New York City. With his touring and recording, Segovia was able to establish the guitar as a classical music solo instrument. Compatriot and frequent collaborator Pablo Casals made his own Town Hall debut one year earlier and returned to the hall's stage just days after Segovia's debut. Casals would change the course of cello history with this arrangement and performance of the Bach Suites.
"Along with Peoples' Symphony Concerts, we are thrilled to be presenting Miloš Karadaglić in this Andrés Segovia tribute concert," said The Town Hall Artistic Director Melay Araya. "As, perhaps, one of the best known classical guitarists performing today, Miloš has pushed the boundaries of what we know of in terms of this music genre, and we couldn't think of a more a fitting tribute to celebrate Segovia during our 100th year celebration."
"This recital program was conceived with the great master (Segovia) in mind," Miloš said. "This selection is deeply personal to me, because of my own connection with the pieces all through my life."
Peoples' Symphony Concerts (PSC) is New York City's oldest concert series offering students, families, and other New Yorkers on a limited budget the most affordable ticket prices anywhere.
For tickets, priced from $19 - $23, and more information, please visit: www.pscny.org or call 212-586-4680 for virtual performance ticketing. Salomon Series subscriptions are also available with tickets less than $13.