Click Here for More Articles on Podcasts
The 'Broadwaysted' Podcast Welcomes Stars of DESPERATE MEASURES, NEUROSIS, TRAINSPOTTING: LIVE!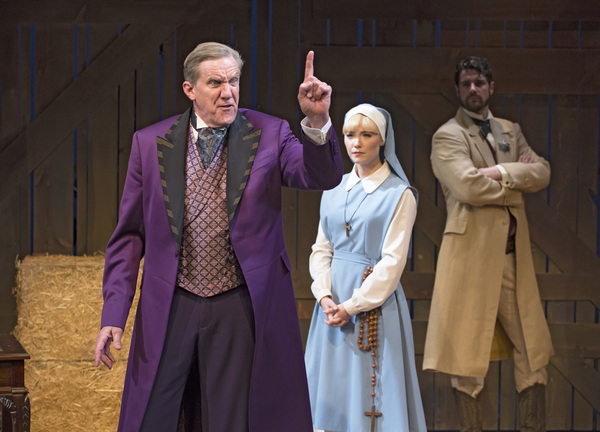 This week the Broadwaysted Crew is venturing away from the Great White Way to bring you our chats with cast members from three different Off-Broadway shows that you should check out this season! To get us in the spirit, we're pouring out Montelobos Mezcal in the studio while Game Master Kimberly challenges Bryan and Kevin with a special "Off-Broadway" Quiz.
The first Off-Broadway spotlight is Bryan's chat with Sarah Parnicky and Peter Saide from Desperate Measures, a witty and wild new musical comedy that takes Shakespeare's "Measure for Measure" and shakes things up. Be sure to check them out at New World Stages!
Next, Kimberly and Bryan sit down with Morgan Weed and Brennan Caldwell from Neurosis: The Musical, a story of 2 twenty-somethings struggling to find love and life/work balance while battling their personal neuroses. This delightfully unstable romance is playing now at the DR2 Theatre!
Finally, the whole Broadwaysted gang shares a beer and some laughs with Lauren Downie, Andrew Barrett, and Greg Esplin from Trainspotting: LIVE, the critically acclaimed no-holds-barred immersive production that offers a raw and gritty exploration of the effects of addiction. The show is currently running on the 2nd Floor of the Roy Arias Stages.
NOTE: This portion of the episode contains uncensored (aka Non-Carmen Cusacked) language and Trainspotting: Live! is only recommended for audience members age 16 and over. Contains nudity, very strong language, violence, sexual material, and heavy drug / needle use.
We have a blast checking out these great shows Off-Broadway, so listen in and then get your tickets to see Desperate Measures, Neurosis: The Musical, and Trainspotting: Live now!
Listen to the episode here:
Don't forget to join the "What Have You Seen This Week" conversation by getting your tickets at Goldstar! Visit www.goldstar.com/broadwaysted and use the code BROADWAYSTED to get an additional $10 off your order for the best tickets to Live Entertainment! Make sure to share what you see with us on social media!
---
About the Show: Join the hilarious happy hour antics on Broadwaysted every Tuesday as the Brightest Stars of Broadway have a few drinks, play a few games, and share a lot of laughs with host Bryan Plofsky, co-host Kevin Jaeger, and Game Master Kimberly Schmidt.
The recipe is simple. We take a generous pour of Delightful, Delicious, and Delovely featured show segments like "What Have You Seen This Week," "Stage Door Stories," and "Tuesdays in the Corner with Kevin"--mix in a few original games created by our resident Game Master Kimberly--and top it off with a healthy serving of Bryan's Pun-tastic Ponderings. What you get is a podcast filled to the brim with laughs, insight into the NYC Theatre Scene, and a hangover-free cocktail hour with your favorite stars.
Since May of 2016, Broadwaysted has released over 100 episodes and their growing #FriendsoftheShow guest list includes Broadway Legends, Fan Favorites, Fresh Faces, and a whole lot of Newsies,
Follow and Subscribe to Broadwaysted free on iTunes to join the fun every Tuesday!
Twitter: @Broadwaysted
Instagram: @Broadwaysted
Bryan's Twitter: @nuttyplofessor
Kevin's Twitter: @JaegerKev
Kimberly's Twitter: @KimberCoops
Facebook: Join our group Broadwaysted #FansoftheShow to exchange game ideas, share theatre thoughts, or chat with other #FansoftheShow

Related Articles
Broadwaysted: Where we're drunk on Broadway! Literally. This isn't your typical theatre podcast. Come "take a glass together" with us every Tuesday! Join our cocktail (read more...)