Student Blog: Thoughts on HSMTMTS Season Two
Now that season 2 of High School Musical:The Musical: The series has come to an end I have a lot of thoughts I'd like to share.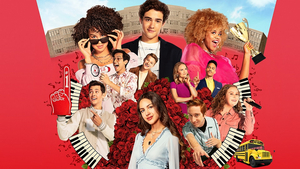 I was so excited for High School Musical:The Musical: The Series season two, more than I thought I would be, I mean last season really surprised me with the cast, the amazing original songs and the way they made High School Musical work as a TV show, it felt fresh, original and special, but now that season two is over, I have a lot of thoughts. The plot changed a little bit, but we have the same cast and the same style so, that was not a problem, but from my point of view something felt different and at first I thought I was expecting too much because I loved season one, but with every episode my excitement went down.
First I think they could've done so much more with the new characters, they did a great job casting Roman Banks, Andrew Barth Feldman, Derek Hugh and Olivia Rose Keegan but we got to see them so little as a team, I know the show focuses more on East High for obvious reasons but it would've been interesting to see some scenes where they showed North High's production like rehearsals (the episode with "The mob song" battle was not enough) or a song from their musical, that would made us really see and feel the competition between theatre clubs. Also I was upset that Andrew sang once and he has a wonderful voice that a lot of us wanted to hear, but I guess I forgive them just because they chose the perfect person aka Roman Banks to sing "If I can't love her", that was beautiful, I even tear a little bit.
However, there are things I loved and really enjoyed; like the way they made space for original songs and decided to have musical moments that had nothing to do with the actual musical "Beauty and the Beast", because that would've been the safe choice and they took risks with new songs and even covers like "The climb" and songs from High School Musical 2 , because we got to explore the situations of the main characters through music, for example, the way Nini and Carlos were feeling with their relationships with "The rose song" and "In a Heartbeat", or the moment between Miss Jenn and Zack Roy with "Around you", it told us a little bit about their past; and with "You ain't seen nothing" we saw how everyone felt more like a family than just a team ; that's how we as an audience could understand the characters better and even feel related with them.
Also, the character development was not that bad, we got to see Nini and Ricky's ups and downs together but also growing individually, Nini deciding she want to go big with her singing/composing career and Ricky dealing with his mom situation; Ashlyn embracing her talent being Belle; Kourtney being part of the musical without quitting designing the costumes; Miss Jen was being a little chaotic but that's ok, I love her; and Ej and Gina, oh my god Ej and Gina, the chemistry they have and how that end on episode twelve wow, also talking about Ej he was my least favorite character in season one and now he's one of my favorites, the way he started being himself changed the character for good. But even though everything it's well done, I have to say I don't really like that now they all are in a romantic relationship, they're so cute but I don't know.
On the other hand, the last episode was not as epic as I was expecting and I enjoyed more other episodes, but what I save is the song "Second Chance" because I feel like it could be a little bit of what we might see in season 3, if there's a season 3 so it could be interesting and also them being together after the show but not just as a team on the serie but as friends on real life made me so happy. What I didn't like about the finale is that they just threw the envelope away, I mean I understand that they felt too much pressure and that's not ok if you're doing something you love and that you should enjoy but I think it could've been a good thing they knew what the nominations were because that would've showed again that theatre and arts are important, that is not just a hobby and that some of them are really talented, they could even become professionals one day if they want to, because that's a topic the show was currently talking about and also it would have encourage Miss Jen to keep teaching, try acting again or East High Drama Club to be recognized as more than just a club.
Anyways, I'm excited to see more of the characters in a new season, and everything the show has to offer in the future but what do you think? Did you enjoy this season more or were you disappointed? Let me know!

Related Stories
Student Blog: The Magic of Having an Agenda

November 30, 2022

As students, sometimes we feel like we have lots of things to do and writing them on our phones it's not always the best option. So this time I'll share with you why I still love agendas.
---
Student Blog: My First Time Backstage for a Show

November 1, 2022

Having a new perspective of a ceremony like this was something I'll never forget, working with great people and being part of a team "behind the scenes" made me realize why I love theater so much.
---
Student Blog: Lessons I've Learned from Theater and How They've Been Helping Me This Year

October 24, 2022

Recently, I've been involved more in the theater world and with that I've learned something new each day I spend in that magical place.
---
Student Blog: Doing theater as a senior student

August 24, 2022

For the last few years, I've been learning a lot about theater in general and falling in love with plays and musicals that I didn't know existed. And it was until this summer, that I decided to join the production company at my campus; otherwise I would regret wasting that time on my last year.
---
Student Blog: My Top 5 Favorite Summer Musicals

July 26, 2022

Maybe the musicals in this list aren't exactly summer musicals, but what I love about them is that if I'm listening to them, I could feel like the main character during these hot days and I think that's all we need sometimes.
---