Student Blog: 5 Movies for Your Summer Movie Nights
Watching movies is one of my favorite things to do all year, but in the summer it just hits different , so here I write about 5 movies that must be on your watchlist.
In summer, I enjoy everything I watch more because as students school's out and we have at least one month without worrying about a thing, so if I watch a really great movie probably later I'll be painting something or discovering new artists because of the soundtrack or reading the novel that inspired what I saw. It's the first step to stay creative, enjoying your summer doing more than just waking up late and spending the whole day on social media, so here are 5 movies that must be on your watch list this summer:
1. La La Land: Directed by the amazing Damien Chazelle, this movie tells the story of Mia, an aspiring actress and Sebastian, a jazz pianist ( played by Emma Stone and Ryan Gosling), that fall in love while following their dreams in Los Angeles. A movie that stole my heart with its music, choreography, great cinematography and smart storytelling, it not just talks about love, but also about dreams and the ups and downs in artists' lives. It's a musical so of course the music plays another character, with a score by Justin Hurwitz and lyrics by the best duo Benj Pasek and Justin Paul. So even if musicals are not your favorite genre but you consider yourself a cinephile, you have to watch La La Land.
2. Dirty Dancing: As a kid I used to love summer camp and after I saw this film I wished there was a camp for teenagers where I live, the combination of sun, romance and dance made this film a summer classic. Starring Jennifer Gray and Patrick Swayze, this love story written by Eleanor Bergstein it's simple but thanks to the amazing acting and Kenny Ortega's choreography, I really enjoyed it and what I like the most about it, is the chemistry between the main characters, I shipped them since their first scene they shared and of course the montage of Baby learning the dance that will lead us to that iconic moment with the song (I've had) the time of my life. If you haven't seen this movie, it's time to watch it because it also has a message about social situations that made me reflect a lot.
3. Mamma Mia: If we're talking about movies that scream summer, we need to talk about Mamma Mia, where Sophie invites 3 men from her mother's past, trying to find out who her father is before her wedding. Directed by Phylliadia Lloyd and written by Cetherin Jhonson, the story takes place on a greek island, so if you haven't seen it, imagine a musical in paradise, with ABBA songs and Meryl Streep, I mean 100% summer vibes. Actually it's not the best musical ever, but it has a special place in my heart and if you like musicals and romcoms, you should watch it or take this as a sign to rewatch it.
4. Aquamarine: Summer it's a good time to remember your childhood, so why not with a movie?, I remember watching this when I was like 10 and I absolutely loved it. It's about two girls that become friends with a mermaid named Aquamarine, who came to the surface to avoid marriage with someone she doesn't even know and with one purpose: prove that true love exists. A great and funny story, starring Emma Roberts, Joana "Jojo" Levesque and Sara Paxton, based on an Alice Hoffsman's novel that has a lovely message and it's the summer love story we all need.
5. Midnight in Paris: I don't know about you, but summer in Paris sounds like a dream and this film gives me that feeling. Directed and written by Woody Allen with a very smart cast that includes Owen Wilson, Rachel McAdams, Marion Cotillard, Tom Hiddleston and Adrien Brody, gives us a tour around the city of love, telling the story of Gil, that not very happy with his relationship, every midnight he escapes back in time where he met and have fun with icons like Ernest Hemingway, Scott Fitzgerald, Gertrude Stein and more. Besides the script and the beautiful locations, I really love how the perspective and thoughts of the artists impacts Gil's decisions for good, so if you want to escape like Gil, I for sure recommend this movie.
* In the Heights: Honorable mention to this movie because it was released last month but it's absolutely the movie of the summer this year. The story of Usnavi, Vanessa, Nina and the whole barrio chasing their dreams in Washington Heights during the hottest days of summer , actually is an adaptation of the 2008 Tony Award winner musical, created by Lin-Manuel Miranda, with a script by Quiara Alegría Hudes and directed by the great Jon M. Chu. But don't worry, even if you don't know anything about the story, the music or the creators behind this wonderful movie, you can enjoy it and start your summer break going to the movies to watch this on the big screen, because the magic of this musical is a whole experience.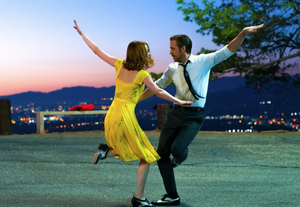 Related Stories
Student Blog: The Magic of Having an Agenda

November 30, 2022

As students, sometimes we feel like we have lots of things to do and writing them on our phones it's not always the best option. So this time I'll share with you why I still love agendas.
---
Student Blog: My First Time Backstage for a Show

November 1, 2022

Having a new perspective of a ceremony like this was something I'll never forget, working with great people and being part of a team "behind the scenes" made me realize why I love theater so much.
---
Student Blog: Lessons I've Learned from Theater and How They've Been Helping Me This Year

October 24, 2022

Recently, I've been involved more in the theater world and with that I've learned something new each day I spend in that magical place.
---
Student Blog: Doing theater as a senior student

August 24, 2022

For the last few years, I've been learning a lot about theater in general and falling in love with plays and musicals that I didn't know existed. And it was until this summer, that I decided to join the production company at my campus; otherwise I would regret wasting that time on my last year.
---
Student Blog: My Top 5 Favorite Summer Musicals

July 26, 2022

Maybe the musicals in this list aren't exactly summer musicals, but what I love about them is that if I'm listening to them, I could feel like the main character during these hot days and I think that's all we need sometimes.
---