Click Here for More Articles on JAGGED LITTLE PILL
Rialto Chatter: JAGGED LITTLE PILL Gets Set for Soon to Be Announced Production; Could it be Broadway-Bound?
Following word last week that the Alanis Morissette musical JAGGED LITTLE PILL would be getting a December developmental lab, it looks like the show is gearing up to announce the next step on its journey.
Check out the teaser video and rehearsal highlights below!
Earlier this year, the new musical, which features a book by Academy Award winner Diablo Cody and is directed by Tony winner Diane Paulus, had a world premiere production at the American Repertory Theater in Cambridge, Mass.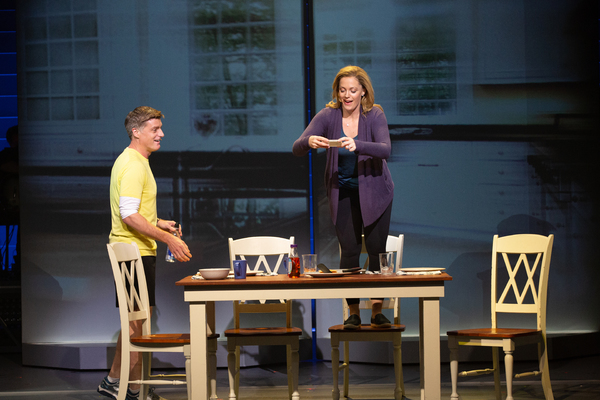 There has not yet been an official announcement as to where the next production of JAGGED LITTLE PILL will take place, but anything from another out-of-town tryout to a Broadway bow is possible, as the show has always had its sights set on New York.
Inspired by the themes and emotions laid bare in Alanis Morissette's Grammy Award-winning album, JAGGED LITTLE PILL is an original story about pain, healing, and empowerment. The Healys appear to be a picture-perfect suburban family-but looks can be deceiving. When the Healys' lives are disrupted by a series of disturbing events, they must choose between maintaining the status quo or facing harsh truths about themselves, their community, and the world around them.
Ensemble members included Jane Bruce, John Cardoza, Antonio Cipriano, Kathryn Gallagher, Laurel Harris, Logan Hart, Max Kumangai, Soph Menas, Sean Montgomery, Nora Schell, Whitney Sprayberry, Kei Tsuruharatani, and Ebony Williams. Yeman Josiah Brown and Kelsey Orem served as swings.
Read all of the Reviews from the A.R.T. Run of
JAGGED LITTLE PILL Here!
Some members of the cast have posted on social media that they would be returning for the developmental lab, but no official casting has been announced for the lab or future productions.
Related Articles
Matt is a Senior Editor and Administrator at BroadwayWorld, regularly writing about Broadway real estate, TV, and film. He is a proud graduate of The (read more...)