Review Roundup: FREESTYLE LOVE SUPREME Opens On Broadway - See What The Critics Are Saying!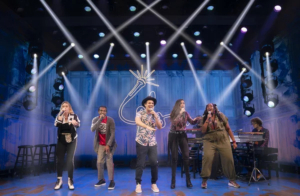 FREESTYLE LOVE SUPREME, a blend of hip-hop, improvisational theater, music, and vocal stylings, opens on Broadway tonight!
FREESTYLE LOVE SUPREME features talented performers providing non-stop action throughout this fast-paced evening, spinning suggestions from the audience into humorous bits, instantaneous songs and riffs, and fully realized musical numbers. The electrifying vocals of the performers - from singing to rapping to beat-boxing with harmonies and freestyle flow - are backed by tight tunes from keyboards and human percussion.
FREESTYLE LOVE SUPREME's company includes Andrew Bancroft AKA "Jelly Donut," Aneesa Folds, Arthur Lewis AKA "Arthur the Geniuses," Kaila Mullady, Chris Sullivan AKA "Shockwave," Anthony Veneziale AKA "Two-Touch," and Utkarsh Ambudkar AKA "UTK the INC."
See what the critics are saying!
Ben Brantley, The New York Times: What distinguishes "Freestyle Love Supreme" from other Broadway songfests is that its numbers spring into existence before your very eyes, or ears. And you, dear audience members, are the co-authors of these numbers - feeding the onstage crew the words, ideas and emotions that they then transform into improbably rhymed performance pieces. That means live theater doesn't get more live than this. "Freestyle" demands that you exist purely in the here-and-now of the show. And to guarantee you do so, it requires that all smartphones (and smartwatches) be locked into Yondr pouches before you take your seat.
Michael Dale, BroadwayWorld: Watching someone churn out rhyming verse solo is impressive enough, but these extended sequences really bring out the teamwork and trust involved. It's a joy to watch them feed off of each other so effectively you'd swear there was mind-reading involved. And, because everyone's cell phone is required to be kept in a locked pouch upon entering the auditorium (you take it with you to your seat) there's the added pleasure of not being disrupted by ringing or texting throughout the performance.
Adam Feldman, Time Out New York: Special guests each night keep it light and tight as they join Veneziale at the monster-track rally. When I was there, the spare chair was filled by FLS cofounding father Lin-Manuel Miranda-cuddly-cute as a panda, and just the man to land a toss-off joke and lend his hand to his band of brothers at the Booth. They spit some truth, and the consequence is laughter-and after, you may even be inspired to try out your own songs, with your own rhythm and timing. Forget about humming: This show sends you out rhyming.
Thom Geier, The Wrap: It's a heroically talented team but the performance I saw was, perhaps understandably, a mixed bag. There were some genuinely clever rhymes (function and liposuction, dog and gulag) and turns of phrase ("Forget about your ego / I'm not your amigo") scattered throughout, but also plenty of verbal stumbles and stalling-for-time riffs.
Frank Scheck, The Hollywood Reporter: The show essentially follows the same structure as the troupe's off-Broadway engagement last winter, but since every performance is almost entirely improvised, your experience will be different each time. And this is definitely a show that rewards repeat viewings, if only to be amazed again by the endless ingenuity with which the performers devise their versatile routines.
Steven Suskin, New York Stage Review: Is Freestyle Love Supreme traditional Broadway fare? No, certainly. Would this production be ensconced at the fabled Booth on Shubert Alley without the Messrs. Miranda and Kail serving as co-creators and co-producers? Assuredly not. But based on a back-of-the-ticket-envelope tally, I calculate that Freestyle Love Supreme easily merits inclusion on my list of the six most entertaining shows currently on Broadway. So those of you interested in keen and knowing fast-paced topical humor fueled by high intellect and political insight might want to try to get over to the Booth.
Melissa Rose Bernardo, New York Stage Review: If we're being excruciatingly honest, improv is not my idea of a good time. I'm still recovering from a 1995 incident with a campus comedy troupe (who shall remain nameless). But the giddy, upbeat Freestyle Love Supreme-now on Broadway after a recent hit off-Broadway run-is enough to cure anyone's improv-phobia. It's also a welcome break from the exhausting 24/7 election-and-corruption news cycle that assaults us from every direction.
Roma Torre, NY1: I think they're all genies of a sort, magically rhyming without distort. Hats off to Lin-Man and his amazing tribe - it's impossible not to dig their crazy vibe.
Frank Rizzo, Variety: The ensemble attempts some long-form storytelling, too, using incidents from the lives of selected audience members. Some of these sequences prove more satisfying than others, but it's always entertaining in watching the struggle, sweat and strain of the refrain. With the pulsating beat always driving them on, there's no place to hide. But when everything falls into place, it's sublime.
Greg Evans, Deadline: An energetic, insistently likable mash-up of rap, improvisational comedy, hip hop, R&B crooning and, crucially, audience participation, FLS - in its own shorthand - is both the show and the rotating troupe of performers who have been bringing it to unique life off and on, in various venues, since around 2003, now including the Booth Theatre, where it opens tonight.
Sara Holdren, Vulture: Freestyle Love Supreme, like the quick-spitting rap style in its name and the improv comedy form it's built around, is held together by nerve and verve, good instincts and a lot of good will. You may hit it on an on-fire night or a night of mostly mild chuckles, but it's still a formidable performance feat. It's high-energy, very sweet-natured fun.
To read more reviews, click
here
!