Click Here for More Articles on KING KONG
Review Roundup: Did Critics Go Bananas For KING KONG On Broadway?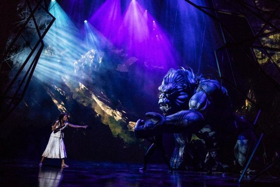 The new musical King Kong opens on Broadway tonight at the Broadway Theatre!
The cast is led by Christiani Pitts, (A Bronx Tale) as Ann Darrow, Eric William Morris (Mamma Mia!) as Carl Denham, and Erik Lochtefeld (Misery, Metamorphoses) as Lumpy.
Written by Jack Thorne (Harry Potter and the Cursed Child) with a score by Marius de Vries (La La Land and Moulin Rouge!) and songs by Eddie Perfect (Beetlejuice), King Kong is directed and choreographed by Drew McOnie (Strictly Ballroom The Musical).
King Kong comes alive through an innovative mix of robotics, puppetry and stagecraft.
Based on the 1932 novel, the stage production of King Kong is a contemporary take on the classic tale of beauty and the beast. The story follows a young actress, Ann Darrow, and a maverick filmmaker, Carl Denham, as they voyage from the bustling streets of 1930s New York to an uncharted island to capture the world's greatest wonder. At the center of this 21st-century reimagining: a 20-foot high, 2,000-pound gorilla brought to life by a team of seamlessly integrated artists and technicians. Roaring with action, King Kong is a gripping and spectacular story of unlikely friendship, unshakable courage, and breaking free from the cages others put us into.
Let's see what the critics had to say!
Ben Brantley and Jesse Green, The New York Times:
Green: A car wreck of clichés like that simply can't put a feminist story across meaningfully. Or any story, really - and that's a bigger problem than the bad score and sluggish 20-foot marionette. I find it hard to believe that the book is by Jack Thorne, who won a Tony Award last season for writing "Harry Potter and the Cursed Child."
Brantley: Yes, but as far as I can tell, the story - and the music and the gymnastic dancing - are basically just filler until Kong shows up again and looks noble and sorrowful and, occasionally (when Peter Mumford's lighting is really low), menacing.
Michel Dale, BroadwayWorld: Though loaded with flat, stilted dialogue, the biggest mistake of Thorne's book is to take away the tragic aspects of the film's two main characters, sapping them of empathy. The earnest and honest filmmaker Carl Denham is now a heartless villain who cons people with promises of fame and wealth. Ann Darrow, the role that made Fay Wray a star, is no longer fighting to survive the Depression -- stealing food to keep from fainting from hunger -- and willing to join Denham on his film shoot out of desperation. Now she's a young hopeful coming to New York with dreams of stardom and thinking this gig might be her big break. Unlike Wray, who screamed in terror for half the picture, this Ann reacts to the beast's roars by roaring right back at him and trying to relate on a deeper level. ("Anyone ever tell you you've got sad eyes?") Scenes between the two of them seem to go on forever as she voices her interpretation of every move and sound that Kong makes.
David Rooney, The Hollywood Reporter: To quote the title of an R&B hit by early '70s girl group Honey Cone, "One Monkey Don't Stop No Show." Except that in King Kong, it most definitely does. In fact, that monstrous ape, able to cup an aspiring Hollywood starlet in one giant paw, pretty much is the show in this otherwise blundering musical, in which a low-wattage cast gamely trudges through one embarrassing number or cliché-ridden book scene after another. Even if the star puppet might be better suited for an arena spectacle or theme-park attraction, you can't take your eyes off this technological marvel, not least for its incredible facial expressiveness. It's completely appropriate that the animatronic gorilla and its operators get the show's final bow.
Frank Rizzo, Variety: After an earlier production in Australia and with the addition of a largely new creative team, the producers (led by Global Creatures) of this $35-million Broadway epic, based on the classic 1933 film, have re-envisioned the story in striking theatrical terms, using dazzling projections, super-sized puppetry and lush underscoring to create one thrill ride of a show. Topping the list of visual wows is the magnificent, moving and oh-so-expressive title character who, alas, is not eligible for a Tony.
Matt Windman, amNY: Following many twists and turns and creative team changes since it premiered in Melbourne in 2013, a $35 million stage musical adaptation of "King Kong" (showcasing a 2,000-pound, 20-foot animatronic puppet of a silverback gorilla, which is operated by onstage puppeteers and computer technicians) is finally roaring on Broadway - and it is just as technically innovative and absolutely ridiculous as you would expect a stage musical adaptation of "King Kong" to be.
Robert Hofler, TheWrap: The big ape deserves a Tony. He's not only the star of "King Kong," which opened Thursday at the Broadway Theatre. He's also a damned good actor, too - one who shows a wide range of emotion while running through the jungle, fighting off a giant serpent, being gassed by crass capitalists or climbing up the Empire State Building. That he's a puppet only makes his performance all the more riveting. But he/it has an advantage over the human actors on stage. Kong doesn't sing one song composed by Eddie Perfect or utter one word written by Jack Thorne.
Greg Evans, Deadline: Eighth wonder of the world? King Kong probably isn't even the eighth wonder of Broadway - those kids in The Ferryman aren't giving up their spots anytime soon - but the big ape does provide some roaring good thrills.
Adam Feldman, Time Out New York: The truly frustrating thing about King Kong is the waste of it all. Why did it this story, whose central figure necessarily cannot sing, need to be a musical at all, much less one that suggests a late-run Simpsons parody? Have the success of War Horse and Thorne's own Harry Potter and the Cursed Child-and the bellyflops of Spider-Man: Turn Off the Dark and Cirque du Soleil's Paramour-taught us nothing? King Kong looks down on its huckster villain, film director Carl (Eric William Morris, overplaying an unplayable role), for taking an awesome creature and surrounding it with mediocrity for a gawking New York audience-but that's exactly what this production does itself. In the sad eyes of the second act's chained and stooped Kong, you see flickers of a show that might have been.
Erin Strecker, Mashable: If this was an attraction at a theme park, I'd give it five stars. Unfortunately, it's a Broadway musical, not the latest from Universal. And while Kong the beast is magnificent, the show certainly isn't.
Terry Teachout, Wall Street Journal: It's hard to know where to start pitching the tomatoes. The score and songs, jointly concocted by Marius de Vries and Eddie Perfect, are loud and vapid ("And years from now / The world will know / Your grace showed me the way to go"). Jack Thorne's book is stupefyingly banal ("Strong as I am, strong as you've made me, I can't hold you"). Together they add up to a show that made me feel as though I were fighting off an overwhelmingly powerful anesthetic. A true professional, Ms. Pitts manages to speak and sing her fatuous lines with a straight face. Lucky gorilla: All he has to do is growl.
Steven Suskin, New York Stage Review: King Kong-the animated star of the new Broadway extravaganza, and when I say animated I don't mean "full of life"-is awesome. The sheer size and range of movement of this 20-foot-tall puppet (although puppet doesn't quite describe it) might well leave you agape, at least for 15 of the 130 minutes you'll spend at the Broadway Theatre. The rest of the affair could have you pining for Spider-Man: Turn off the Dark, where they at least kept the evening suspenseful by offering the constant threat of calamity.
Elysa Gardner, New York Stage Review: Thorne's record of intelligent, nuanced, morally complex work, which includes Harry Potter and the Cursed Child, suggest that his contributions may have been, like Kong, diminished by the forces of commerce. But that's just speculation, and frankly, few will attend this musical expecting the characters, human or otherwise, to be drawn with great sophistication. If technical wizardry is what you're after-and you can withstand watching a magnificent beast endure repeated, extravagant physical and emotional abuse-King Kong may be just the ticket.
Alexis Soloski, The Guardian: But it's bountifully clear, from the first forgettable lyrics to the last gratuitous lines that no hominid involved in this glitzy shambles has any idea what to do with him. As a feat of stagecraft and structural engineering, Kong is cool. A creature with the delts of a prize fighter, the potbelly of a toddler, a possible addiction to Crest White Strips and the external genitalia of a Ken doll (the "he" is provisional), he is brought to animatronic life by the King's Company, a troupe of 10 black-clad puppeteers who tug his marionette strings in some version of a maypole dance, and four voodoo operators, who control his facial expressions from a booth at the back of the theater. Put it all together and you have a double-decker bus who looks like he's lost badly at beer pong. It's unlikely he'll sign at the stage door.
Jessica Derschowitz, Entertainment Weekly: The new King Kong musical, which opens Thursday at the Broadway Theatre, has taken a long journey to get to New York - not unlike the creature at the center of its story. The show's lengthy development process spanned years and two different continents (its first stage run opened in Australia in 2013) and stretched into the 11th hour - a matinee was canceled last week so the production could make "final adjustments." (This incarnation has a book by Harry Potter and the Cursed Child author Jack Thorne and songs from composer Eddie Perfect.) Would it be too on-the-nose to call it a gargantuan gamble? When your title star is a massive marionette, maybe not.
Tim Teeman, The Daily Beast: If you have come for spectacle, you'll love (as I did, with a big, very stupid grin on my face) the impressive and thrilling feats of design and puppetry directed and choreographed by Drew McOnie, who I must presume­­-given the exertions of his leading ape­-has a chiropractor on 24-hour call.
Chris Jones, Chicago Tribune: Alas, a great popular musical needs more than the big daddy of all puppets to deliver a hit show that pounds the heart and licks the bananas of the mind. And the best way to sum up everything wrong with "King Kong," which opened Thursday night at the Broadway Theatre with a thud surely audible in Staten Island, it would be that the show created a star worthy of the biggest marquee in Midtown, but not credible or complex characters with whom the titular dude can meaningfully interact, once he is winched down from the heavens.
Charles McNulty, Los Angeles Times: Just how horrifying is the new show? It has turned a self-respecting drama critic into a screaming Fay Wray. No, I'm not really afraid of being mauled to death by a giant ape in midtown Manhattan. But I am terrified of the monstrous concoction that has been cooked up in the international laboratory of mercenary producers eager to remake Broadway in the image of Barnum & Bailey.
Jeremy Gerard, Theater News Online: So, to answer the question of why this show seems so small: Kong isn't the only mechanical creature on the Broadway Theatre stage. The entire enterprise reeks of condescension, underestimating an audience's intelligence. King Kong is destined to join Cirque du Soleil's Paramour and Sony Pictures Entertainment's Spider-Man Turn Off the Dark on the scrap-heap of recent Broadway megaflops in which OMG effects were given priority over people. Bad idea.
Joe Dziemianowicz, NY Post: Acting is basically beside the point, but, as guided, both leads give shrill, one-note performances. The creators are so intent on making Ann the opposite of Fay Wray's portrayal of a damsel in distress that she lacks the vulnerability that made the Ann-and-Kong love story click. Early on, as the ship departs New York Harbor, the scenery, stagecraft and video projections merge so beautifully, you think this show may lead to someplace special. Nope. "King Kong" is less fun than a barrel of monkeys.
Diane Snyder, Telegraph: Although his furrowed brow and expressive eyes register surprise and emotion, he's largely stationary during lengthy scenes when Ann is speaking or singing to him. It's only when designer Peter England's black-and-white projections roll by to simulate Kong scaling the Empire State Building or galloping with Ann in tow that the beast lives up to his promise. All said, he might feel more at home, and make a bigger fortune, in a Las Vegas spectacular.
Sara Holdren, Vulture: Not that the show is willfully shallow. In fact, in a brochure handed to me outside the theater by the show's press representatives, one of Kong's lead producers, Carmen Pavlovic, writes about the resonances she found in the story while developing the production over the last ten years. She talks about the global recession, Harvey Weinstein, the environmental crisis, and xenophobia in both Australia and America. Brett Kavanaugh gets a mention. So do the immigrant children forcibly separated from their families. King Kong, it would seem, is about everything. But what stands out from Pavlovic's essay are its title - "Why King Kong?" - and the sole pull quote. "Could he achieve a chest-beat without punching a hole through his own sternum?" it reads. "Could he pick up a girl and run with her?"