Review Roundup: Critics Weigh in on Mays' and Arden's A CHRISTMAS CAROL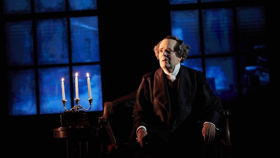 The Geffen is currently hosting a world premiere adaption of Charles Dickens' A Christmas Carol. Adapted by Jefferson Mays, Susan Lyons and Michael Arden, this one-man production features Mays taking on nearly 50 different roles in a new adaptation, which is based on the edited version Dickens himself used for public performances.
Tony Award winner Jefferson Mays breathes new life into the greatest ghost story ever told. While the heart of A Christmas Carol is evergreen, Mays brings fresh perspective to Scrooge, Bob Cratchit, Tiny Tim and the rest, playing every role in this whirlwind one-man show.

Tony Award-nominated director Michael Arden creates a wildly theatrical and spectacular experience. This world premiere adaptation of a beloved story of redemption offers an early-and unexpected-start to the holiday season.
Let's see what the critics had to say...
---
Peter Debruge, Variety: If this all sounds rather intense, it's hardly a bad thing, and true to the spirit of what Dickens himself described as a "Ghostly little book" (in a preface to readers, he aspired, "May it haunt their house pleasantly"). Although little attempt has been made to mimic John Leech's original illustrations, Mays and Arden have clearly taken the author quite literally. That still leaves plenty of room for merriment - especially at the home of Scrooge's assistant, Bob Cratchit - and a couple of musical interludes, including a well-placed use of Sufjan Stevens' "Silver & Gold" at roughly the midpoint of this most excellent 85-minute show.
Jordan Riefe, The Hollywood Reporter: Lon Chaney Sr. was called "the man of a thousand faces," but Mays outdoes him in what can accurately be described as an epic one-man show, the world premiere of a new adaptation of Charles Dickens' A Christmas Carol. In it, he plays 50 distinct characters, no doubt a record of some kind, but nothing compared to what must amount to 50,000 cues contrived for him by director Michael Arden in this fleshed-out production that represents a personal best for both.
Photo Credit: Chris Whitaker
To read more reviews, click
here
!
---
Shop BroadwayWorld

Shop this season's new musicals! Get dressed up for a night at the theatre, or just a night at home, with merch from some of Broadway's biggest hits including SOME LIKE IT HOT, KIMBERLY AKIMBO, and more!
---
Related Stories