Review Roundup: BRIGADOON, Starring Kelli O'Hara and Patrick Wilson, Opens at City Center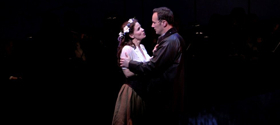 New York City Center brings the Lerner and Loewe classic, Brigadoon, out of the Highlands mist for the musical's 70th anniversary in a star-studded concert production that unites celebrated talents from the worlds of stage and screen. The show just celebrated its gala opening last night - let's see what the critics had to say below!
Patrick Wilson (two-time Tony Award nominee, Oklahoma! and The Full Monty) is Tommy Albright and Aasif Mandvi (The Daily Show) is his friend Jeff Douglas-both are jaded New Yorkers who stumble into an idyllic Scottish town that appears for only one day every century. Tony Award winner Kelli O'Hara (The King and I) is Fiona, the woman who quickly steals Tommy's heart. Stephanie J. Block (two-time Tony Award nominee, The Mystery of Edwin Drood and Falsettos) is Meg Brockie, Fiona's flirty dairymaid friend who takes a liking to Jeff. Robert Fairchild (Tony Award nominee for An American in Paris) plays the rebellious Harry Beaton who is in love with Fiona's younger sister, Jean (Sara Esty, An American in Paris). However, Jean is getting married to Charlie Dalrymple (Ross Lekites, Kinky Boots), which sends Harry into a rage-causing him to jeopardize the very existence of the mystical village of Brigadoon.
Directed and choreographed by Tony Award-winner Christopher Wheeldon (An American in Paris) with music direction by Rob Berman, the performance on November 15 will be City Center's Annual Gala, honoring City Center Board co-chair and Broadway producer Stacey Mindich.
---
Jesse Green, The New York Times: ...the opening of the City Center production of "Brigadoon," directed and choreographed by Christopher Wheeldon, was, for the first act anyway, glorious. And if part of that glory was historical - showing us what made musicals tick at the start of the Golden Age of Broadway in the 1940s - part of it, too, was vehemently alive...this production of "Brigadoon" is a polished affair, with no books in hand and uncompromised ambition. But by "vehemently alive," I refer especially to Kelli O'Hara, who stars as Fiona MacLaren. It can be no surprise that she sings the part well; she has always sung everything well. And though her voice, impossibly, continues to bloom, it is the naturalness of her style, both in singing and acting, that make her irreplaceable in material like this.
David Rooney, The Hollywood Reporter: The limitations of the old-fashioned material cannot be disguised - with its determined postwar optimism, its thin folktale of a plot built around an enchanted village, its abundance of quaint Scots stereotypes and its breathlessly contrived happy ending. But there's nonetheless plenty to savor in New York City Center's annual gala presentation...High among the production's strengths is the breathtaking vocal performance of Kelli O'Hara, who seems merely to open her mouth and out pour crystalline notes of the rarest luster, warmth and dramatic integrity. Starring opposite her is Patrick Wilson, an ideal romantic lead too long absent from New York stages, his assured singing untarnished by his years away from musical theater.
Joe Dziemianowicz, New York Daily News: With time being of the essence, choreographer and director Christopher Wheeldon ("An American in Paris") and the cast make every minute count. Kilt-clad, virile and surefooted, Fairchild ("An American in Paris") makes a magnetic Harry. Stephanie J. Block, who makes everything shine brighter, adds sparks as man-hungry Meg. Wilson's voice is handsome and colorful as ever on songs like "From This Day On," though his stage presence is a bit paler. Lekites is a delight as the marrying man who entreats his bride to "Come to Me, Bend to Me." And then there's O'Hara, whose "Waitin' For My Dearie" and "Almost Like Being in Love" spill over with blissful warmth and beauty. Like enchanted Scottish villages, talent like hers doesn't come around very often.
Barbara Schuler, Newsday: According to legend, the mythical Scottish city of Lerner and Loewe's musical appears only once every hundred years. But you wish a different fate for this glorious production...With a cast of heavy hitters from stage and screen - Kelli O'Hara, Patrick Wilson, Aasif Mandvi - famous songs such as "The Heather on the Hill" and "Almost Like Being in Love" simply soar. Billed as a concert production, in truth this is fully staged, with a striking set, costumes and artistic projections. It's the dancing, though, that raises the barre, with direction and choreography by former City Ballet dancer Christoper Wheeldon.
Apollinaire Scherr, Financial Times: ...for Lerner and Loewe's 1947 Brigadoon, dance cannot dominate at the expense of the gorgeous near-operatic songs. In a City Center Encores! production so polished and star-studded that it looked like an audition for Broadway, Wheeldon tackled this conundrum by trading between talents, rather than forcing everyone to do everything in a triple-threat of mediocrity. As Fiona...Broadway stalwart Kelli O'Hara forwent dancing for walking and trotting - but what a dulcet voice!
Keep checking back for updates!
To read more reviews, click
here
!