Queer|Art Awards Inaugural Eva Yaa Asantewaa Grant For Queer Women(+) Dance Artists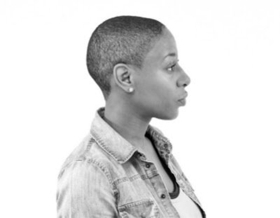 Queer|Art, New York City's home for the creative and professional development of LGBTQ+ artists, is pleased to announce the winner of the inaugural Eva Yaa Asantewaa Grant For Queer Women(+) Dance Artists, Jennifer Harge. Harge will receive a $10,000 cash grant to support the development period of Fly | Drown, a new performance installation set to premiere in Detroit in Fall 2019.
Harge was one of 87 applicants who applied for the Yaa Asantewaa grant in its inaugural year. Fly | Drown looks to mundanity, domesticity, and intimacy to think through how the creation of Black space and Black queer liberation practices offer refusal strategies inside of anti-black climates. The development period will include a year of gatherings in Detroit among black women(+) and queer identified folks to imagine and determine places where their bodies can breathe and move as they wish, as an act of futuritive investment.
Four other dance artists were acknowledged as finalists for this year-Indira Allegra, Una Osato (of brASS: Brown RadicalAss Burlesque), Noemí Segarra Ramírez,and Anna Martine Whitehead.
The judges, who were selected by Queer|Art to review applications for the grant, include dance and movement-based performers and curators from around the country:Nora Sharp (Chicago), Julie Tolentino (LA), and Marýa Wethers (NYC). Named in honor of visionary dance curator, critic, and educator Eva Yaa Asantewaa, the grant seeks to highlight the important contributions queer women and gender non-conforming dance artists have made to dance throughout history.
"Folks who care about the art of dance-an art of the moving body in time and space-try to preserve its wonders against disappearance," Yaa Asantewaa writes. "With this award, we seek to record and honor the creative innovation and labor of queer women(+) dance artists. To acknowledge them as full humans and artists informed and nourished by love, by experience, and by culture. To support and revere our artists for exactly and completely who they are; so they know a fierce community of peers, elders, and ancestors has got their back; and to make our world a safer, more empowering place for queer artists and, in truth, for all artists and for all people."
About Jennifer Harge, Winner
Jennifer Harge is a Detroit based educator and movement artist. Her approach to form interrogates how the multiplicity of her black and queer identities interface with postmodern dance. Her performances are committed to black and queer vernacular gestures, codes, and rituals as a way of writing in and exploring histories that have been misnamed or gone unnoticed. Harge's most recent creative research is anchored in racialized surveillance, hyper-masculinity/femininity, and Black churchicality.
Through her work as a movement artist, she has been the recipient of residency and fellowship awards, and choreographic invitations from Detroit Institute of Arts, Museum of Contemporary Art Detroit, Pulitzer Arts Foundation, Knight Foundation, Kresge Foundation, Atlantic Center for the Arts, Washington National Cathedral, Dayton Contemporary Dance Company, University of Michigan, Duke University, and Wayne State University.
"I am honored to have been awarded the 2018 Eva Yaa Asantewaa Grant for Queer Women(+) Dance Artists. This project, Fly | Drown, speaks to the trajectory of my work more broadly, and the tools learned from this development period will provide substantial growth towards my work in Black dance coalition building in Detroit. In a city undergoing continued gentrification and displacement, this grant affords me the opportunity to think critically about our needs as Black dance artists in Detroit and our relationship to Black collective care-taking in dance." - Jennifer Harge, 2018 Yaa Asantewaa Grant Winner
About Fly | Drown
Fly | Drown consists of a series of works that calls upon ancestral knowledge, personal experience, and movement to offer Black audiences strategies towards bodily autonomy. The Yaa Asantewaa Grant will support the development period of a new performance installation investing in the creation of Black space for women and queer-identified people through mundanity, domesticity, intimacy and somatic movement. The work evolves from a practice learned from writer Alexis Pauline Gumbs in Spill: Scenes of Black Feminist Fugitivity, in which she firmly decides to cite Black women exclusively (mainly Hortense Spillers) in the making of the book, as an intimate practice of being with Black women scholars, as opposed to merely reading about or responding to them. Fly | Drown is interested in the practice of being with Black women and queer identified people as a way of thinking critically about self-care and collective care taking.
The installation created for Fly | Drown is a simulacrum of a domestic interior space. It will include Black vernacular ready-made objects, such as a couch with plastic covering, a hot comb, and a small television set atop of a larger, non-working one. During gallery hours, Harge will utilize the space to explore mundanity in the home, which may include: taking a nap, oiling her scalp, or having a meal with friends. Through this work, Harge is choosing to make the quotidian aspects of a Black femme embodiment visible, to process where and how Black queer women can simply be.
When Harge is absent from the site, audiences will engage the installation through a set of scores created by Harge and Aldridge. These scores will invite audiences to process their own relationship with the space and make investments to the interiors as a way of immersing themselves in the work.
Throughout the month, Harge will perform a series of durational movement performances with guest performances by members of Choreographing Black Space in Detroit. The work will anchor mundanity and intimacy as tools for accessing pleasure for Black femme queer bodies. The piece will utilize somatic techniques particular to these bodies as they access healing and the multiplicity of identity, while also calling attention to the ways in which this body has to shrink and/or perform inside of colonial, patriarchal, and heteronormative public structures.