Photo Flash: Ride of Fame Honors Richard Dreyfuss
Gray Line New York's Ride of FameTM campaign honored award winning and legendary actor, Richard Dreyfuss for his achievements as an outstanding New Yorker today.  A double decker tour bus bearing his likeness was unveiled at a ceremony which took place in front of the Cherry Lane Theatre located on Commerce Street, where his new play, Imagining Heschel which started this week is playing.  Dreyfuss, who is also current on the hit TV show Weeds, took a tour on his new bus, with 30 of his fans, and got on the microphone and helped with the tour!
 
Dreyfuss is a native New Yorker who was born in Brooklyn and is a leading actor is best known for starring in a number of roles in film, television, and theater including Jaws, Close Encounters of the Third Kind, Mr. Holland's Opus, and more. Dreyfuss won the Academy Award for Best Actor in 1977 and the Golden Globe Award in 1978.  Dreyfuss was the sixth inductee to be honored by Gray Line New York and its Ride of FameTM.  Other honorees include Donald Trump, Rachael Ray, Whoopi Goldberg, Henrik Lundqvist of the New York Rangers, and legendary New York Yankee, Reggie Jackson.  
 
PHOTO CREDIT: Rob Loud


Richard Dreyfuss

Richard Dreyfuss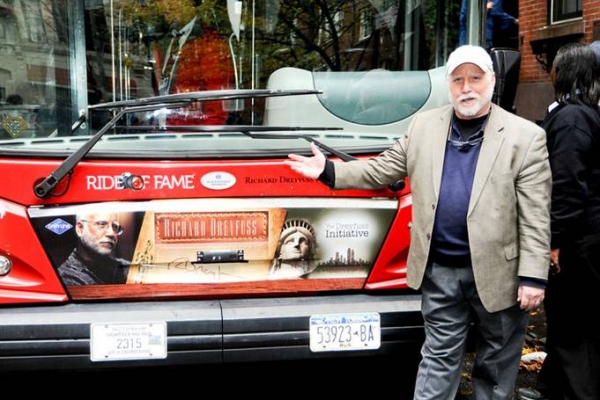 Richard Dreyfuss

Richard Dreyfuss