PERCY JACKSON Live Action Disney+ Series Announced!
Find Out How Percy Jackson is Coming to TV!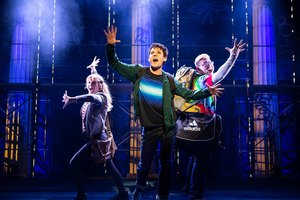 Rick Riordan, author of the popular Percy Jackson and the Olympians book series has announced that the books will be turned into a live action series for Disney+!
"Hey Percy Jackson fans, for the past decade, you've worked hard to champion a faithful on-screen adaptation of Percy Jackson's world," Riordan wrote in a statement on Twitter, "Some of you have even suggested it would be a good series for Disney+. We couldn't agree more!"
He continues, "We can't say much more at this stage but we are very excited about the idea of a live-action series of the highest quality, following the storyline of the original Percy Jackson five-book series, starting with The Lightning Thief in season one. Rest assured that Becky & I will be involved in-person at every step of the show. There will be much more news in the future, but for now, we have a lot of work to do! Buckle up, demigods. It's going to a fantastic, exciting ride!"
Check out the announcement here:
The original Percy Jackson & the Olympians series includes the titles The Lightning Thief, Monsters, The Titan's Curse, The Battle of the Labyrinth, and The Last Olympian.
The Lightning Thief: The Percy Jackson Musical was first introduced to New York audiences in 2014 as a one-hour musical as part of Theatreworks USA's Free Theatre Series before then heading on the road for a national tour. The show features a score by Rob Rokicki and a book by Joe Tracz.
The show was given a new life in 2017 with a new score, an expanded script, a larger cast, and a live band. This production made its way to Off-Broadway's Lucille Lortel Theatre starring Chris McCarrell as Percy, Kristin Stokes as Annabeth, and George Salazar as Grover and Mr. D. The show recorded its cast album with its Off-Broadway cast, which was released in July 2017. The Off-Broadway production was nominated for three 2017 Drama Desk Awards, including Outstanding Musical.
The show made the jump to Broadway in 2019, playing a limited run at the Longacre Theatre.
Related Articles
More Hot Stories For You