NBC's Live Broadcast of A FEW GOOD MEN Pushed Back to 2019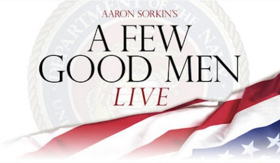 As previously announced, NBC plans to present a live broadcast of A FEW GOOD MEN, starring two-time Emmy winner Alec Baldwin in the role of Col. Nathan Jessep. The project is from esteemed playwright and Oscar and Emmy winner Aaron Sorkin, who will executive produce and adapt his own play for the broadcast. In a new interview with The Hollywood Reporter, Sorkin reveals that he has decided to delay the planned Spring 2018 airdate of the live telecast for another year, and admits he has been challenged to find a way to make the 1980's-set work feel fresh.
"It's something I've been talking to people about for years," he says of the live TV format. "I just didn't think it would be my play." He goes on to explain, "What does it look like on TV? The fact that I can't give you an answer yet is one of the reasons I want to [push it to next season]."
Read the article in full here
Sorkin is currently working on his revival of TO KILL A MOCKINGBIRD, set to hit Broadway in late 2018. This week, he is attending table reads for the project. The award-winning writer penned A FEW GOOD MEN at age 26 as a stage production that premiered on Broadway in 1989 at the Music Box Theatre to critical acclaim. Three years later he adapted the play as a feature film that went on to receive an Oscar nomination for best picture.
"A Few Good Men" marks NBC's first live production of a Broadway drama in more than 50 years since the network began reinvigorating live programming in 2013 with the hugely popular production of "The Sound of Music Live!. Set in 1986 and taking place in Washington, D.C., and the U.S. Naval Base in Guantanamo Bay, Cuba, "A Few Good Men" centers on newbie military lawyer Lt. Daniel Kaffee, who comes up against the formidable Col. Jessep when he is asked to defend three Marines on trial for murder. Tom Hulce ("Amadeus") was nominated for a Tony for his portrayal of Kaffee on Broadway. The film adaptation starred Tom Cruise as Lt. Kaffee and Jack Nicholson as Col. Jessep.