Michelle Pfeiffer Joins Viola Davis in THE FIRST LADY
Pfeiffer will play Betty Ford in the limited series.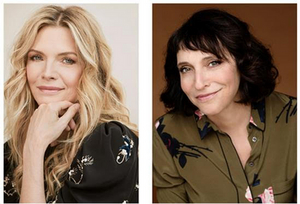 Ford was the First Lady of the United States from 1974 to 1977. She was active in social policy and set a precedent as a politically active presidential spouse and one of the most candid first ladies in history, commenting on every hot-button issue of the time. She also raised awareness of addiction when she made her long-running battle with alcoholism and substance abuse public.
Pfeiffer won a Golden Globe Award and earned one of her three Oscar nominations for her performance in The Fabulous Baker Boys. Her Oscar-nominated work in Dangerous Liaisons also proved worthy of a BAFTA® Award. She has received seven Golden Globe nominations in all, for roles in films from Married to the Mob to the Oscar-nominated Love Field and The Wizard of Lies, for which she also received an Emmy nomination. Her numerous memorable screen credits also include What Lies Beneath, Tequila Sunrise, Hairspray, Dangerous Minds, White Oleander, The Age of Innocence, Batman Returns, Ladyhawke, Into the Night, Scarface and Grease 2.