Laura Bell Bundy, Shoshana Bean, Norbert Leo Butz and More Set for BROADWAY BEATS HUNGER Benefit at Paper Mill Playhouse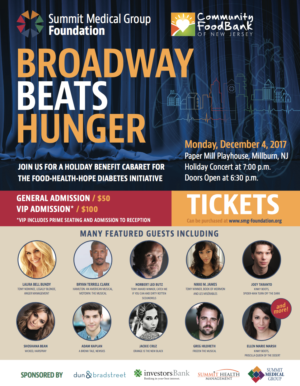 Summit Medical Group Foundation (SMGF), in partnership with the Community FoodBank of New Jersey, is proud to announce the inaugural Broadway Beats Hunger holiday performance to benefit the "Food, Health and Hope: An Answer to Diabetes" initiative and broaden awareness about the direct link between access to nutritious food and this widespread health epidemic in New Jersey.
Held at the esteemed Paper Mill Playhouse in Millburn, leading Broadway stars featured in award-winning shows including Hamilton: An American Musical, Legally Blonde, Les Misérables, The Book of Mormon, Frozen the Broadway Musical, and many more will perform live on December 4th at 7PM. General admission tickets are $50 and VIP tickets at $100 offer premium seating and access to a special reception.
"We are excited to present our first-ever musical charity event to shine a spotlight on a rampant health issue affecting thousands in New Jersey's underprivileged communities," said Dr. William Tansey, Cardiologist at Summit Medical Group and member of the Summit Medical Group Foundation Board of Directors. "Putting an end to diabetes starts with awareness and access. By joining Broadway and our cause, we can draw much-needed attention to help raise funds for this life-changing initiative while giving people hope that there is an answer."
Summit Medical Group Foundation, the Community FoodBank of New Jersey and seven community/faith-based agencies have partnered to help eradicate diabetes among New Jersey adults with incomes below the federal poverty level. In New Jersey, diabetes affects urban areas more prevalently: In Essex, Passaic and Union counties, adults with the disease account for 7.2 to 10.6 percent of the population. Overall, an estimated 39,000* people are diagnosed with diabetes each year in this state as the epidemic continues to grow.
"Diabetes is a highly preventable and manageable disease with the help of proper nutrition and education," said Debra Vizzi, President and CEO of the Community FoodBank of New Jersey. "Adults living in poverty are the most vulnerable in this fight because they struggle to provide nutritious food for their families, often choosing inexpensive and unhealthy food to get by. This initiative with Summit Medical Group Foundation aligns with the Community FoodBank's ultimate goal to end hunger in New Jersey and inspire healthy lifestyles along the way. It's deeply heartening to see Broadway's biggest names supporting our mission to change lives."
Proceeds from the Broadway Beats Hunger charity event will benefit "Food, Health and Hope: An Answer to Diabetes," an initiative that includes free diabetes screenings; fresh, healthy and diabetes-friendly food at no cost; access to nutrition programs; education on diabetes self-care; assistance with low-cost diabetes medication; eye and foot examinations and much more. Full details are available here.
Broadway Beats Hunger headlining stars will perform Broadway's hit songs to entertain and engage audiences for one night only. Below are a few highlights on performers:
Laura Bell Bundy | Tony Nominee | Legally Blonde the Musical, Anger Management
Bryan Terrell Clark | Hamilton: An American Musical, Motown: The Musical
Nikki M. James | The Book of Mormon, Les Misérables, The Good Wife
Adam Kaplan | A Bronx Tale, Newsies
Greg Hildreth | Frozen the Broadway Musical
Shoshana Bean | Wicked, Hairspray
Norbert Leo Butz | Tony Award Winner | Catch Me If You Can, Dirty Rotten Scoundrels
Joey Taranto | Kinky Boots, Spider-Man Turn Off the Dark
Ellen Marie Marsh | Kinky Boots, Priscilla Queen of the Desert
Paul Canaan | Kinky Boots, Legally Blonde the Musical
Jackie Cruz | Orange is the New Black
Summit Medical Group Foundation is deeply rooted in the community in a steadfast effort to better the health and well-being of each member through wellness promotion and medical education. Summit Medical Group-New Jersey's oldest and largest private multispecialty physician group-established SMGF in 2013 to grow its culture of philanthropy and further its more than 85-year legacy of building a healthier tomorrow through programs and services that extend far beyond traditional medical care. Among other initiatives, the foundation provides scholarships and supports health programs that reflect its mission. For more information, visit www.smg-foundation.org.
The Community FoodBank of New Jersey, a member of Feeding America, provides people across the state with food, help and hope. The FoodBank distributed more than 50 million pounds of food last year to its more than 1,000 community partners including pantries, soup kitchens, emergency shelters, mobile pantries, and child and senior feeding programs. More than 4.7 million times a year, someone in need is fed by the FoodBank's network of partners. For our neighbors, especially families, and for the volunteers and donors who support them, the Community FoodBank of New Jersey is the powerful change agent that fills the emptiness caused by hunger with the basic human essentials people need to survive.