Kerstin Anderson, Claybourne Elder & Ruthie Ann Miles to Star in Reading of New EMMA Musical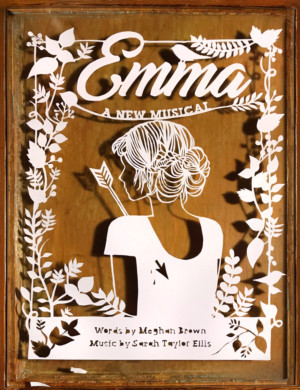 Producer Ben Toth has announced casting for an upcoming invitation-only reading of Emma, a new musical inspired by Jane Austen's classic novel, on Monday, September 25 and Tuesday, September 26 at the Dodger Atelier.
With book and lyrics by Meghan Brown and music by Sarah Taylor Ellis, Emma will be directed by Sammi Cannold, with Kim Grigsby serving as music supervisor.
Emma Woodhouse, handsome and clever and rich, amuses herself by matchmaking for her friends - until she meets her own match. Is opening herself up to the possibility of romance worth the sacrifice of her independence and control? With a fresh book and soaring score, this timeless contemporary adaptation of Jane Austen's novel explores the necessary risk of feeling your feelings.
Claybourne Elder (Sunday in the Park With George), Kerstin Anderson (The Sound of Music), and Tony Award winner Ruthie Ann Miles (The King and I) head the cast as Knightley, Emma, and Mrs. Weston.
They are joined by William Youmans (Bright Star) as Mr. Woodhouse, Andrew Chappelle (Hamilton) as Elton, Erica Dorfler (Natasha, Pierre & The Great Comet of 1812) as Augusta/Frank's Aunt, Alex Finke (Come From Away) as Jane, Rory Donovan (Finding Neverland) as Mr. Weston, Caitlin Kinnunen (The Prom) as Harriet, Tari Kelli (Groundhog Day) as Hetty, Larry Owens as Robert Martin, and Ronald Peet as Frank. Casting by Kate Lumpkin.
The reading will run approximately 100 minutes with no intermission. Industry members interested in attending may RSVP to EmmaMusicalRSVP@gmail.com.
Meghan Brown is an Ovation Award-winning playwright and a founding member of the Temblors (www.thetemblors.org). She's the resident playwright for L.A.'s Fugitive Kind Theater. Plays include The Pliant Girls, The Kill-or-Dies, Shine Darkly Illyria, The Gypsy Machine, and The Fire Room. Meghan wrote the lyrics for the song cycle Untuned Ears Hear Nothing but Discord (music by Ben Toth), which premiered at Lincoln Center as part of In Need of Music: The Songs of Ben Toth. Current theatre projects include The Tasters (the Temblors), and Cowboy Elektra (Rogue Artists Ensemble). The film version of The Kill-or-Dies is currently in pre-production. For more information, visit www.MeghanBrown.net.
Sarah Taylor Ellis composes musicals about women. In addition to Emma, Sarah is currently composing a musical adaptation of The Trojan Women with Ellen McLaughlin. Her chamber musical The Yellow Wallpaper was produced by Pallas Theatre Collective in 2014, and her family musical Thank You, Mr. Falker premiered in the LA Festival of New American Musicals in 2011. Sarah has composed songs for The Civilians at Joe's Pub, and she collaborated on a choral piece that kicked off the Women's March on NYC. Sarah is the composer-in-residence at The Nightingale-Bamford School, a girls' school where she collaborates with elementary through high school students on original musicals, song cycles, and film scores. www.staylorellis.com