Jordan Barrow, Aloysius Gigl, Ray Lee, and More to Star in Staged Reading of Dickens' Play Adaptation TWIST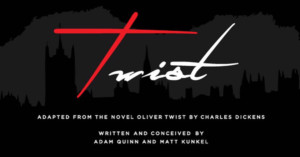 Twist, a new adaptation of Charles Dickens' Oliver Twist, will be presented as a staged reading on October 13th, 2017 at New Ripley Grier Studios in New York. Written by Adam Quinn (Dear Evan Hansen, Irving Berlin's Holiday Inn, A Parallelogram) and directed and conceived by Adam Quinn and Matt Kunkel, Twist follows the story of The Artful Dodger and his search for identity within the framework of this beloved story. With eleven actors playing over thirty roles this new adaptation explores the journey toward understanding whether one can change their own destiny or if life is simply predetermined.
Jordan Barrow (Sousatzka, The Tempest - Shakespeare in the Park), Aloysius Gigl (Les Mis and Ragtime National Tours), Ray Lee (Groundhog Day, Honeymoon in Vegas), Kevin Pariseau (Legally Blonde) and Cameron Amandus Jones (Spamilton) lead the cast. Rounding out the company are Karen Tsen Lee, Ari Axelrod, Chris Murphy, Tom Meglio, Daniel Estrella, and Keaton Micucci.
Shae Candelaria will be the Stage Manager for the reading. George Simon serves as the General Manager.
Twist
Directed and Conceived by Adam Quinn and Matt Kunkel
Written by Adam Quinn
Cast
Man 1: The Artful Dodger - Cameron Amandus Jones
Man 2: Oliver Twist - Jordan Barrow
Man 3: Fagin, Mr. Bumble, The Inspector - Aloysius Gigl
Man 4: Bill Sikes, Mr. Mayes - Ray Lee
Man 5: Mr, Brownlow, Edwin Twist - Kevin Pariseau
Man 6: Doctor, Jailer, Police Officer 1, Workhouse Boy 3 - Ari Axelrod
Man 7: Charlie, Workhouse Boy 2 - Chris Murphy
Man 8: Harry, Workhouse Boy 1, Police Officer 2 - Tom Meglio
Man 9: Nicholas, Workhouse Boy 4, Police Officer 2 - Daniel Estrella
Woman 1: Nancy - Keaton Micucci
Woman 2: Mrs. Brownlow - Karen Tsen Lee
Production Team
General Manager: George Simon
Stage Manager: Shae Candelaria
Assistant Director: Charlie Johnson
Production Intern: Sara Davis

Industry professionals interested in attending this presentation of Twist should email twistreading17@gmail.com for more details.
Related Articles
More Hot Stories For You