John Cameron Mitchell Will Bring Origin Of Love Tour to NYC!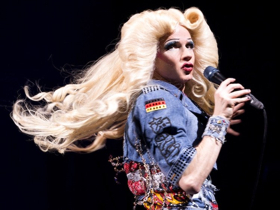 John Cameron Mitchell and Stephen Trask, the Tony Award winning co-creators of Hedwig & the Angry Inch, are bringing their Origin of Love tour to New York!
The pair will present an exclusive 50th Pride Celebration at the Town Hall, performing songs from their groundbreaking rock musical and regaling audiences with stories from 25 years of Hedwig. So put on some make-up, turn up the eight-track and pull the wig down from the shelf - for a night of post-punk, neo-glam memoir!
The show will play Friday, June 28, and Saturday, June 29, 2019.
For the Friday June 28 program, a very limited number of $500 VIP tickets are available that include a post concert wine reception with the artists. All proceeds from the VIP ticket sales will go to the Ali Forney Center, committed to protecting homeless LGBTQ youth.
For tickets and more information, click here!
Conceived and created by Mitchell and songwriter Stephen Trask, Hedwig and the Angry Inch started out as a drag character at the notorious New York City club Squeezebox. From there, Hedwig gradually evolved into a full-fledged workshop production in 1997 and a year later it became an off-Broadway hit, playing in cities worldwide to rave reviews and amassing a cult following.

The rock musical follows a fictional band fronted by Hedwig, an East German trans singer who survives a botched gender reassignment operation, and is drenched in the spirit of punk pioneers like Iggy Pop and Lou Reed and the androgynous style of David Bowie.
In 2001, Mitchell co-wrote, directed and starred in the big-screen adaptation winning Best Director at Sundance Film Festival and a nomination for a Golden Globe® as Best Actor. Thirteen years later, he briefly reprised the role of his beloved Hedwig on Broadway, earning himself a Tony Award for Best Revival of a Musical and a Special Tony Award for his performance.
Mitchell's impressive depth of other work includes directing the improv-based film Shortbus (2006) and 2010's Rabbit Hole starring Nicole Kidman who scored an Academy Award® nomination for her role. He has more recently played recurring roles in HBO's Girls, Martin Scorsese's HBO series Vinyl, The Good Fight and the current season of Mozart in the Jungle.
Photo Credit: Joan Marcus
Related Articles